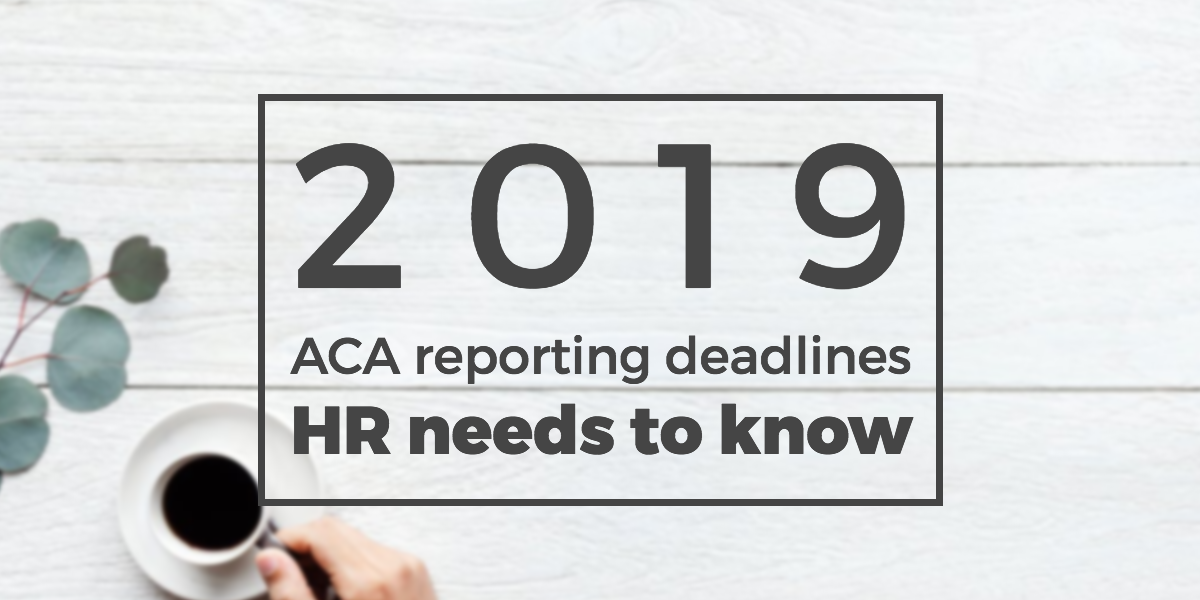 Fall is here, which means it's time for plaid and pumpkin-spiced everything. But there's something else on HR managers' minds this time of year: the Affordable Care Act. Whether it's open enrollment, benefits eligibility, or tax forms, ACA compliance is probably on your radar.
To help you prepare for the 2018 tax reporting year in 2019, we've put together a helpful list of the important ACA deadlines every HR, payroll, and benefits manager should know. Subject to further information from the IRS, here are the dates for ACA deadlines for 2019—plus some friendly reminders about these forms and why they're important for ACA compliance.
ACA reporting deadlines for 2019:
Thursday, January 31, 2019
Deadline to furnish Form 1095-C to employees.
**The IRS has issued an extension for employers to furnish employees with Form 1095-C. for 2019 only. The extended 2019 deadline for Form 1095-C is March 4, 2019.
Thursday, February 28, 2019
Deadline to file Forms 1094-C/1095-C if filing by paper.
Monday, April 1, 2019
Deadline to file Forms 1094-C/1095-C if filing electronically.
Monday, April 15, 2019
Tax Day! Individual tax returns are due. Employees should include healthcare coverage information on their individual returns.
2019 ACA reporting forms explained
FORM 1095-C
Due to employees Thursday, January 31, 2019
Employers are responsible for furnishing their employees with a Form 1095-C by Thursday, January 31, 2019. Employers are still responsible for filing copies of Form 1095-C with the IRS by Thursday, February 28, 2019, if filing by paper or Monday, April 1, 2019, if filing electronically (same as Form 1094-C).
Form 1095-C helps employees complete their individual tax returns by providing important information regarding their health coverage for the previous calendar year. Come tax day 2019, employees must show whether they or their family members had minimum essential coverage on Line 61 of their individual tax returns.


Employers should report the following on Form 1095-C:
Proof of Minimum Essential Coverage (MEC)
Employee ID number
Social security numbers of the employee and his/her dependents (not spouse).
Get more Form 1095-C instructions for employers here.
FORM 1094-C
Due to the IRS via paper: Thursday, February 28, 2019
Due to the IRS electronically: Monday, April 1, 2019
With Form 1094-C, Applicable Large Employers (ALEs) show proof of compliance with the Employer Shared Responsibility Mandate of the ACA. Under Code sections 6055 and 6056 of the ACA, ALEs must use Form 1094-C to report required information about whether or not the employer offered affordable minimum essential health coverage (MEC) and enrollment in minimum essential health coverage for eligible employees. Form 1094-C transmits Forms 1095-C to the IRS.
Some employers have the option to file their ACA reporting by paper or electronically. However, any ALE filing more than 250 of any type of form MUST file ACA information returns electronically. If you will be filing less than 250 forms, you may file by paper, though the IRS encourages electronic filing (and the deadline to file by paper comes a month earlier than the electronic reporting deadline).
Get more Form 1094-C instructions for employers here.
2019 ACA reporting deadlines FAQ
Are there ACA deadline extensions?
In the past, the IRS has offered all sorts of deadlines, declaring each year the last it would offer extensions. While the number and generosity of extensions have lessened, so far, we've still seen the IRS extend at least one or more deadlines every year. To practice smart compliance, don't rely on the hope of an ACA reporting extension from the IRS. Instead, plan ahead to meet the deadline. If meeting the deadline just isn't realistic, you may apply for an extension.
To apply for an ACA reporting extension with the IRS, submit a Form 8809 on or before the due date of the return for an automatic extension. This form does not require a signature. For an additional 30-day extension, the filer or an authorized agent must sign the form.
What are the IRS penalties for late or incomplete Form 1094 and Form 1095?
Failure to file complete and accurate Forms 1094-C by the form deadline will result in penalties equal to $250 per form, not to exceed $3 million per year. Failure to file and furnish correct information on Form 1095-C could result in a $500 per form penalty for employers.
Next steps for ACA reporting
Don't wait until the new year to start pulling information for ACA reporting. Unlike other information returns and forms like W-2s, the 1094 and 1095 forms can require information from multiple systems of record for a single annual filing. Employers will need to gather tracked information from multiple parties including HR, payroll, and benefits in order to get the complete record for ACA tax forms.
Stay on top of compliance management. Be sure you have everything you need to stay ACA compliant with our ACA Compliance Checklist that offers need-to-know terms, answers employer mandate FAQs, and more.
Topics: ACA
So Many Laws. So Little Time.
Get the HR Laws Cheat Sheet.
Subscribe to the Fuse Blog. Claim your free resources. Get great HR content in your inbox.