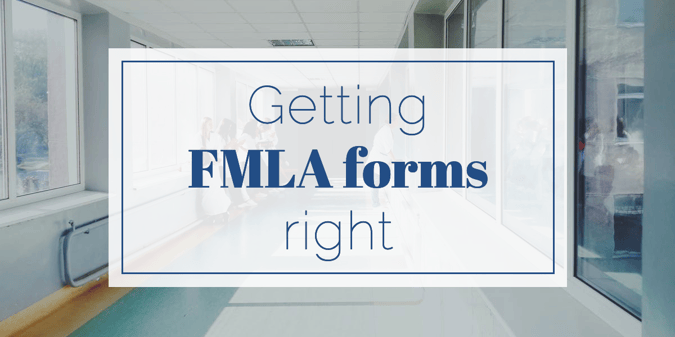 If administering the Family Medical Leave Act (FMLA) gives you an enormous headache, you're not alone. From deciphering medical certification information and assessing employee eligibility to completing required paperwork and submitting notice, it's certainly no simple task.
But FMLA doesn't have to be a nightmare. Below, we've shared a few actionable tips you can use to streamline your processes and get FMLA forms right.
Understand the four FMLA employer notice requirements
It's vital you and your team are aware that employers must inform employees of their rights and obligations under FMLA via a series of notices.

Here are the four documents you must provide employees:
General notice: This is a notice you'll provide to the entire workforce. It's usually distributed via an employee handbook or new hire paperwork, and must also be publicly posted and accessible to all employees.
Eligibility notice: This notice should be provided directly to employees within five business days after the employee requests FMLA. In this document, you must include your eligibility decision. If the employee is not eligible, you must list at least one reason why.

Rights and responsibilities notice: This document includes information about payment of healthcare premiums, paid leave, whether you require employees to submit a medical certification or fitness for duty certification, and more.


Designation notice: This document tells employees how much of their leave counts towards their 12-week FMLA entitlement. Employers often include this information on an employee's pay stub, but employees may also request this data every 30 days.
Familiarize yourself with DOL definitions
As an HR leader, you're often tasked with reviewing employees' requests to determine whether their conditions necessitate FMLA leave. To make the right decisions, it's critical you and your team are up-to-date on how the Department of Labor defines various terms.
Here's how the DOL defines these two common terms:

Serious health condition
The DOL defines a serious health condition as:
Any condition that requires you to stay overnight in a hospital or another medical facility
Any condition that incapacitates you or a family member for more than three consecutive days, and that requires ongoing medical treatments
Any chronic condition that incapacitates you or a family member and that requires treatment from a health care provider two or more times per year
Pregnancy, including prenatal medical visits and medically required bed rest
Health care provider
The DOL defines health care providers as anyone an employers' health care coverage considers a primary caregiver in regards to providing medical treatment (and would pay claims for those services). This definition can extend to those providing care under the supervision of a recognized health care provider.

The list of approved health care providers includes, but is not limited to:

Primary care medical doctors
Physicians assistants
Nurse practitioners
Midwives
Podiatrists
Dentists
Clinical psychiatrists
Psychologists
It's important to note the DOL may update or change these definitions over time, based on new legislation and opinion letters.
Study up on exceptions and special circumstances
As you might have experienced, employers often face complicated and unusual situations when evaluating an employee's FMLA eligibility. In some cases, employers may send their questions to the DOL, and the DOL will release a public opinion letter to clarify their official stance.
Here are a few examples:
Organ donations: While they may not always meet the official criteria for a "serious health condition," employees are eligible for FMLA after donating an organ, according to FMLA2018-2-A, issued in August 2018. This decision was made on the grounds that organ donations usually require an overnight, post-operative stay in a healthcare facility.
No-fault attendance policies: Under a no-fault attendance policy, employees accumulate points for absences, regardless of their reason. When they reach a certain number of points, they face disciplinary action, which may include termination. However, any absences covered by FMLA cannot count toward that absence limit, according to FMLA2018-1-A.
Doctor-requested breaks: If a doctor requests an employee take additional breaks in excess of the total breaks an employer allows per shift, those breaks are covered under FMLA. However, employers can choose to make those breaks unpaid, according to FLSA2018-19.
Make your request process clear to all employees
One of the most significant challenges HR leaders face when it comes to FMLA is providing notice to an employee within the mandatory five-day period after an employee submits their request. To make your life easier, be sure to educate employees about your FMLA request process as well as their eligibility requirements.
For example, make sure employees understand they will be denied FMLA if they have not yet worked for your organization for a full twelve months or haven't worked a minimum of 1,250 hours in the twelve months prior to their leave.
Additionally, make sure your workforce understand how they should go about applying for leave. For example, you may ask employees to deliver a written request to the HR department. It can also be useful to refer employees to The Employee's Guide to the Family and Medical Leave Act. The DOL created this resource to educate workers of their rights under FMLA as well as the steps they must take to apply.
Ensuring employees understand your policies and procedures can help eliminate confusion and prevent unnecessary requests.
There's no doubt managing FMLA can be a complicated endeavor. However, by using the above tips, you can simplify the experience and, hopefully, save a few headaches.