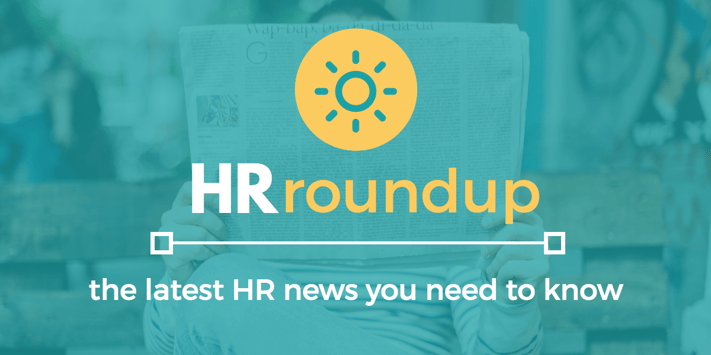 Another month, another round of employment law changes, ACA updates, and HR trends to look out for. In this month's HR Roundup, we're bringing you important HR news to keep you up-to-date on what's happening in your industry and how it could impact your job—from IRS forms to employee benefits.
IRS releases final 2017 ACA forms 1094-C and 1095-C
The IRS has officially released the final 1094-C and 1095-C forms for the ACA tax year 2017 (due in 2018). The IRS also issued the instructions for Forms 1094-C and 1095-C.
Changes to Form 1094-C include the removal of line 22 Section 4980H Transition Relief. This relief applied to the 2015 plan year and remained on forms for the 2016 plan year due to some non-calendar plans that qualified for this relief.
Changes to Form 1095-C include a new paragraph in the instructions titled "Additional information." This section points form recipients to more resources located on the Affordable Care Act Tax Provisions for Individuals and Families page of the IRS website.
Get information on the ACA 2018 reporting deadlines here.
Labor law changes in California
If you're in Human Resources in the state of California, it's time to prepare for some changes to employment law coming in 2018. If you're an HR professional in another state, take note: other states could soon be following suit. California governor Jerry Brown recently signed some significant bills into place for California employment law. SHRM put together a list of the top five new state laws that HR should start preparing for. Here's a summary of those laws:
Inquiries about salary history: employers will no longer be permitted to ask job candidates about their earning, current or prior. Employers must also provide job candidates with pay scale information should the applicant request it.
Immigration: employers must demand warrants and subpoenas from Immigration and Customs Enforcement (ICE) agents before enforcement. Employers must also provide certain notices to employees and union reps.
Ban the box: employers with five or more employees may no longer look at a job candidate's criminal record until the employer makes a conditional offer of employment. Employers may change the offer upon reviewing criminal history if they follow certain steps before coming to their final decision. This makes California the 10th state to require private-sector employers to ban the box. "Ban the box" comes from the idea that employers discriminate against candidates who check the box on applications that asks if they've ever been convicted of a felony. The Ban the Box movement aims to encourage employers to hire the most qualified candidate for a job, regardless of whether they have prior convictions. Read more about Ban the Box here.
Baby bonding leave: Small businesses with 20-49 employees must provide at least 12 weeks of job-protected new parent leave within the first year of a child's birth, adoption, or foster care placement. To qualify, employees must have more than 12 months of service and at 1250 hours of service with the employer within that 12 months. Employees must complete the service requirement before beginning the leave period.
Gender identity and sexual orientation harassment training: In addition to sexual harassment training requirements for companies with 50 or more employees, the new law will add required training on gender identity, gender expression, and sexual orientation harassment. Employers must also post a transgender rights notice in the workplace.
Joint-employer bill, Save Local Business Act, will go to the House for a vote
In a 23-17 vote, the House Education and the Workforce Committee will send the Save Local Business Act bill to a full vote on the House floor. This bill aims to clarify the treatment of two or more employers as joint employers under the National Labor Relations Act and the Fair Labor Standards Act. If passed, the act would repeal a National Labor Relations Board ruling from the Obama era. This ruling redefined "joint employer" making companies and franchisors potentially liable for labor law violations by subcontractors. According to the Congressman who first introduced the bill this summer, Bradley Byrne (R-Ala), the legislation clarifies that two or more employers must have "actual, direct, and immediate" control over employees to be considered joint employers.
Florida minimum wage increase in January 2018
As of January 1, 2018, the minimum wage in Florida will increase to $8.25 per hour, a two percent increase from the current $8.10 per hour established on January 1 of this year. In 2004, Florida passed a constitutional amendment that established minimum wage rates in Florida. This law requires a minimum wage evaluation on September 30 of each year. This evaluation looks at the percentage increase of the Consumer Price Index (CPI) in the South Region for the 12-month period prior to September 1 of the current year. If the calculation is greater than the federal minimum wage rate, the state's new minimum wage rate will go into effect on January 1 of the following year.
The new state minimum wage will cover all Florida employees covered by federal minimum wage. Employers should prepare for the upcoming changes by the end of the year.
Employee benefits trends for 2018
Employee Benefits News (EBN) released their predictions for employee benefits trends with the help of industry leaders and practitioners like SHRM. While benefits categories like health and wellness and workplace flexibility have been at the top of the list in the recent past, EBN believes a new benefit category will take the lead in 2018. A focus on employees' financial well-being will be among the most attractive job benefits for recruiting.
More employers now recognize how financial stress can affect employees' engagement and performance. Companies like Regional Transportation District in Denver offer financial guidance courses like Dave Ramsey's Smart Dollar program. Other companies have considered hybrid retirement-student loan programs to address the current debt and future saving dilemma. These programs would allow employers to contribute to a retirement savings plan based on the matched amount of what employees pay into their student loans.
Here are their predictions for 2018:
Cadillac-style health coverage
Convergence of healthcare and retirement
Do you want your organization to be a competitor in the talent market in 2018? Consider rethinking your benefits strategy. Including benefits that contribute to employees' financial wellness could mean the difference between retention and loss.
Topics: HR Roundup
So Many Laws. So Little Time.
Get the HR Laws Cheat Sheet.
Subscribe to the Fuse Blog. Claim your free resources. Get great HR content in your inbox.