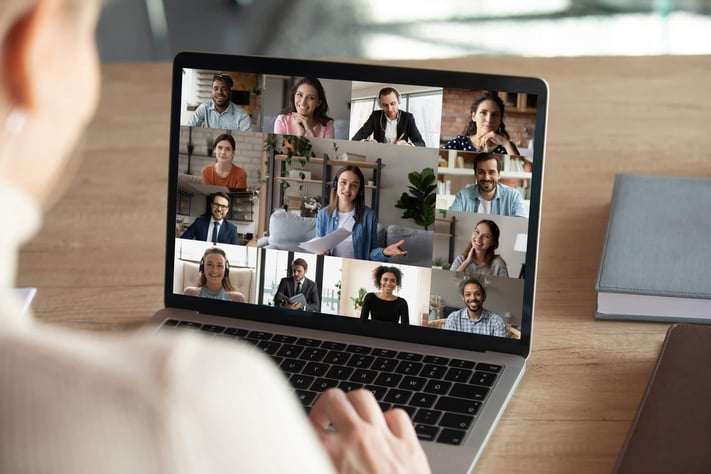 When the COVID-19 pandemic began in early 2020, an unprecedented number of employees were sent to work from home in order to control the spread of the virus. Almost overnight, employees faced the challenge of finding new ways to stay productive and engaged, despite distractions in the home and feelings of isolation.

As the pandemic continues, many employees are still working from home—71 percent, according to the Pew Research Center. As the definition of "workplace" continues to expand, you'll need to take action to help employees stay on track in their new work environments.
The Challenges of Managing Remote Workers
For some, remote work is a welcome change from traditional on-site work. It offers an informal dress code, potentially fewer interruptions, and less time spent commuting. For others, remote work brings a new set of frustrations, many of which can threaten productivity and team collaboration.

Employees working from home can face any of the following challenges:
Lack of a dedicated workspace
Difficulty dealing with non-work distractions during the work day
Fewer meaningful connections with coworkers
Loneliness and isolation
In response to these challenges, you need to take action to help remote employees stay engaged, productive, and connected with their coworkers. Follow these tips for managing remote workers:
10 Tips for Managing Remote Workers
1. Find New Ways to Connect
In a 2020 survey from the Blind professional network, 66 percent of professionals said working from home made them feel isolated and was "hurting their mental health." To combat feelings of isolation, help your employees build new pathways for communication and collaboration both during and outside work hours. Examples can include weekly one-on-one Zoom calls, virtual happy hours, and other social events, such as a virtual escape room.
2. Encourage Employees to Use Their Time-Off Benefits
When working from home, it can be difficult to unplug and switch to leisure or vacation time. In fact, one research study found that remote employees were more likely to work longer hours beyond a typical work day. To prevent burnout, encourage employees to take their time off, even if it means taking a "staycation" or the occasional long weekend.
3. Make It Easy for Employees to Access Information
When employees are remote and can't run over to the benefits department for a form, they need easy access to information related to their pay, benefits, and company policies. Make sure your HR system provides full employee self-service and access to pay stubs, benefits enrollment information, and helpful forms. An integrated payroll system is an excellent vehicle to accomplish this goal. It provides one centralized location for employees to get information and stay informed about their pay and benefits.
4. Offer a Robust, Virtual Onboarding Program
New remote hires need some extra support getting to know new people and processes, because they don't have the benefit of in-person introductions. To make sure they get started in a new role on the right foot, offer onboarding resources and support, such as:
Access to a remote learning library
Video introductions to key team members
A new employee company swag box mailed to their home
5. Invest in Collaboration Technology
Most companies with remote employees have already discovered the importance of using video-conferencing tools such as Zoom, Hangouts, and Teams. But there are other tools to help your team collaborate on work projects, such as Slack, Trello, and Asana. A good way to determine if you have the right tools is to survey employees and consider new suggestions to help teams be more productive.
6. Set Clear Expectations and Exchange Feedback
Frequent communication is always essential at work. With fewer opportunities for in-person communication, you need to make a more deliberate effort to stay in regular communication with employees. An excellent place to start is setting clear expectations. By making sure employees know what is expected and how they will be measured, you can reduce confusion and erroneous assumptions.

To maximize communication, ask for feedback as much as you give it. By having regular one-on-ones and engaging in healthy dialogue about what's working and what needs improvement, you can have more fruitful performance discussions and keep employees on track in any location.
7. Support Employee Physical and Mental Wellbeing
To help employees manage stress levels and stay focused, provide tools that help them maintain their mental and physical wellbeing, such as reimbursements for a gym membership, a subscription to a mindfulness app, or a Fitbit or similar.

It's also a good idea to make sure employees have clear access to benefits information. Keep employees well-informed by sending periodic reminders about available health benefits and new or updated offerings.
8. Offer Flexibility
Many employees working remotely for the first time may need support managing childcare or eldercare responsibilities alongside their remote work schedule. In a GitLab survey, 47 percent of individuals working from home said that managing at-home distractions was their biggest challenge.

By giving employees the freedom to adjust their work schedules and make room for the sometimes unexpected events of daily life, you can help them maintain or even improve their overall productivity at work. With the help of an integrated scheduling platform, you can empower employees to manage their time and attendance in line with your policies.
9. Provide Opportunities for Learning and Development
There may be fewer places to host in-person training due to the COVID-19 pandemic, but that doesn't mean employee development has to be put on hold. You can still talk to employees about their career aspirations and identify opportunities for virtual learning and development. For example, employees can benefit from mentorship opportunities, virtual training, and on-the-job stretch assignments.
10. Plan a Face-to-Face Get-Together
At some point, employees will be able to gather in person again. Build excitement by starting to plan a team or company gathering. You may need to adjust plans as you get closer to the date, but you'll be better prepared when the time comes to bring your workforce together.

With the aid of modern technology, you can stay connected with your remote workforce and give employees access to the information they need for a positive employee experience. Instead of sending employees to multiple sites to get information about time and attendance, pay, and benefits, you can support your remote workforce with one integrated platform. To learn more, read our e-book, The Hidden Costs of Managing Employees in Disconnected Systems.