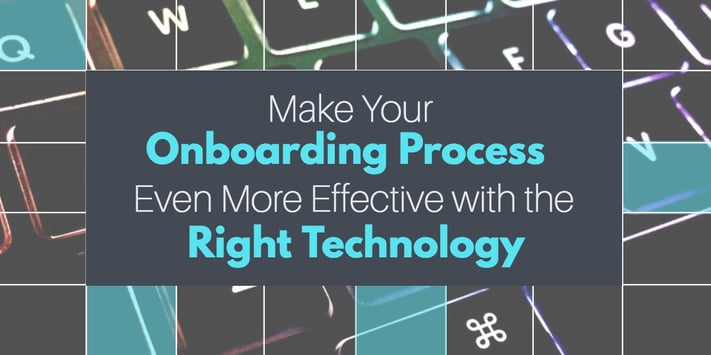 It's no question that technology continues to evolve and change the way we work and interact with society. Thanks to technology, we can say goodbye to manual processes and spreadsheets and welcome automation with open arms.
We know how technology has changed the way we do things like payroll on the back end, but how can technology help improve the onboarding process for both you and your employees?
With the right technology for onboarding, you can accelerate the onboarding process so new hires become productive sooner.
In a recent survey, 45% of HR employees surveyed estimate that over $10,000 a year is wasted on ineffective onboarding. They consider on-the-job training, mentor program, and employee handbooks to be the top three areas in need of improvement. More than 52% of the employees surveyed said receiving organized, relevant, and well-timed content would help the onboarding process be more effective.
Understanding Technology for the Onboarding Process with the Four C's of Onboarding
To really grasp the areas where technology can improve your onboarding program, let's use SHRM's Four C's of Onboarding:
Compliance

Clarification

Culture

Connection
(Get more info on how the four C's can improve your onboarding process here.)
Compliance
In the onboarding process, compliance is about teaching the basics of office policies and procedures. It also includes all that paperwork from tax forms to benefits documents.
There is nothing more welcoming than showing up to the first day of your new job than a stack of paperwork, right? Well, maybe there is.
Go paperless. Not only will Mother Nature thank you, but your employees will too. (Honestly, you'll even thank yourself.) With an online HR system that allows new employees to login and complete forms on their own time, they can spend their first day getting to know their team members and diving into training—not getting carpal tunnel.
With role-based self-service login, your new employees can view and update HR information as soon as they need to without having to email HR or fill out more paperwork.
Reduce the time you spend on administrative tasks with built-in workflows. And a good human capital management system (HCMS) will automate a lot of the process so you and your new employees aren't answering the same question over and over again.
You'll also want to make the training information available online in a wiki or employee portal for the employee to refer back to and review at their own pace. This can also include companies policies on workplace safety, dress code, PTO and sick leave, workplace behavior and expectations, etc.
Clarification
The next section in the onboarding process is clarification specifically as it pertains to the employee's role and duties. As mentioned above, any job training material including videos, webinars, and manuals, should be available online where employees can access the information on their own time, not just during training.
In this digital, mobile age, it's beneficial to have this information optimized for mobile as well. Whether an employee is reviewing training materials on his train commute to work or checking on a benefits question on the go, mobile, self-service HR systems benefit your employees and your company.
Culture
An important part in the onboarding process is learning about company culture and helping new employees find where they fit. Not only is this important in the onboarding process in helping new employees feel welcome, but it can go a long way for employee engagement and retention.
This is a great opportunity to incorporate some fun videos into your onboarding process. Have a short "Welcome to the team" video that could include a quick office tour, company traditions, office hacks, and other aspects of your company culture.
You can also try having employees create video bios. These videos can be short clips where employees introduce themselves, talk about their role in the company, and even share a blurb about what they do for fun or their favorite part about working at your company. Visuals help the new employee retain more information about the company and coworkers by watching a bio instead of reading through pages of text.
Connection
Finally, in the onboarding process, you want to establish a network of interpersonal relationships that develop a sense of belonging in the organization.
How can technology for onboarding help you do that? Connect new employees with a network of people within your office and your company as a whole. Don't just give them a buddy to follow around for the day, give them a place to connect online too. This can be anything from a Slack channel to Facebook group or other company-specific programs online. Where do they go to sign up for a team rec league? Who can they contact about joining the party committee or volunteer group? Does your company have multiple offices? Get new employees connected with other employees around the globe to help them feel a part of the bigger picture for your company.
Use Your Onboarding Analytics
While not part of the Four C's of onboarding, there is one major element HR managers cannot neglect when it comes to technology for the onboarding process: analytics.
Analyzing data gained from onboarding can help make smarter decisions for your company in the future. Onboarding analytics should help you identify what's working and what's not and reveal any gaps you may have in the training process. The more you understand about your company's onboarding process the more indicators of success you glean for the long run like employee engagement and retention.
Integrating technology into your onboarding program isn't just about getting with the times. It's a valuable and strategic way to help engage your employees before they ever begin their first day at the office. And it's a great way to start an employee retention process that will keep them happy to work for you for years to come.
Want even more productive tips made especially for Human Resources Managers? Download our ebook to increase HR Productivity with an HCM system!