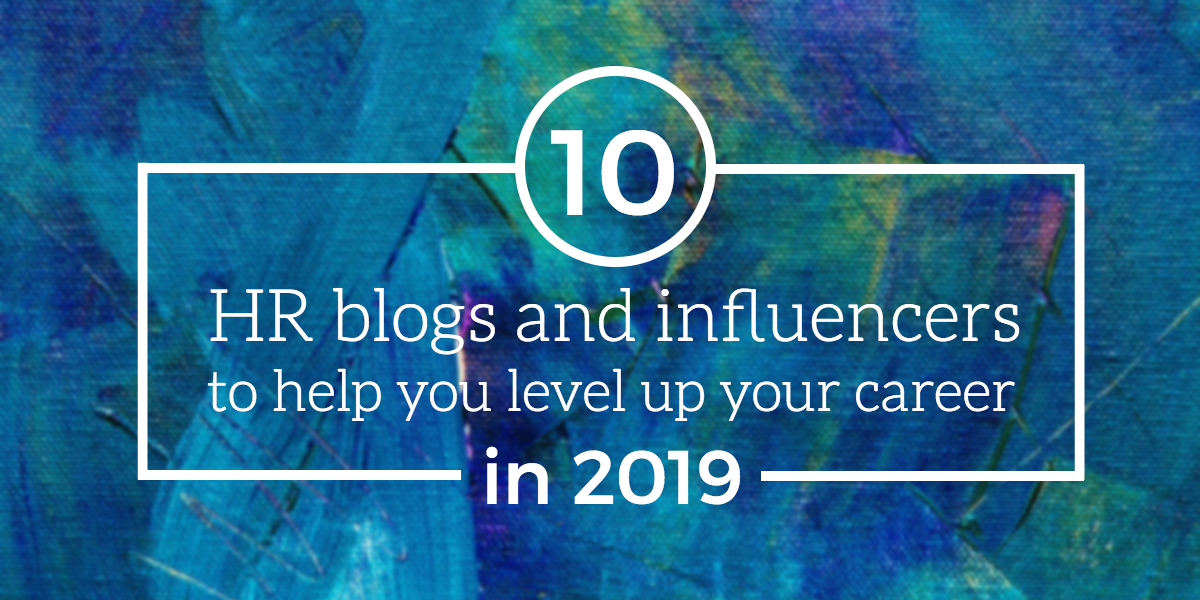 Happy New Year! As you're putting together a list of resolutions, boosting your career as an HR leader may be one of your biggest priorities. However, becoming the best HR manager you can be takes time and commitment. One way to establish your reputation and help guide your career is to join associations and groups. Another is to immerse yourself in the work of thought leaders and influencers who can inspire, educate, and motivate you.
Don't know where to start? We've put together a well-rounded list of HR blogs and influencers to help you get ahead in your career. Check them out below:
HR blogs and publications
Society for Human Resource Management (SHRM)
As a leading provider of HR resources, SHRM has one of the best HR blogs out there, as it provides their readers with extensive resources on employee management. SHRM Members get exclusive access to HR tools, weekly webcasts, compliance resources, industry research, and more. Leaders without a membership can still read relevant and strategic workplace news and trends at a limited count.
Human Resource Executive Online
Human Resource Executive is the premier publication focused on strategic HR issues. Giving key decision makers in HR insightful information, this HR blog offers news, success stories of HR innovators, and stories that cover all areas of HR management like employment laws, benefits, and HR information systems.
Workforce
A multimedia publication, Workforce covers both people management and business strategy. Their content helps HR professionals lead employees in a more strategic, business-results approach. Aside from their written content, Workforce also provides webinars, custom white papers, and events designed for HR stakeholders.
HR Bartender
When you need to decompress after work, talking to a friendly face can help. That was the basis behind the blog HR Bartender. HR pro and consultant Sharlyn Lauby writes practical content in an honest way; reading her work feels like talking to your friendly neighborhood bartender. She covers everything from from recruitment and retention to technology and career development. SHRM even named HR Bartender as one of the Top Five Blogs read by HR professionals.
Fistful of Talent
Created by Kris Dunn, who also writes for HR Capitalist, Fistful of Talent emerged as a talent management blog that only covers the "sexy stuff" of HR. This HR blog is a centralized hub for commentary, opinions, and advice from top HR leaders, so readers benefit from a wide range of unique perspectives. Topics include corporate talent management, third-party and executive recruiting, and employee coaching.
HR Influencers
Steve Boese
An expert on HR technology, Steve Boese's experience in product development and execution helps solve HR teams' most pressing needs. He's the co-chair of the HR Technology Conference and the host of the popular podcast HR Happy Hour Show. Many HR leaders may know of his work in the Human Resource Executive Magazine where he's the leading HR and tech blogger. He's previously been part of the product strategy team at Oracle deploying HCM solutions for organizations, and he taught applications of technology for solving HR and business issues at the Rochester Institute of Technology in New York.
Follow Steve on Linkedin and Twitter.
Suzanne Lucas
Author of a blog called Evil HR Lady, Suzanne Lucas is a sassy writer and speaker of HR and business issues. Demystifying the prevailing thought that all HR people are evil, Suzanne focuses on helping HR managers do their jobs better and offers tips on how to navigate the workplace. Her work appears on various HR magazines and publications such as Inc., CBS MoneyWatch, Cornerstone's ReWork, and The New York Times.
Check her out on Linkedin and Twitter.
Jörgen Sundberg
How might a well-crafted employer brand affect talent attraction if you aren't a market leader? Jörgen Sundberg sought to answer this question for organizations looking for the right talent. That's why he found Link Humans, an employer branding agency. He also writes for Undercover Recruiter and hosts The Employer Branding Podcast. Before working as a brand consultant, he managed talent acquisition campaigns for big campaigns like Accenture, Deloitte, and SAP.
Keep tabs on Jörgen with his LinkedIn and Twitter.
Meghan M. Biro
Meghan Biro wears many hats: HR tech brand strategist, talent manager, digital catalyst, author, and speaker. In her career, Meghan worked with hundreds of organizations from early-stage ventures to big brands like IBM and Google to recruit and manage talent. She is also the CEO and writer of TalentCulture and founder of the #WorkTrends weekly podcast and Twitter chat. In addition to hearing her speak at national HR conferences, you can read her work on platforms like Forbes, Huffington Post, and Entrepreneur.
Keep up with Meghan on her LinkedIn and Twitter.
Jim Harter
Jim Harter, Ph.D., is the Chief Scientist of Workplace Management and Well-Being for Gallup workplace management. Dr. Harter is an expert researcher who co-authored more than 1,000 research studies on employee engagement and well-being. He also wrote the best-selling book 12: The Elements of Great Managing and has recently released his latest book, Wellbeing: The Five Essential Elements. He also writes for Business Wire, Fast Company, Harvard Business Review, and other media outlets.
Follow Jim's updates on LinkedIn.
Stay connected with the HR community
While we've just touched the surface of all the stellar human resources blogs or influential HR leaders out there today, these resources are a good place to start. Also be sure to subscribe to the Fuse Workforce blog (below) for more HR resources and updates that will help you stay on top of industry news and best practices.
Topics: Human Resources, HR Trends, Core HR, best practices
So Many Laws. So Little Time.
Get the HR Laws Cheat Sheet.
Subscribe to the Fuse Blog. Claim your free resources. Get great HR content in your inbox.