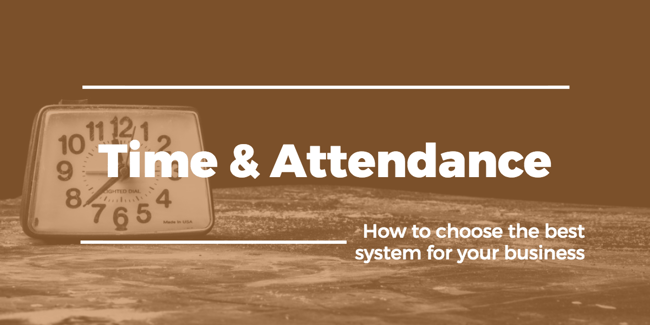 Shopping around for the right time and attendance software is no easy task. There are a lot of options—how do you know which is right for your business? Here are the six main things we recommend you consider when searching for the best time and attendance software for your business.
Check-In Capabilities
There are a few major problems employers and HR departments face with timekeeping: accessibility, usability, reliance, and theft. Having the right timekeeping tools is vital to running a business without losing time and money.
Biometric and RFID clocks make it difficult for employees to commit time theft. Additionally, these kinds of devices communicate with your workforce management software, thus minimizing the risk of human error while maximizing productivity.
Mobile check-in enables employees to clock in from anywhere. If you've got employees at a job site or in the field, they can clock in and start working right away. Managers can easily see data per job site when analyzing labor coverage.
Automated Scheduling
If you're still building schedules manually, it's time to get with the times (and stop wasting time too). Managing employees takes a lot of work—building and managing schedules and timesheets shouldn't be taking up unnecessary time. In addition to the time it takes, your opportunity for error skyrockets with manual data-entry. Build schedules and manage hours quickly and accurately with an online scheduling system.
Your employee time and attendance system should allow managers to make informed decisions to align staff for your business' unique demands, maintain employee productivity, and control labor costs. You will want a system that automatically enforces scheduling policies, labor laws, and union rules, so you can feel confident about running a compliant business.
View our ultimate guide to employee management and see how streamlining HR functions provides a competitive advantage. >>
Software with employee self-service (allows employees to log in and view leave balances, request time off, make changes to availability, and switch shifts, etc) saves managers valuable time and productivity.
Overall, the best time and attendance tracking software will simplify the entire process so managers can focus on what's important to make the business successful (and keep employees covered too).
ACA Compliance
Under the Employer Shared Reporting Mandate, also known as Play or Pay, companies with 50 or more employees must be able to prove they offered benefits to full-time employees as soon as they reach eligibility status. It's imperative employers have the right tools to track ACA compliance. With a time tracking system, you won't be surprised by employees working full or overtime. Time tracking systems with ACA modules will send alerts when an employee has scheduled hours that would put him or her over the eligibility limit or when employees become eligible for benefits. You're not only maintaining compliance with ACA and FLSA laws, you're controlling costs too.
Digital, Integrated & Cloud-Based
You don't want to be tracking time & attendance with one system, payroll in another, and ACA compliance in yet a whole other system. Having siloed systems causes frustrations and wastes valuable time. Boost productivity when you have everything you need in one place—accessible anywhere with the cloud.
Look for a system that includes an ACA Compliance Module integration that's already built into the system so you can easily add the module to system within the platform. Then utilize your ACA compliance system alongside the other digital, automated, and cloud-based features of workforce management—all in one place.
System Support
No one enjoys wasting time on hold with so-called customer support. The best time and attendance system won't leave you in the dark with their software. Look for a system that offers user guides, training videos, and a real support team to help walk you through the system implementation process.
Right for You and Your Business
Ultimately, the best time and attendance tracking system is the one that best fits your business and its needs. Sure, there are a lot of flashy features out there, but are they right for you and your company? Look for a system that offers customization options that work for you. Is the system user-friendly? Always ask for a demo from the service provider to see what they offer and how it actually looks and feels in the system.
In addition to speaking with various companies and researching their products, don't forget to hear what their customers are saying—it's a great way to get honest feedback about the systems. Sites like G2Crowd and Top Ten Reviews offer customer reviews, product comparisons, and more to help you make the most informed decision about your time and attendance system—and workforce management software as a whole.
Think you've had enough of traditional time tracking, scheduling, and payroll? It could be time to make the switch to an integrated workforce management system. Get your free guide to find out.