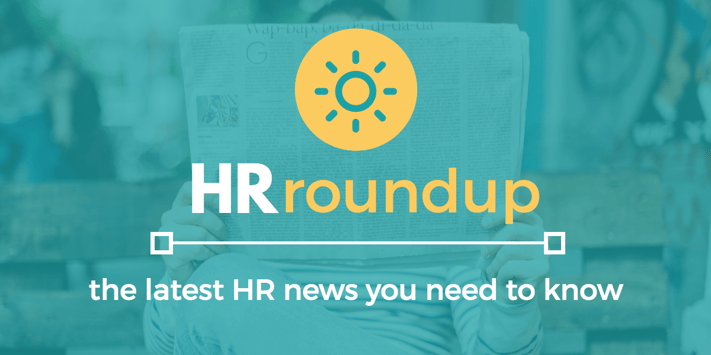 Lately, it seems you can't look at the news without another sexual harassment scandal popping up. It's a serious problem in America, especially in the workplace, that has been swept under the rug for far too long. As HR professionals, you can't let these situations go unaddressed. Fortunately, lawmakers and government agencies are taking steps toward change to help HR take action and prevent sexual misconduct in the workplace.
In this edition of the HR Roundup, we'll take a look at the latest legislation surrounding workplace sexual misconduct. We also discuss the ACA noncompliance penalties, FLSA overtime rule litigation, OSHA's filing extension, and research on compensation for HR executives.
EEOC publishes report on addressing and preventing workplace harassment
The Equal Employment Opportunity Commission (EEOC) released its Promising Practices for Preventing Harassment report this month. The EEOC chose a Select Task Force on the Study of Harassment in the Workplace to create a report for employers with proactive measures to address and prevent sexual harassment in the workplace. The task force developed five core principles believed to have "generally proven effective in preventing and addressing harassment." The EEOC intends for these promising practices to be best practices or guiding principles rather than official legal requirements, though all employers are strongly encouraged to put these principles into practice in their workplaces to help them in compliance efforts.
The five core principles in the report include:
Committed and engaged leadership
Consistent and demonstrated accountability
Strong and comprehensive harassment policies
Trusted and accessible complaint procedures
Regular, interactive training tailored to the audience and the organization
Based on these principles, the EEOC report includes further insight and checklists to help combat workplace harassment. Employers and HR professionals should be sure to set and enforce policies around office misconduct, especially sexual harassment, and remind employees often about these policies and practices.
Pennsylvania senators propose bill to ban NDAs for sexual misconduct
Pennsylvania Senator Judy Schwank led a group of Democratic Senators in introducing a bill that would ban the use of non-disclosure agreements (NDAs) in allegations of sexual misconduct. Schwank believes NDAs put more power in the hands of the perpetrators and not the victims of sexual harassment and abuse. Her proposed legislation, Senate Bill 999, aims to shift power to victims to speak out about any misconduct they're facing.
"The secrecy [perpetrators] are given allows their misconduct to grow and spread to harm others... The law should not be an escape hatch from civil and criminal liability," Schwank said. Schwank also stated the legislation will prohibit any contracts, settlements, or any other barriers from disallowing disclosure of a perpetrator's identity.
NDAs in recent high-profile cases like that of Harvey Weinstein have caused controversy and brought this bill to the forefront of discussion. Schwank and her fellow Democratic state lawmakers believe the bill will empower victims report abuse, especially in the case of workplace harassment and misconduct, without fear of legal ramifications.
The IRS issues penalty notices for ACA Employer Shared Responsibility Mandate
Several months ago, the IRS said it would begin issuing penalties for employers who did not comply with the Employer Shared Responsibility Mandate under the Affordable Care Act. This month, the IRS made good on its promise and began mailing notices of potential liability to employers. Under section 4980H of the ACA, Applicable Large Employers (ALEs) must offer health plans with Minimum Value Coverage to full-time equivalent employees and their dependents. ALEs who fail to report offers of coverage are subject to penalty.
Employers who receive notices of penalties for the 2015 reporting year have the opportunity to appeal before the IRS requests payment. Employers also have the option to request an extension within 30 days of receiving the notice from the IRS. If employers are unsure of ACA compliance status for the 2015 reporting year, they should monitor the mail for a notice and be prepared to act swiftly upon receipt.
5th Circuit halts litigation on 2016 overtime rule + Acosta speaks on the DOL's process
On November 6, 2017, the 5th U.S. Circuit Court of Appeals granted a motion from the Department of Labor (DOL) to halt litigation over the Obama-era FLSA Overtime rule. The rule would have extended overtime protection to some four million workers in the United States. This pause will make the possibility of the 2016 overtime rule ever going into effect unlikely, though changes to the current overtime rule are still expected.
In a House committee hearing on November 15, 2017, Labor Secretary Alexander Acosta discussed some major issues the DOL currently faces, namely the FLSA overtime rule.
Acosta has already stated his take on the overtime rule: the current salary threshold is too low but the increase from the Obama-era rule was far too extreme. In the hearing, Acosta reiterated this opinion: "Life has become much more expensive," but raising the salary threshold to over $47,000 would have "created a shock to the system."
The DOL is now reviewing over 200,000 comments it received during the Request for Information (RFI) period. The DOL will use the data collected during this period to develop a new overtime rule. Acosta also stated the court's November 6th ruling to be less than clear, and he believes the DOL has the authority to set the exempt salary threshold.
OSHA announces filing extension for recordkeeping rule under new electronic reporting system
Employers will now have an extra two weeks to file electronic illness and injury forms under the OSHA recordkeeping rule. On November 22, 2017, the Occupational Health and Safety Administration (OSHA) extended the deadline for submitting electronic illness and injury reports from December 1, 2017 to December 15, 2017. OSHA stated in a news release that the extension will "allow affected employers additional time to become familiar with a new electronic reporting system launched on August 1, 2017."
The release also notes that OSHA is "currently reviewing the other provisions of its final rule to Improve Tracking of Workplace Injuries and Illnesses, and intends to publish a notice of proposed rulemaking to reconsider, revise, or remove portions of that rule in 2018."
Compensation and incentive pay on the rise for HR executives
Great news for Human Resources professionals looking to climb the ladder to the C-suite. New research reveals Chief Human Resources Officers (CHRO) are in increasing demand—and their compensation is on the rise too. According to a recent report from data firm Equilar, median CHRO compensation grew from $1.6 million to $1.7 million from 2015 to 2016, at the 500 largest U.S. publicly traded companies. The HR Executive Pay Trends Report analyzes compensation data from CHROs and identifies trends in compensation for HR executives across industries.
Key findings from the report include median pay increase year-over-year for HR executives, with healthcare seeing the largest increase. The increase in compensation includes not only base salary but also bonuses and incentives like stock grants. Relative total shareholder return proved to be the most common long-term incentive plan metric with revenue being the most common metric for short-term incentive plans.
Topics: HR Roundup
So Many Laws. So Little Time.
Get the HR Laws Cheat Sheet.
Subscribe to the Fuse Blog. Claim your free resources. Get great HR content in your inbox.