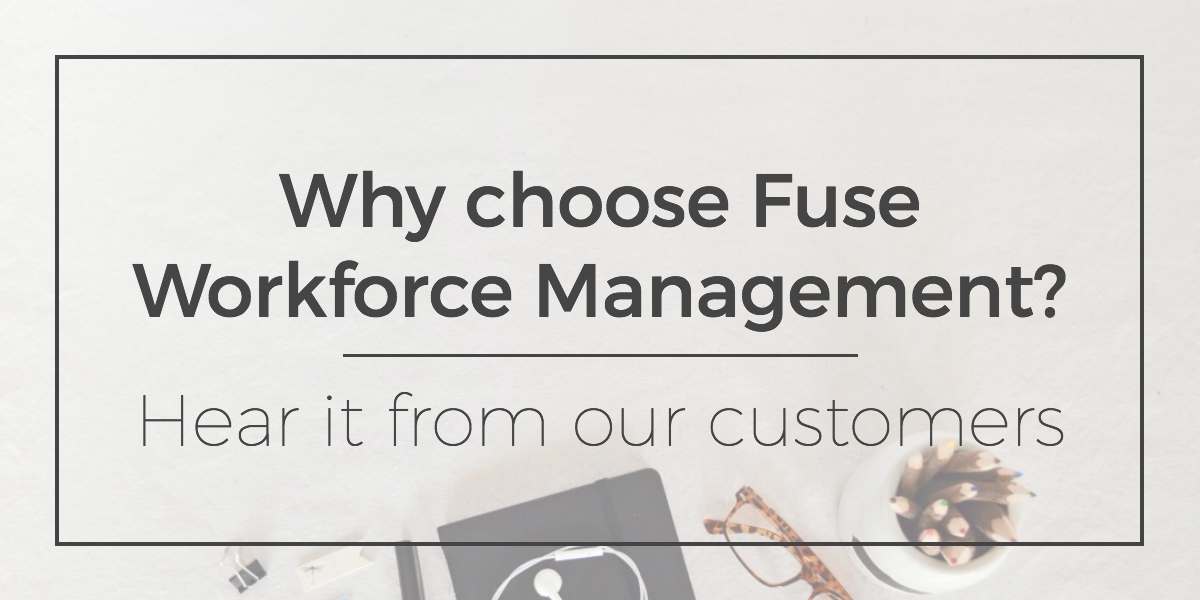 On the Fuse HR & Payroll blog, we've talked a lot about the many benefits of a human capital management system for every stage of the employee lifecycle. From hire to retire, an all-in-one HCM System can improve productivity and help your bottom line. But not all of these systems are created equal. Ask any HR Director, and they'll tell you to do your research before signing a contract. It's worth understanding the differences between the various products and services out there and knowing how they will work with your organization's specific needs.
At Fuse, our customers are our number one priority. We realize any company can say that, so we go above and beyond to show our customers we actually walk the walk. With over 30 years experience, we build personal relationships with our customers, offering customized experiences to support their organizations and help solve their unique problems.
Going head to head against other leading HCM platforms and payroll providers, Fuse consistently ranks at the top. Whether it's the ease of use, cost savings, or outstanding customer service, customers rate Fuse above the rest. But don't just take our word for it—you can hear it from our customers themselves.
See why users love Fuse Workforce Management:
Integrates HR and Payroll into an all-in-one system
HR and payroll professionals have specific requirements to service their businesses accurately and efficiently. According to our customers, the Fuse system goes above and beyond their expectations for an all-in-one workforce management system.
"HR, Time and Attendance, and Payroll are managed on one platform. No more logging into and syncing multiple systems!" -Gail
"We were looking for an all-in-one package payroll system. Fuse software fits every need." -Maggie
"This is an awesome payroll and HR product. We did extensive research beforehand, and couldn't be more pleased!" -Ruth
"A one-stop shop for all payroll and reporting requirements." -Melodie
Saves time, increases efficiency
Switching to Fuse has saved customers a lot of time on day-to-day HR and payroll processes. This means they can turn their focus to other parts of the business, namely their employees.
"Fuse saves my time as a user by centralizing all major HR and payroll functions." -Christina
"It has freed the accounting department to focus on other business issues." -Cindy
"Payroll processing is now more of a review function rather than extensive data entry. It used to take us three days to process payroll. Now we are doing it in one day." -Gail
"This application has saved us so much time. We needed to keep multiple spreadsheets for HR and time and attendance. Now everything is in Fuse and easily accessible. Processing payroll is a breeze and basically error free." -Nancy
"The time to review and approve timesheets and process the payroll has been cut in half. And I really like the automatic payroll reminders and notification that payroll has been processed...makes my life easier." -Annette

Supports implementation with a smooth transition
Changing providers or processes is never a simple task, but we continue to hear from customers how easy it is to setup the Fuse system and meet implementation deadlines.
"Many of [our employees] expressed the simplicity and intuitiveness of the system. The rollout went very smoothly." -Roger
"Changing payroll providers is bound to be a hassle just by nature of the amount of work involved, but Fuse made the effort worthwhile." -Christina
"Customer service was very diligent and knowledgeable, and thanks to them I met my deadline and everyone was thrilled with my accomplishment." -Transportation Administrator
"I like the fact that the transition wasn't too difficult coming from a bookkeeper doing my payroll to having Fuse do it. I gave them my requirements, and they set up the rules in the system to get the timekeeping and payroll going...My timekeeping and payroll requirements were not easy, but the staff at Fuse were there every step of the way to ensure that payroll was paid-out correctly to my employees. They come highly recommended." -Abe
Offers an easy-to-use system
Once the Fuse system is up and running, users find it simple to navigate and run.
"The Fuse platform is so simple! I can export and extract data easily for any reporting or analysis I need to do, unlike the clunky systems of ADP." -Pam
Reaches ROI and saves money
Customers often hesitate to switch from their current system, even though it's not servicing them well, for fear that the cost of changing systems will be too high and productivity will suffer in the process. However, customers say Fuse requires less time to reach ROI than other leading HCM system brands and is more cost-effective than managing HR and Payroll services through manual processes.
"Processing payroll now takes substantially less time than it did when we used ADP. The information is also centralized and easier to find." -Christina
"We made the change to Fuse Workforce to reduce time spent dealing with all the payroll taxes resulting from having an organization working in 9 states. This goal has been met plus we got a lot more. We got a better time tracking system with all employees tracking time electronically rather than on paper. Our managers got more visibility to their team's time entries. We got a far better PTO tracking and request system. Plus we got the entire HR related tools which we are just starting to utilize." -Roger
"This is the cost-effective way to process payroll and handle the taxing authorities and child support entities for a multi-state company. They offer full solutions with the reporting and the software can be tailored to each individual company. I have recommended this product to several companies including two of our sister companies also use Fuse Workforce Management solutions." -Jean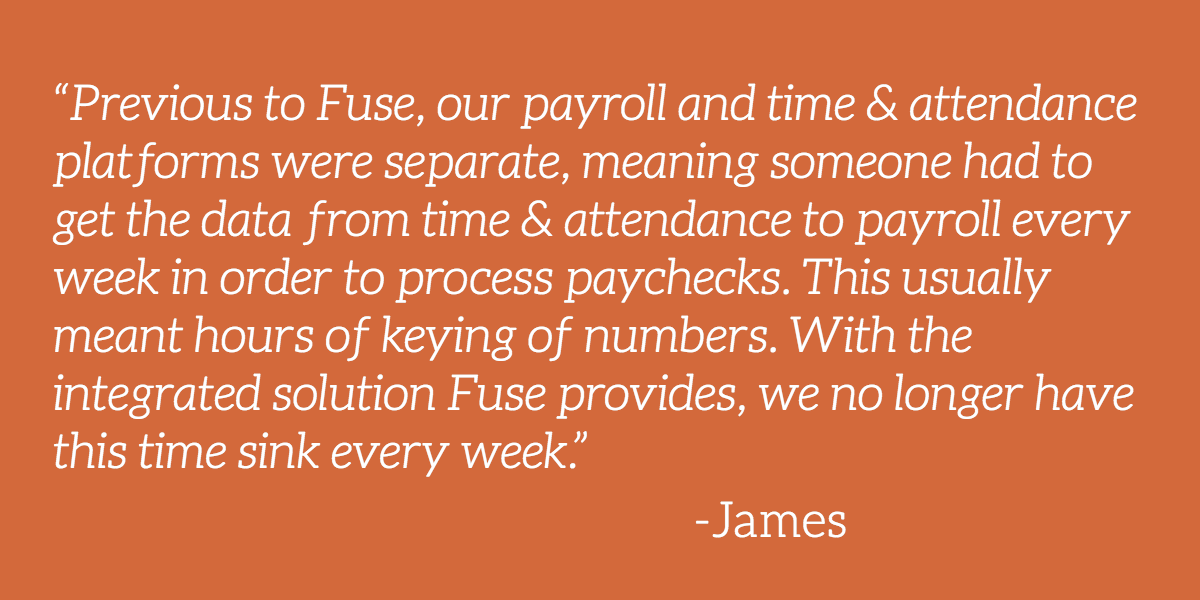 "As we evaluated potential payroll systems, the ability for the Fuse system to be tailored to our needs and use while remaining a very robust and functional system was a huge plus for us. It has been very reliable and the staff has done a great job in helping us set up the system, train our staff and employees, and respond to our questions and needs as they arise... The cost savings compared to our previous payroll provider has been significant while increasing the level of functionality and staff acceptance." -Church Administrator
Operates a robust system
From time and attendance to benefits administration and salary structures to compliance management, Fuse customers love the various features of the robust system.
Payroll
"I would recommend using the Fuse timekeeping and payroll service for seamless passing of tracked hours to the payroll service, and the simplicity of generating payroll checks across multiple cost centers (plus all the other benefits such as PTO accruals, 401(k) contributions, tax deductions, etc.)" -Abe
"I love that I can login and submit payroll in less than one minute...Fuse has cut the time I spend processing payroll and running reports in half, or better." -Telecom Administrator
Time and attendance
"We didn't have the best time-keeping records, and with Fuse this has helped us make big improvements in our accuracy. We are able to process payroll without errors." -Kathy
"We pay multi-state and multi-rate, piece rate. With Fuse's help we have been able to throw away our paper timesheets." -Leslie
"The timekeeping side has been a very good tool for our employees and managers. It has helped save a lot of time and ensures that employees get paid with accuracy. Payroll processing has cut our time in half from our previous system. Labor distribution is able to be allocated many different ways, which has helped save time from the manual adjustments done previously." -Government Administrator
Benefits administration
"We now have a feature in the application which allows us to show our employees the benefits we are paying on their behalf so that they can see their true annual compensation. This is especially beneficial for employee retention." -Cindy
"Another great feature is the Benefit Statement. This allows each employee to see just how much their employer is paying for their benefits. I used to spend hours at the end of the year pulling this information together, now the employees can see it right on their pay statements each week." -Nancy
Salary Structures
"Prior to Fuse, my current company had to manually calculate and cut weekly paychecks. With Fuse, we are on a bi-weekly pay period with direct deposit abilities. There are many scenarios occurring with each pay period and I was able, with the help of the knowledgeable Fuse reps to identify and address each scenario. These scenarios ranged from an employee being paid two separate wages, calculating bonuses, or paying off loans outside of the company." -Elizabeth
Compliance Management
"Fuse has stayed on top of the ACA reporting requirements & has provided us with the required data for tracking our employees' benefits." -Kathy
"Even though we didn't switch to Fuse until January 1st, 2016, they still were able to complete our 2015 1095-Cs and 1094-C. We imported the data necessary and they completed the reports." -Whitney
Tailors to your organization with customization
HR and payroll processes aren't one-size-fits-all, and our customers will be the first to tell you that. Fuse offers customization to accommodate your specialized reporting or integration needs, whatever you need to accomplish. In fact, users rated Fuse's customization a 9.5 out of 10 compared to Paylocity's customization rating by its users of only 5.2!

"The reporting features are AMAZING. Almost every screen is able to be customized and exportable. This feature alone has helped to save time on both the payroll end and the HR end." -Whitney
"Fuse's tools can be made specific to your company's needs. System is user-friendly, department friendly. Report writer is easy to create and save to your unique setting." -Maggie
"The customization of the system has met and exceeded my expectations." -Government administrator
Scales with your business
Has your business or nonprofit outgrown Quickbooks? Fuse is great for growing businesses and will scale right along with you.
"If you have a business that has requirements beyond a few employees with simplistic payroll, then I would highly recommend Fuse. We grew from one hospital with five employees to three hospitals with 50 employees. Our method of tracking time (via a time-keeping program within our veterinary software) and doing payroll (via a bookkeeper) didn't scale." -Abe
Outshines the competition
Considering other services or platforms for managing HR and payroll? See what Fuse users have to say about other leading HCM platform services and how Fuse measures up. With Fuse, users save time and money—a benefit for the entire organization.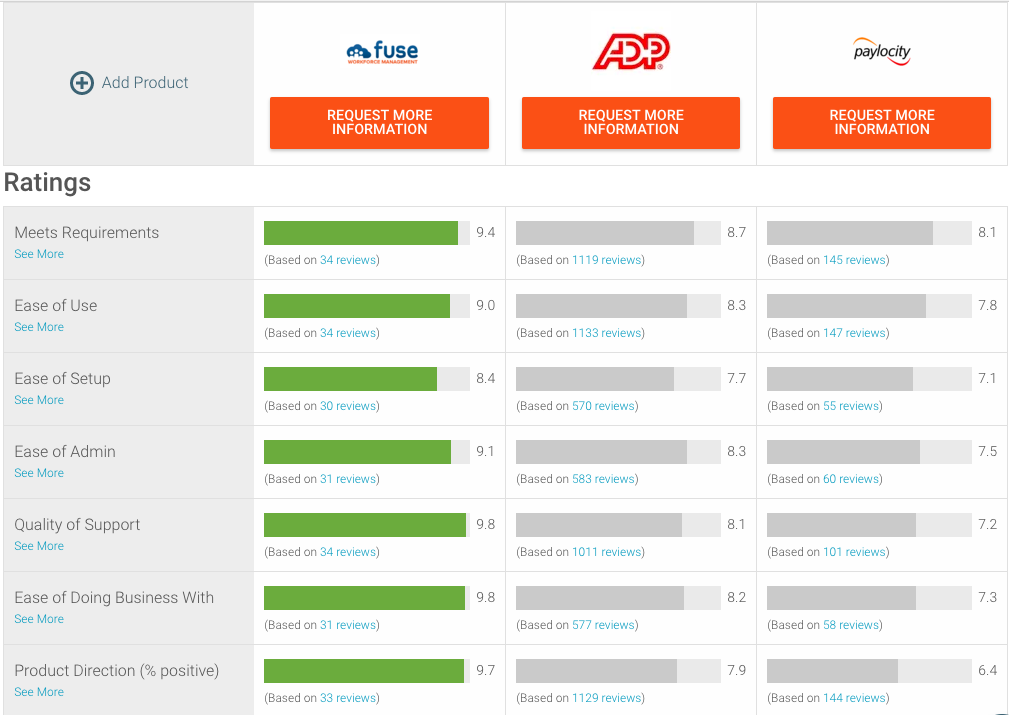 "I highly recommend Fuse. I did an in-depth analysis of other competitors and was amazed at how high Fuse ranked above the others. As a previous computer programmer, I was very meticulous in the software and report writing flexibility and was very satisfied on its performance." -Maggie
"I considered changing providers and going local, but with the cost, service, and ease of use Fuse has provided us since we signed up with them, I just couldn't justify making a switch. Not even worth my time to look seriously at the main local providers." -Robert
"Our company needed a more efficient system that saved us time, money, and headaches. Fuse has certainly helped with all of those things, and we were surprised at how affordable the system was for all of the features... it has definitely allowed us to better manage our information and cut back on time running reports." -Administrator and former ADP customer

"It is more cost-effective for us to use Fuse than the other company we used previously." -Telecommunications administrator
Offers unmatched customer service
We hear it all too often: HR Directors or Payroll Managers sign a contract for a flashy product from a big name provider, only to find their support and customer service to be a disappointment at best. At Fuse, we don't merely provide you a system. We put you in control of your service and equip you with the tools and training to manage your workforce with success. We don't believe in long hold times or unanswered questions. We put our customers first, so you can be sure you're getting real, valuable support from real people. Just ask our customers!

"With the support staff that's available, I've never had a hurdle I couldn't clear...Top-notch customer service is what sets this company apart." -Jeff
"I have never experienced a higher level of customer service. I recommend them to business colleagues all of the time. I just can't say enough good things about them!" -Pam
Fuse's customer service is fantastic, and their system is easily navigable. We made the switch to Fuse from ADP, and everything has been wonderful. The team there is small enough so that they know you and you recognize everyone, but large enough that they can solve any issues or answer any questions you have expediently." -Administrator
"About a year ago, I was tasked by new owners to research other payroll companies to find the best price and fit. I did just that. I contacted several other companies and I could not match the customer service. Many companies have great software. Most payroll softwares get the job done. Not all of them have a staff who will work with you." -Elizabeth
"Any time I call, I always get a resolution to my issue and when you are processing payroll the one thing that is for sure is there is a zero tolerance for mistakes. Fuse helps make sure that is the case...There are many companies out there who can process payroll. This is one of the best that I have found or worked with in doing payroll for more than 25 years. I can say without reservation that this is one of the best around." -Jean
"Fuse's support team is very helpful and responsive. They are quick to reply to emails and easily accessible on the phone. I appreciate their support and time." -Haley
"Hands down BEST Customer Service. I have used the other payroll companies and was so tired of sitting on hold for long periods of time.....Or being told 'Leave a message.'" -Leslie
"Outstanding customer support: prompt and thorough. Some of the best customer support and service I've ever experienced." -Jo
"When I do have questions I can always call and immediately get someone on the phone who is more than happy to walk me through anything I need. Friendly, prompt, and reliable." -Telecommunications Administrator
"No matter what time of day I call, the staff always has a smile and very pleasant to deal with, plus they are extremely helpful and very knowledgeable." -Kathy"
"The entire organization has been very responsive to our unusual scheduling/payroll/reporting needs." -Cindy
See how an integrated HR and Payroll system can help your organization. One of our HCM System experts will show you how Fuse can help streamline your workforce management with a system customized for your organization. Contact us today!