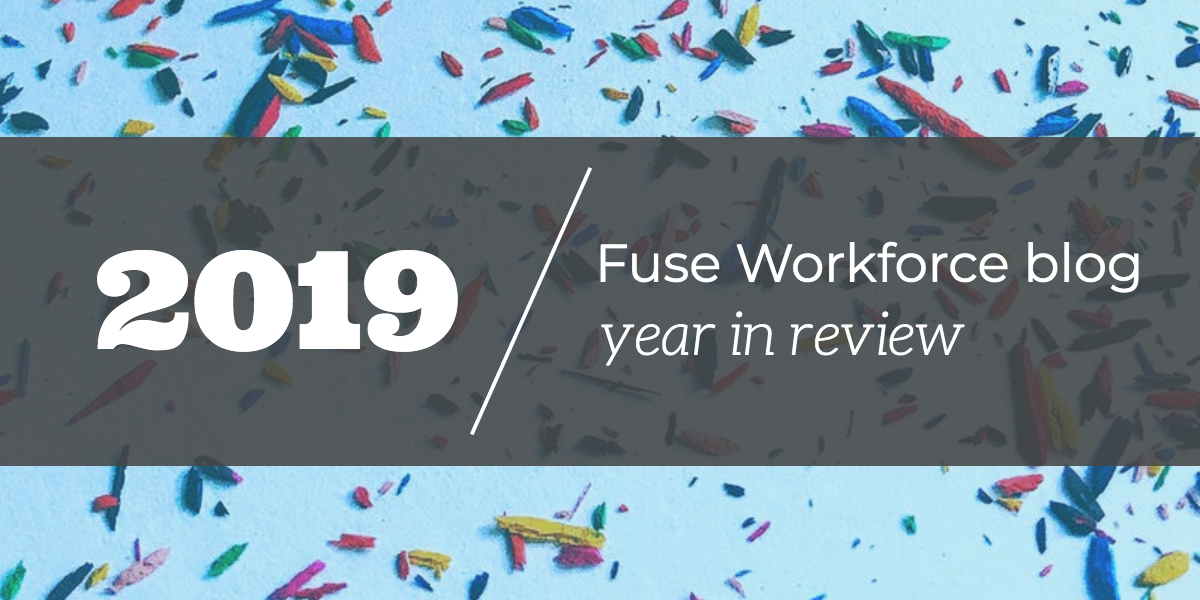 This year has been an eventful one for workplaces all over the United States. Between legislative updates, changes in expectations, and near record-low unemployment, HR managers have had a lot to keep up with. On the Fuse Workforce blog, our goal is to provide you with articles that help you stay ahead of the curve. In 2019, in addition to monthly news roundups, we published weekly articles about career development, employee management, hiring best practices, compliance, and more Human Resources topics.
In case you missed anything, here's a rundown of articles to check out before we head into a new year:
Career development topics for HR professionals
We know that as an HR manager, you spend most of your day working on payroll and compliance issues and helping develop the careers of the other employees in your company. That doesn't leave much time for you to think about the trajectory of your own career. This year, we wrote a series of articles meant to help you take stock of where you are in your career as an HR manager, and how you can level up your skills and expertise to prepare for what's coming. Take a look at these articles to get some inspiration for your own career goals in 2020.
What skills help HR managers succeed in 2019?
How to develop your career in HR
10 HR blogs and influencers to help you level up your career in 2019
4 podcasts that can help HR professionals level up
5 signs it's time for an HR manager to move to a new company
Should you get an HR certification? Which one?
5 common HR manager interview questions and how they can guide your career
Managing employees
Helping the employees in your company feel supported, recognized, and productive is a full-time job in itself. But since you have so many other tasks on your plate, you may not have much time to think about how to improve your company's management practices. Here are some articles that can point you in the right direction:
How managers can prevent employee burnout
How to reward employees for good work
Ending employee relationships on a high note
How to overcome workplace distractions and stay productive
Presenteeism: what it is and what to do about it
4 reasons employees leave + how to prevent them in your workplace
How to guide employees through a mid-career crisis
Soft skills training: What is it and when do you need to invest in it?
How companies can support remote workers
Are personality tests useful in the workplace?
Recruiting/hiring topics
With record-low unemployment rates, recruiting and hiring qualified employees has become a competitive endeavor. Making the right first impression on candidates is absolutely crucial to the success and productivity of any company. This year, we wrote several articles that can help you tweak aspects of your recruiting practices to give you a leg up on the competition. Take a look at a few of them here:
How to use interviews to create a strong candidate experience
How to write job postings that attract the right candidates
Pre-employment tests: when are they useful and when are they a liability?
Top hiring mistakes companies make
How to build an effective employee referral program
Legal topics and compliance issues
In addition to making sure your workforce is engaged and productive, one of the most important aspects of an HR manager's job is protecting the company from liability. But in a competitive and quickly-changing labor landscape, there are some common misconceptions about the right ways to handle issues like employee disputes, social media, and non-compete clauses.
The alphabet soup of federal employment laws—such as the FLSA, FMLA, ADA, and more— just adds to the confusion. With steep penalties and legal exposure at risk, what you don't know can hurt you— and your employer. That's why this year, as always, we tried to bring some clarity to these issues. Here are some articles we've written to answer your lingering questions:
What employers need to know about employee arbitration
3 easy ways to prevent bias in performance management
What employers need to know about non-compete and non-poaching agreements
The dos and don'ts of employer social media policies
What HR managers need to know about the new FLSA overtime rule
What do HR managers need to know about OSHA compliance?
Background checks: compliance with FCRA
Special cases and the ADA: what employers should know
Are you ready to tackle 2020?
For the new year, resolve to stay up to speed on all the important HR news you need to know. We're here to help— subscribe to the Fuse Workforce blog so you don't miss a thing.
So Many Laws. So Little Time.
Get the HR Laws Cheat Sheet.
Subscribe to the Fuse Blog. Claim your free resources. Get great HR content in your inbox.