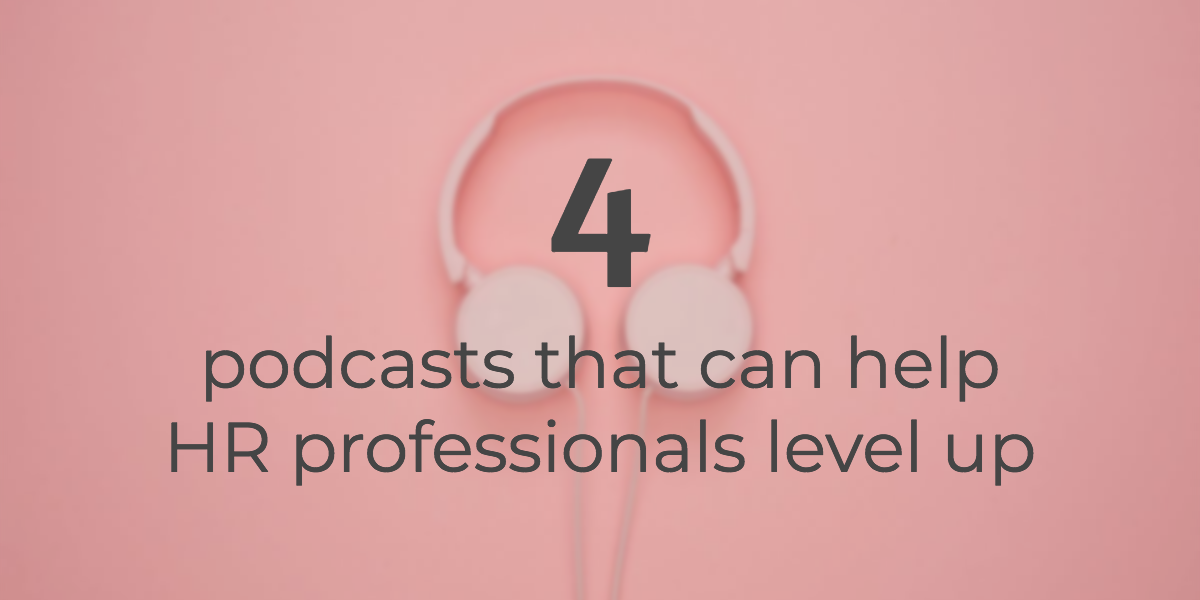 Most people who take pride in their work want to become more efficient, more effective, and all-around better at their jobs, and busy HR managers are no exception. But with more and more on your plate with every passing year, it may be a challenge to find the time to devote to regular learning. Aside from big conferences (of which you may get to attend one or two a year) and books (which take time to digest), what resources are available to help you level up your skills?
Good news: we live in the age of podcasts. In fact, there's basically a podcast for every niche interest imaginable these days, including human resource management. In 30-60 minutes (less if you listen at a faster speed!), you can glean valuable insights from fellow HR professionals and experts in the field. Here are a few you may want to add to your podcast feed:
HR Happy Hour, which earns the distinction of being both the longest-running and most-downloaded HR podcast, is run by Steve Boese, an industry thought leader who also co-chairs the HR Technology Conference. With 357 episodes in the back catalog— and a new one released weekly— there's likely been an episode on any HR-related topic you're interested in. Recent episode topics include a forecast of US labor market trends in 2019, improving diversity recruiting in the tech industry, connecting working moms with good job opportunities, and how HR can help employees with financial wellness.
Check out all the episodes and subscribe here.
Designed to be easily digestible on a lunch break, each episode of DriveThru HR clocks in around 30 minutes and features a guest speaker who shares some of their expertise in the world of HR. A new episode publishes every Tuesday at noon (central time) covering topics such as HR technology, leadership, organizational culture, recruiting, and talent management. In the last few months, there have been episodes about gender diversity in the C-suite, dealing with fake resumes and imposter candidates, and recruiting strategies for 2019.
Catch up on the 300 available episodes and subscribe to stay in the know here.
It's no surprise that Entelo, a recruiting automation software, would have some insights to share with HR professionals on the topic of talent acquisition. Featuring a different recruiting expert each week, every episode focuses on the intersection of tech and modern recruiting best practices. Recent topics have included the role of artificial intelligence in building a more diverse workforce, closing the gender pay gap, and the role of chatbots in recruiting automation.
Check out brief descriptions of and links to recent episodes here or subscribe to get instant access to all past and future episodes here.
Presented by Human Capital Institute, Nine to Thrive HR features conversations with HR leaders at Fortune 1000 companies, authors, academics, and other industry thought leaders.
Each episode clocks in at around 30 minutes or less and covers a topic such as talent acquisition, analytics, and employee engagement, retention, and development. Recent episodes covered topics such as the opportunities and drawbacks involved in novel compensation methods, how to get reference checks right, and how to use engagement surveys to drive organizational change.
Check out the back catalog and subscribe to future episodes here.
Brush up on the go
In addition to these four podcasts, there are myriad other shows dedicated to general workplace issues, equality and civil rights topics, and other subjects that might help HR professionals broaden their understanding of the people they work with. By subscribing to podcasts that pique your interest and teach you new skills or perspectives about the work you do, you can ensure that you're constantly improving your job performance. Best of all, the time commitment is minimal; podcasts let you learn from experts on your commute, at the gym, or while you're cleaning your house.
Looking for other ways to stay in the know about HR best practices and current events? Subscribe to the Fuse Workforce blog to get a new article sent straight to your inbox every week!