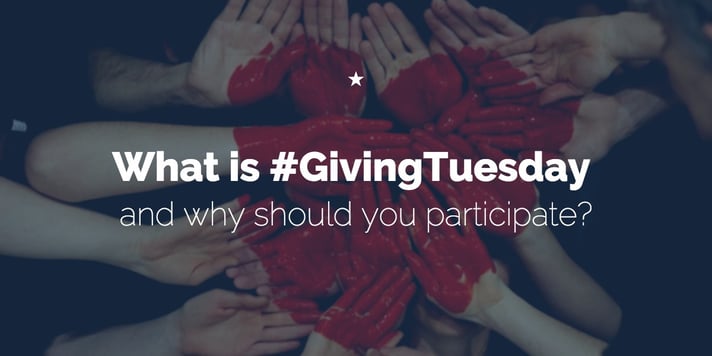 Since 2012, there's been another day to observe around the holidays: Giving Tuesday. Created in 2012 as a response to the consumerism promoted by Black Friday and Cyber Monday, Giving Tuesday has been steadily picking up steam as a day to encourage donation and community involvement in worthy local causes.
According to the website GivingTuesday.org:
#GivingTuesday harnesses the potential of social media and the generosity of people around the world to bring about real change in their communities; it provides a platform for them to encourage the donation of time, resources and talents to address local challenges. It also brings together the collective power of a unique blend of partners— nonprofits, civic organizations, businesses and corporations, as well as families and individuals—to encourage and amplify small acts of kindness.
So why should your organization get involved?
Reinforce and refocus on your company values
Giving Tuesday is a great opportunity for your employees to see their company leadership put their words into action and demonstrate the values their organization espouses. A concerted company-wide effort to donate time or money to a nonprofit is a great way to refocus employees on the core values of their workplace. It can also help the whole organization to clarify their purpose before entering a new year.
Boost morale and engagement in a stressful season
Showing your employees a mission beyond the walls of your office is great for employee engagement and morale. Seeing coworkers and managers in a different light, especially for a good cause, can be a great way to re-engage employees who are experiencing end-of-year burnout. Providing the chance to connect with colleagues on a human level is a powerful way to strengthen the workplace community and help employees to feel more welcomed and integral to the success of their team.
Strengthen your ties to the community
Volunteering and donating to worthy causes are the right thing to do regardless of the day. Many of the biggest brands have whole Corporate Social Responsibility departments to coordinate these efforts. But if you're a smaller company, or if community involvement isn't already built into the culture of your workplace, Giving Tuesday is a great chance to kick off a company-wide initiative to get involved and donate.
How should you get started?
On the Giving Tuesday website, you'll find ideas for individual or community involvement and a search tool that can point you to nonprofits or schools in your area. You can also download toolkits to help you share your efforts with your staff and your community, as well as other resources to help you develop your plan.
Get employee input
Host a roundtable discussion, send out a survey, or assemble a committee. However you want to tackle it, it's important to get staff buy-in by tapping into the insights and compassion of your employees to choose an organization to partner with.
Develop your plan and get to work
Decide whether your company's Giving Tuesday efforts will be donations of time, money, resources, or a combination. If you're volunteering, will you provide the day off to the whole organization, or a small group of volunteers to represent the office? If you're donating resources, such as toys or food items, post the items you need to collect and establish a collection location in the office. If you're donating money, get the staff excited about your progress toward your goal by sharing updates throughout the donation period.
Celebrate your efforts
After Giving Tuesday is over, thank your staff for their involvement and celebrate your accomplishments. If your company hosts a holiday party, be sure to acknowledge the work everyone put in to make your community involvement a success.
Remember that while Giving Tuesday is a great opportunity to reinvigorate your workplace's local involvement initiatives, it shouldn't be the only time a year that your staff has the chance to contribute to the good of your community. If volunteerism hasn't been a part of your corporate culture before Giving Tuesday, encourage your colleagues treat the day as a kickoff for your new commitment to giving back. You'll likely find that becoming an organization with a bigger purpose will increase engagement and boost workplace satisfaction.