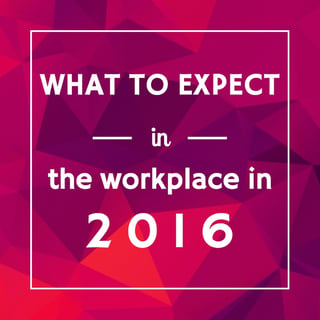 Much ink has already been spilled about what we're supposed to anticipate in HR departments for the year, and we're starting to see some common threads. Here's what you can expect to see happening in workplaces in 2016:
Boomers are retiring, meaning more Gen X-ers and millennials will be promoted through the ranks to management and leadership positions. This is shifting the culture of companies, as is…
Gen Z's entrance into the workforce. Gen Z is loosely defined as kids born between 1995 and the early aughts. Though any descriptor of a whole generation is a blunt instrument, sociologists describe this group as more practical than millennials, since their formative years were during the Great Recession. They're also the first true digital natives, as they've never known a world pre-internet. This makes them more fluent and comfortable acquiring new skills. They'll be in high demand-- and millennials will continue to be as well-- which leads to…
Greater competition for top talent. Signing bonuses are increasing, and hiring managers are reporting that even relatively content employees are interviewing with competitors, and then coming back with an offer in order to get a pay raise. If acquiring the best talent sounds expensive, it is. But the good news is, you can put yourself in a better position by creating an attractive culture or offering alternative benefits, including…
Workplace flexibility, which is a huge draw to millennials, and, presumably, Gen Z. Flexibility is consistently cited as one of the most attractive non-monetary benefits a company can offer its employees. This general relaxing of old workplace culture includes…
More informal review processes. Good news for anyone who hates the awkward, stilted annual conversations we've all sat through. Some experts see a subtle move away from these formal annual reviews, in favor of more ongoing measures of performance that provide regular feedback and encourage continual improvement. Managing these processes and others are part of why many HR departments are moving toward adopting…
Automated HR software platforms. A recent study by Human Resource Executive and The Starr Conspiracy shows that 57% of companies surveyed plan to adopt all-in-one automated HR software to help manage onerous and time-consuming tasks. In addition to hiring, onboarding, and review functions, HR platforms are especially well-suited for time-tracking. This can save a lot of headache when…
The FLSA changes. Proposed changes in who is considered exempt from overtime pay will likely mean that suddenly 11 million employees nationwide will be eligible to be compensated for overtime work. While the proposals won't be finalized until later this year, experts caution that employers will be responsible for complying with them for at least some of 2016. Knowing who's working what hours is also a crucial element to…
ACA compliance. This year, the stakes raise a little. The penalty for any uninsured full time employees (in excess of 30) takes effect. Last year, applicable large employers got a little bit of a break, with the penalty only applying if there were more than 80 uninsured full time employees. Luckily, the IRS extended the due dates for ACA paperwork (forms 1094 and 1095) by 3 months this year. This means you'll have a few extra months to get your ducks in a row and prove that you were compliant with the laws in 2015.
HR managers, what are you expecting to see affect your job this year? Is there anything you're particularly concerned about?
Topics: Human Resources, ACA, FLSA, HR Trends
So Many Laws. So Little Time.
Get the HR Laws Cheat Sheet.
Subscribe to the Fuse Blog. Claim your free resources. Get great HR content in your inbox.