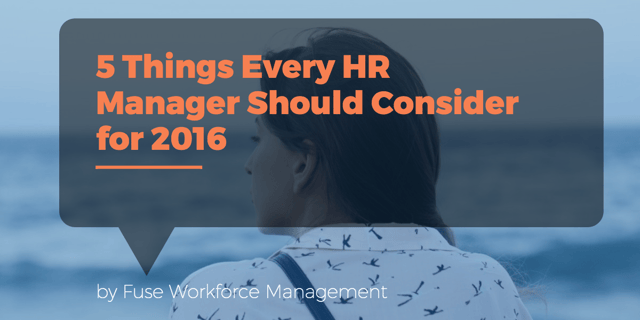 With 2016 just around the corner, you may be thinking of some personal and professional New Year's resolutions. Or, you could be loading up on holidays treats because you know that resolution is coming soon. Either way, during this time of year we can't help but reflect back on the past year and start setting goals for the next.
We have a lot of experience in human resources and like to keep on eye on trends, changes, and challenges in the industry. With 2016 right on the horizon, we thought we should propose some HR resolutions for the new year. Between ACA reporting, the DOL's proposed overtime laws, and the up and coming Generation Z, 2016 promises to be a big year.
Here's what we suggest Human Resources think about, try, or work on in 2016:
Analytics
In the past, HR managers used data to measure current employee performance while their guts made the call for hiring. Now, companies are relying on data to recruit the best talent. By analyzing data, employers can objectively evaluate job candidates. These data-driven companies can also use insights to identify trends in their workforces and industries. Look out for this objective research to play a big role in talent recruitment trends in 2016. How does your company use analytics as part of your HR strategy?
Feedback
Annual performance reviews may be a thing of the past. Many companies like Deloitte are moving away from annual or end-of-project reviews. Instead, they're opting for real-time feedback and alternative performance procedures. When they looked at the numbers, Deloitte knew their current system needed to change. They learned that performance management eats up 2 million hours each year!
After digging even deeper into the data, the company found these 2 million hours were not driving better performance or employee engagement. The new system aims to offer more useful feedback to employees at all levels of performance, not just a five-point scale rating. Apps like Impraise also allow employees to offer peer-to-peer feedback and coaching. Changes in traditional feedback and performance reviews will be more productive and better resonate with employees while contributing to employee engagement.
Changing Workforce
2016 marks some significant changes in the workforce. First, some 3.5 million Baby Boomers will retire this year. Second, the first wave of Generation Z will enter the workforce. Third, it's estimated that one-fourth of millennial employees will take on management roles. Is your company prepared for these changes in the workforce? People have already begun to analyze Generation Z. How will they act as consumers and employees? How will they view technology? What do they value? In 2016, prepare to shift your recruitment, hiring, and other HR strategy for these changes in the age of the workforce.
Flexibility
With many Baby Boomers retiring and millennials making up more of the workforce, there is a rise in focus on workplace flexibility. Alternative employee benefits are drawing more millennials to companies, even over salary. Plus, this is an employee benefit a small business can afford. Flexibility can come in the form of telecommuting, coworking spaces, and flex work weeks. With the tech tools available today, this flexibility could be possible for your organization. Does your company offer workplace flexibility? What works better for employees?
Integration
If you haven't already switched to an integrated HR system, 2016 is the year. The age of the siloed processes is over and done. HR managers no longer need to have payroll on one system, time tracking on another, and other HR matters on yet another program—or worse—on paper. Not only does this cloud-based system allow HR managers to access data anytime, anyplace, but also streamlines your entire HR process. Companies need integrated systems to communicate with other departments like IT or Legal. Legislation around the Affordable Care Act, like tracking and reporting requirements, requires more record keeping and data processing than ever before. Is your organization ready to make the switch?
Congratulations on making it through another year—2016 looks like a promising one for Human Resources and workforce management. If you're interested in hearing more about how to execute some of these changes in your workforce, we'd love to chat.
Topics: Human Resources, Latest News,, Human Resources, ACA Compliance
So Many Laws. So Little Time.
Get the HR Laws Cheat Sheet.
Subscribe to the Fuse Blog. Claim your free resources. Get great HR content in your inbox.