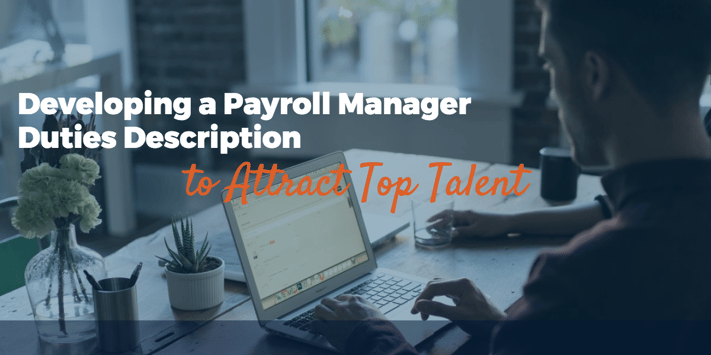 Looking for top talent to fill your payroll manager role? You must create a job description that will attract the right candidates for the job. Managing a company's payroll and everything that goes with it is a big job. You want someone who is reliable, trustworthy, detail-oriented, good with numbers—and people. A lot goes into payroll administration. It is important to understand the process to find the right fit. This information will help you construct the perfect payroll manager job description.
There are several different levels of payroll jobs, so let's start with the basics.


What is a payroll job?
Payroll refers to two things. First the amount paid to employees for the work provided to a business during a certain period of time. Second, the financial records of the salary and wages, including bonuses and deductions. A payroll job includes the necessary tasks to manage said payroll.


What is a payroll manager?
A payroll manager handles tasks involved in payroll to compensate employees for hours worked. He/she handles (tracking, calculating, and distributing) payment to employees. A payroll manager may also supervise the payroll department and other payroll workers. Other titles may include payroll officer, payroll clerk, or payroll administrator.


What is involved in payroll administration?
Payroll administration includes any tasks involved in managing compensation for employees. Administrative payroll manager duties involve managing employee hours worked, payment structure, and other tasks under the umbrella of employee compensation.


Payroll manager duties include:
Creates and maintains a payroll policies and procedures guide for the organization.

Adheres to payroll best practices for the organization.

Maintains payroll information by data collection, calculation, and entry.

Supervises payroll staff.

Keeps employee records up-to-date for benefits eligibility, insurance coverage, exemptions, changes in role/department, promotions, savings deductions, etc.

Processes new employees and temporary workers for financial or tax purposes during onboarding.

Calculates taxes (federal and state income tax and social security taxes).

Reports on taxes, deductions, summaries of earnings, leave, disability, nontaxable wages, and more.

Issues paychecks to employees according to the payment structure of the organization.

Provides payroll information to employees and is available for questions and discussion.

Stays informed of key dates and important deadlines

Resolves any payroll discrepancies and keeps a balance of all payroll accounts.

Stays educated on the latest laws and legislation (on the local, state, and federal levels).

Informs the organization of major legal changes.

Calculates payments for employer's social security, unemployment, worker's compensation, and benefits coverage.

Determines and reconciles payroll liability.

Prepares relevant reports for management on a monthly, quarterly, and year-end basis.

Furnishes and files tax forms to employees and with the IRS.
Communicates regularly with HR


What are the skills and qualifications to look for in a payroll manager?
The best payroll managers have a deep understanding of payroll procedures and systems. They maintain a healthy relationship with Human Resources and the organization's employees. Look for the following skills and qualifications:


Attention to Detail
Manager duties involve spreadsheets, reports, records, and forms. The opportunities for error are plenty. A payroll manager should be ruthless when it comes to details and make things right. A small error can have major consequences.


Mathematical Skills
Payroll managers should have a strong mathematical ability. They should be comfortable dealing with numbers and finances.


Understanding of (or adapts to) payroll software
Payroll technology is changing and manager duties require keeping up with those changes. It's not enough to know your way around Microsoft Excel. Does your organization use cloud payroll software or an integrated workforce system? Your payroll manager should have an understanding your payroll software. They should also know how to use this software to effectively manage payroll.


Honesty
Your payroll manager is handling your organization's money and taxes! They also deal with a lot of confidential information for your organization and employees, so they should be reliable and trustworthy.


Education Level
Sought-after payroll managers typically have a Bachelor's degree in Accounting or Finance. A Master's degree in these areas or in Human Resources would be a definite plus, but not a necessity.
Other skills include people management, data entry management, union experience, benefits administration, time collection, written and oral communication.


Should a business outsource payroll or manage payroll internally?
As businesses grow, they face a question of whether to outsource payroll or manage payroll internally. This ultimately depends on your company and how you want to spend your time and money. Oftentimes, even when you outsource payroll, you will still need someone to oversee the process. On the other hand, in-house payroll means another employee or employees to pay and another program to develop.
If you're not sure which is right for your company, consider the sum of costs for outsourced payroll compared to an in-house payroll manager salary. You want to be sure you're choosing what's right for your company—and what will give you the most support in your payroll process.
It's important to find someone who can meet the payroll needs of your organization. Are there any other skills or attributes that should be added to the payroll manager job description?
Originally published Feb 3, 2015, updated Sept 1, 2020
Topics: Payroll
So Many Laws. So Little Time.
Get the HR Laws Cheat Sheet.
Subscribe to the Fuse Blog. Claim your free resources. Get great HR content in your inbox.