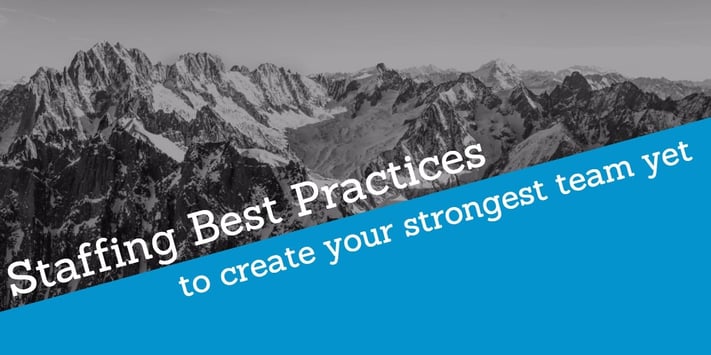 Finding the right talent for your company is a challenge even in the best of times. But with the job market growing ever more competitive, and the skills gap looming large, it's getting trickier to fill positions with highly-qualified candidates. For savvy and strategic recruiters, it doesn't have to be an impossible task, though. Here are a few best practices to help you sharpen your recruiting and staffing processes so that you can find and attract the strongest candidates:

Always have your eyes and ears open for potential employees, even if you're not actively hiring.
It's always better to be too prepared than to be caught off-guard right when you need a strong candidate the most. That's why building relationships and sourcing passive candidates should be an ongoing focus for any wise HR manager. Consider regularly attending industry-focused networking events to meet people who understand your company's niche. When you find yourself needing to fill a role, these loose connections can form a great network to help you find the right person.
Consider getting into the habit of reviewing every application or resume that comes across your desk (or as many as possible). Even if you're not actively hiring, this practice will help you stay aware of what kind of talent is out there. You may find an applicant you want to keep tabs on in case a position opens up. This practice can also help you to see which roles might be the most challenging to fill in the future. This will allow you to start preparing for how you'll react in the event of turnover or growth.
A pipeline of potential candidates available for various roles in your company can be indispensable in case of a sudden vacancy. This is especially true of positions that would hurt the most to leave unfilled. Building ongoing candidate sourcing into your work habits can help provide a soft landing for these instances.
Filter to get the best fit.
What about recruiters with the opposite problem: too many people applying for too few positions? If you're getting hundreds of applicants for every job listing, it might be time to reconsider how you're positioning the company and the role, and where you're sharing it.
Think about your company's brand and culture when you're writing a job description. Remember that you're not trying to attract every person to apply to your company- only the people whose skills and attitude would benefit your team. That means you may not need to post it on every recruiting site; the more niche-specific, the stronger the compatibility of candidates you'll find.
One time-tested way to filter through the mountain of applicants is to get referrals from existing staff. This eliminates one level of research right out of the gate. If a great employee at your company will vouch for a candidate, they're likely a better fit for your company than someone with no connection to the organization.
Employee referral programs can lead to reduced turnover, not only because they help you get the right candidates in the job in the first place, but also because they strengthen relationships with existing staff. Seriously considering employees' opinions about who they'd like to work with shows them your commitment to their job satisfaction and the continuing development of a positive internal culture.
Take your time.
When at all possible, give yourself ample time to really find the perfect fit for your company. If you invest plenty of time in the process, you're more likely to spot any potential problems before you bring an employee on board. The more thoroughly you've vetted candidates, the less likely you are to have high turnover due to lackluster job performance or poor cultural fit. This is especially important if you're a small company; one less-than-ideal person out of 20 employees stings a lot more than one out of 200.
Consider bringing candidates into the office to meet with their potential teams during the hiring process, and get input from your existing staff. They may identify red flags or strengths that you hadn't noticed. Giving your current employees the opportunity to share their opinions before you make your final choice can also help them to adapt to their new teammate more readily and take part in their onboarding.
Some companies have even steered their entire interview process in this team-focused direction. Instead of having a series of formal interviews, you can invite a handful of candidates to a company happy hour or a mixer to see how they interact with your existing team. While this approach is not for every company or industry, it can be a unique way to see candidates in a different light and to get a good feel for how well they'd get along with their prospective colleagues.
As with all aspects of your job, it's a wise idea to examine and refine your ingrained staffing habits from time to time. The recruiting process has changed so much in the past few years, and the state of the current workforce presents new challenges to HR teams trying to find qualified employees. It is critical to the success of your workforce that you approach staffing with an open mind and with your best foot forward to build a positive, productive corporate culture.