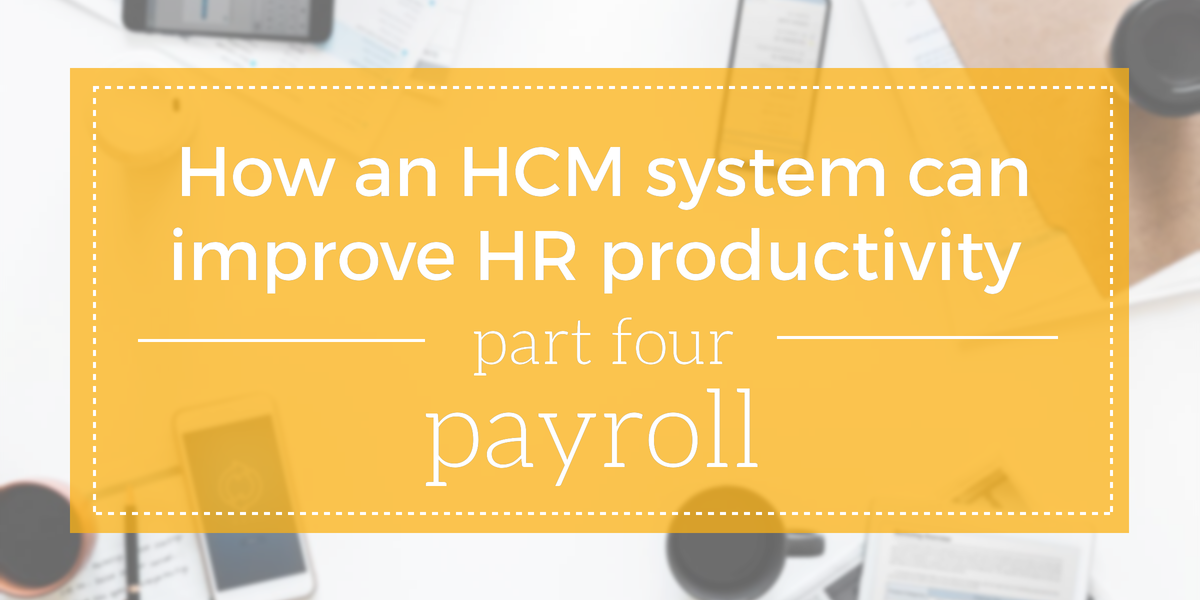 Read part 3: How an HCM system can improve productivity for HR, part three: Training
To many of us, payroll is a blessing—but it's also an HR professional's heaviest strain. As exciting as payday is, managing payroll continues far beyond processing paychecks.
We know handling payroll can be extraordinarily complex: it must be accurate, it must be efficient, and it must comply with regulations on a local, national, and international level. On top of coordinating day-to-day business operations, recruiting and hiring candidates, and managing growth, HR leaders must follow compliance, and get the numbers right for various taxes and payments.
Tired of payroll consuming your day? Get the guide to saving time on payroll and driving results.
Leveraging an HCM system makes it easy to produce the perfect paycheck and maximize efficiencies in your organization. Let's take a look at how you can manage and control your payroll every step of the way in a human capital management (HCM) system.
Automate your entire payroll process
The American Payroll Association estimates that automation reduces payroll processing costs by as much as 80 percent—reducing errors in invoices and paychecks. Taking full advantage of automation saves time and improves accuracy while allowing you to map out the entire payroll system.
Powerful automated solutions simplify complexities and improve paycheck accuracy. With a versatile pay rules engine, you can determine pay for regular and overtime hours. Automating challenging payroll tasks like relocations, wage increases, and entitlements takes away some of the stress. So does using a robust timekeeping and payroll service to generate payroll checks across multiple cost centers. As a bonus, you hit other benefits like addressing PTO accruals, 401(k) contributions, tax deductions, and overtime hours.
Manual procedures often depend on time-consuming paper trails. Reduce processing time and error-prone tasks by going paperless so you can focus on people—not filing. The best payroll provider may offer direct deposits services to drop paychecks right into employee bank accounts. By integrating custom batch payroll entries into your process, you can automate payments for multiple groups and departments on a weekly or bi-weekly basis. Save yourself the hassle of printing and furnishing checks when you can submit payroll in a fraction of the time.
Automation for smarter c
ompliance management
By using automated workflows, you can meet tight deadlines, avoid penalties, and take the exhaustion out of compliance management. Set up alerts to know when an employee is approaching benefits eligibility or overtime hours. Automated event notifications are invaluable for managing compliance with ACA and FLSA as it keeps employees and managers in the loop to enforce policies and stay compliant. Additional rules can help you enforce schedules and maintain your preferred full-time/part-time employee mix.
Tailor the system to fit your needs
Managing payroll isn't a one-size-fits-all job—employees require specific needs and care in a fast-paced, highly regulated world. The best HCM systems allow customization to accommodate your specialized reporting or integration needs. Tailoring configurations in your process helps you make key decisions to complete payroll runs. Managing today's emerging workforce can be tricky to steer. It's important to have an HR system that meets your needs now and grows with you in the future.
Simple, built-in tools make it easy to sort, filter, group, and customize report content for any time period. Using the mass edit feature to view or change employee payroll information saves you time from manual tasks. As regulations change over time, having an adjustment management system built into your process helps you manage bonuses, reimbursements, commissions, tips, and other payroll elements.
Access critical data and reports with real-time updates
The workforce itself is the greatest and costliest asset of most organizations. Yet, it often falls short in planning, measurement, and optimization. Overlooked current gaps in strategy may stifle productivity and contribute to future complications. Pinpoint developmental needs with various in-depth reporting options. With ad hoc reporting and customized analytics, HR professionals will be able to see the full picture of its performance and operations. Use Quick Links to immediately access your important reports and zero-in on several functional areas from a standard dashboard. Successful reporting may eat up more hours in a day than you'd expect. But using a central digital database with powerful reporting tools help you track employee performance and manage data collections on the fly.
According to the Workforce Institute, 81 percent of employees work outside of standard hours. Sixty-three percent of workers admit they work off the clock—even if it's against policies. Wouldn't it be great to monitor overtime trends and optimize your workforce strategy? Together with comprehensive visibility at your fingertips, HR professionals can create a dashboard for consolidated views of different labor pools. Committing to accuracy and timeliness pays off in the long run with a system that handles complicated tax regulations and wage laws. Having real-time calculations bolted in your system helps you know exactly how much each employee is earning. By leveraging accurate time synchronization and benefit updates in a powerful integrated system, you can craft the perfect paycheck every time while avoiding potential unintended consequences.
Catch your breath by using the right tools
Managing payroll can be a headache when every dollar counts. With laws and policies constantly changing, HR managers may feel fatigued under the burden of compliance and responsibilities.
With a best-of-breed system, you have the power to control labor costs, reduce compliance risks, and improve workforce productivity. But not all systems are created equal—many are prone to error when multiple, siloed systems have to work together. Choosing the ultimate payroll provider may seem daunting. But Fuse's HCM software eliminates the guesswork of labor expenses by seamlessly integrating HR, payroll, benefits, and time & attendance all into one system.
Read part 5: How an HCM system can improve productivity for HR, part five: Performance Management, where we'll look at how to conduct performance reviews in an integrated HCM system.
Ready to learn how Fuse Workforce can make you and your team more productive? Talk to an HR specialist about smarter solutions for your organization.