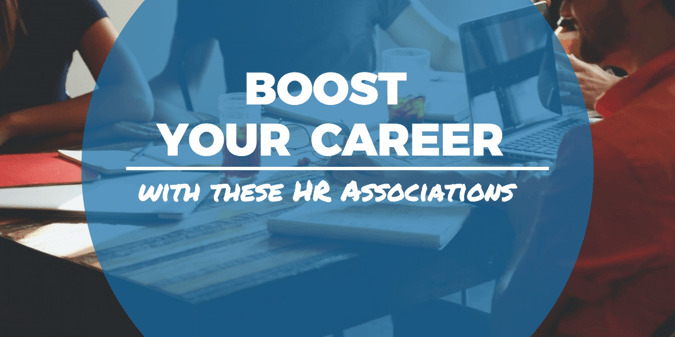 Whether you've been in Human Resources for 25 years or you're just starting out your career, the HR field places high value on membership in associations. You'll find them at the international level to regional levels. Why should you join a Human Resources association?
Provide educational resources for professionals (and aspiring professionals) in the Human Resources industry
Give opportunity to network and grow career through conferences, seminars, and other events
Prove your HR knowledge and establish your credibility among HR colleagues with certifications
Develop leadership skills and assume leadership roles to further advance your career and help many other HR professionals
We put together a list of human resources organizations to consider joining. Hopefully this list will show you some of the differences between the many organizations and opportunities and help you choose the one that's right for you.


SHRM is the world's largest HR membership organization devoted to human resource management with over 300,000 members across 165 countries. As the leading provider of HR resources, SHRM aims to "serve the needs of HR professionals and advance the professional practice of human resource management."


From HR Generalist to CEO, the SHRM member body proudly represents a wide range of positions and levels in business, with 40% having the title of Director or higher. They also stated previously on their website that 50% of members work for companies with 500 or more employees and 35% of members come from the manufacturing industry. The association offers local chapters, conference opportunities, publications, certifications, industry research, awards and scholarships, and more.
Membership includes compliance resources, HR news, access to the SHRM Connect professional network, access to Ask an HR Advisor, and thousands of templates and examples of commonly used forms, policies, and presentations.
Membership: Individual membership plans only.
Professional: $219/yr
Internet-only: $109/yr
Student:$49/yr


HR People + Strategy is SHRM's Executive Network for those with 10 or more years of HR experience with a focus in HR strategy & planning, leadership development, or talent management. Membership includes membership with SHRM and advanced-level access to reports, conferences, and more.
Individual Membership Options
Executive Membership - $995.00
Executive Membership Plus - $2,995.00
CHRO Circle - By invitation-only.
Executive in Transition - $495
Faculty Membership - $495


The National Human Resources Association is a non-profit organization established in 1951. The association focuses on career development through professional networking programs, leadership opportunities, and development services. This national association has regional affiliates and is looking to expand to even more regional areas. Because the organization is run by volunteers, they have placed a "high focus on products and services that will bring bottom-line savings and value to organizations." Events with NHRA are often smaller, providing more opportunity for deeper connections and learning.
*Membership rates vary by region.


AHRD is a global organization formed to encourage the study of human resource development theories, processes, and practices and distribute educational resources and findings about HR. The AHRD also provides networking opportunities for HR professionals working in a variety of disciplines.
Membership benefits include: conferences, publications, resources, awards, and faculty mentoring projects.
Membership:
Individual: $220/yr
Student: $130/yr
Also offer membership options for "Special Interest Groups" and retired HR professionals.


The Association for Talent Development (ATD) is a professional membership organization for professionals responsible for the training and development of employee skills. The ATD produces a large amount of content through research, books, webinars, and other educational materials. The association also develops members and offers networking opportunities through conferences and other events throughout the year. A great organization for HR professionals wanting to improve recruiting and development skills. Includes a "Job Bank" and virtual career fair for those searching for jobs or recruits.
Individual Membership
Professional: $259/yr
Professional Plus: $399/yr

Professional Plus - Special Bundle: $1,794/yr


IHRIM has been a leading membership association for HR information management professionals and offers you a unique community that blends education, collaboration and professional certification.
Membership includes conference opportunities, resources, job listings, HR tech, webinars, community access, certifications, and more.
Individual Membership
Students: $50
Faculty: $100
Individuals: $295
Corporate Membership
Package options ranging from $195-$210 per member



Special Interest Groups
NAAAHR provides a forum for the career development of Black and African American human resources professionals. NAAAHR offers an "inspirational and unique career development and networking powerhouse for Black and African American human resources practitioners." The group focuses on networking, career advancement, educational and professional development, mentorship, coaching and more.


CUPA-HR focuses on HR and management in the field of higher education in the U.S. and internationally. By monitoring trends in the higher education workforce and its issues, the CUPA-HR conducts research and promotes strategic discussions among colleges and universities.


The Association for Manufacturing Excellence creates an environment for manufacturing professionals to, "exchange best practices and network in order to advance their careers and improve the competitiveness and overall value of their organizations." With a special section for human resources, this is a great organization for anyone in an HR role with a manufacturing company.


The American Arbitration Association is a non-profit organization specializing in alternative dispute resolution for individuals and organizations who wish to resolve issues out of court. With expertise in labor and employment, the AAA provides "rules and procedures to handle cases in an efficient, flexible manner." The AAA's arbitrators and mediators are made up of business and legal experts. Visit the AAA's arbitrator and mediator page for more information about selections.


The American Management Association focuses on advancing management principles. They offer extensive seminars, conferences, and other resources to improve the skills for successful business and management.
Did we miss one? Tell us which HR organizations you're involved with and why you chose them! If you want more HR resources, sign up for updates.


Originally published Oct 1, 2015, updated September 4, 2020