Hiring new college graduates is a great strategy for lots of reasons. They're eager to get work experience, likely to innovate and take risks, and are very comfortable using a variety of new technologies, among other factors. But attracting the best and brightest new talent can be a challenge, especially if you're not a Silicon Valley startup swimming in funding.
Lots of startups offer competitive pay and fun perks like catered meals, ultra-relaxed dress codes, unlimited vacation policies, and fridges fully stocked with microbrews for after-work team building time. Naturally, college students are attracted to that kind of atmosphere. Who wouldn't be?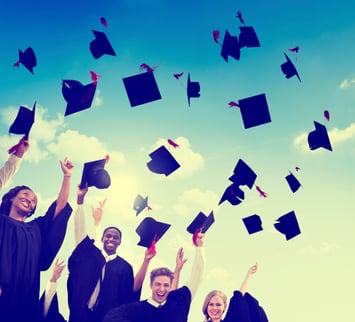 If your company is unable to provide that kind of experience, you're not alone. According to a large-scale survey of employers by Collegefeed last year, 92% of companies feel they have a "branding problem" when it comes to attracting millennials. Without offering insanely high pay or throwing massive company parties, can you still compete for great new talent?

To find out what really drives a new graduate's decision about where to work, Collegefeed polled 15,000 college students and new graduates about what they look for when considering an employer. Not surprisingly, competitive pay was ranked in the top 5. What was surprising: it didn't make it into the top three.

Here are the top 3 things new college graduates are actually looking for when trying to decide where to work after college, and some advice about how you can make the best impression for each one.

People and culture fit
The people currently working for you can be some of your biggest assets in terms of attracting talent. Consider who you're sending to college campuses and recruiting events. Are they enthusiastic about the work your company does? Nobody wants to work for a company where the employees seem indifferent or unhappy about the work they do.

Highlight the aspects of your company that make you unique. If you haven't already, consider implementing ways for your current employees to get to know each other as people instead of just as colleagues. Do you have a way for employees to get to know each other outside of work, like a monthly happy hour? Do coworkers volunteer together? Creating an enthusiastic, supportive culture where employees like their jobs and each other doesn't happen overnight, but it's a worthwhile investment, and it'll definitely help you attract stronger talent.

Career potential
Show applicants their potential future paths in your company or in the field. Millennials are highly unlikely to take an entry-level job they perceive to be a dead-end. Statistically, they will change jobs more than any other generation before them, so establishing a career trajectory with lots of potential for growth is important to them. Show them the skills and knowledge they'll gain in this position and how those will serve them well throughout their whole careers.

Work-life balance
Consider implementing flexible schedules, or allowing employees to telecommute a few days a week. Be respectful of employees' nights and weekends. Having time and space outside of work to rest and enjoy their personal lives is crucial to your employees, and it usually results in better morale and performance. More than any generation before them, millennials are not content to just punch the clock and collect a check. They don't like to be evaluated on number of hours worked, but on the amount or quality of work done in those hours.

If your business has not been thoughtful about creating a supportive culture, clear career trajectories, or work-life balance for your current employees, it's time to consider how you can put those in place. They'll not only make your existing employees happier, they'll put you on better footing to attract young, innovative talent to your company.