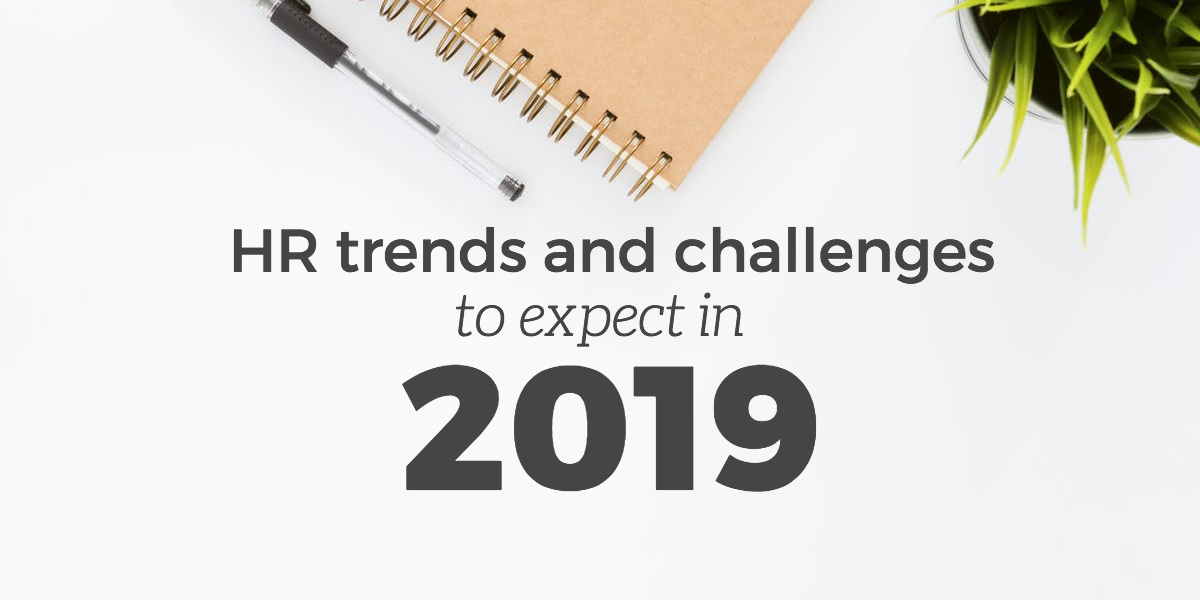 Over the past few years, we've seen a big shift in the way people work due to changes in culture, demographics, and technology. Since we predicted the workplace trends of 2018, we've seen more employees go remote, innovative methods to combat employee burnout, and employers rethinking company culture and the candidate experience. Beyond these workplace transformations, HR leaders also witnessed big regulatory changes and parity movements in 2018.
In addition to these issues, HR managers also have new labor, political, and cultural forces to anticipate and manage. As we welcome in another new year, we've gathered trends and challenges HR managers can expect in 2019:
Strong soft skills will matter in a digital-human workforce
The onslaught of intelligent machines brought debate about whether robots will replace people in everyday jobs. While we saw these concerns grace headlines in the past few years, research proves emerging technology is more of a catalyst for shifting skills and enhanced performance, not a full replacement of human labor.
The future workplace will involve a new dynamic: people and machines working together to drive better outcomes. According to a Udemy for Business report, as machines automate more routine tasks, people will need to specialize in more critical soft skills.
Looking at the fastest-growing softs skills trending in 2019, conflict management comes in first followed by emotional intelligence, company culture, and change management. All of these skills will become more important in the future as organizations need to play a role in workforce transitions.
Expanding leave laws will pressure employers
Under federal law, time off for serious health conditions may be covered by the Family Medical Leave Act (FMLA). Other state and city laws have their own leave programs as well. To make matters more complicated, sexual harassment, pay equity, and drug testing are changing leave laws. When the laws in each jurisdiction vary significantly, it makes compliance management very tricky especially for multistate employers.
Based on XpertHR's survey, 47 percent of employers are frustrated with tracking and complying with rapidly changing leave laws across states. Forty-six percent are challenged by tracking and complying with local leave laws. Another survey indicated managers lack of interest and education in proper leave management.
Leading into the new year, leave management continues to surprise, confuse, and frustrate both employers and managers. While keeping pace with leave laws isn't a simple task, it's a necessary one. To prepare for these challenges, a good first step is prioritizing leave management education for supervisors and managers.
Job seekers will drive hiring expectations
Good news! U.S. unemployment rate remained at its 49-year low of 3.7% for the third straight month this year. According to the latest ManpowerGroup Employment Outlook survey, hiring intentions among U.S. employers are at a 12-year high entering the first quarter of 2019. However, with steady job growth comes cutthroat competition for talent. In a candidate-driven market, job seekers are calling the shots and employers have to ramp up their recruiting efforts to attract top talent.
In the search for the best and the brightest, workplace policies, pay levels, and benefits to meet the needs of a multigenerational labor pool. Top wanted perks include flexible work schedules, career development opportunities, and remote work. Leading organizations also offer competitive benefits like paid parental leave, unlimited paid time off, voluntary health benefits, and health savings accounts (HSAs). As we dive into 2019, employers can't afford to overlook the needs of an evolving workforce. A generous or well-rounded benefits package can be the key to attract and keep top talent.
Marijuana legalization will challenge HR drug policies
So far, medical marijuana is legal in approximately 30 states, and recreational marijuana use is legal in 10 states and in the District of Columbia. Yet, cannabis possession is still illegal under federal law. Modern drug policies aren't so cut-and-dry anymore. XpertHR's survey reports that 41 percent of employers find managing federal and state marijuana laws a challenge with 34 percent challenged by maintaining a drug-free workplace in light of changing laws. Going into 2019, employers face a perplexing challenge addressing and managing drug use in today's workplace.
Maintaining a safe and drug-free workplace has always been the norm, but the legalization of weed blurs expectations at the office. Despite legality, consuming weed doesn't actually extend to the workplace, unless serious conditions apply. States that legalized marijuana can fire an employee if they smoked weed on or off the job. Employers can also refuse to hire candidates if they tested positive in a drug screening. HR leaders are also under pressure to follow drug policies and accommodate disabled individuals at the same time.
The best approach to deal with cannabis usage in the workplace is to update current drug policies and training resources. Make sure to inform your employees about their rights as workers in the U.S. and in your state as well as clarify expectations in the office.
Want to set yourself up for a successful 2019? Keep up to date about the newest HR trends and regulations by subscribing to the Fuse Workforce blog.
Topics: HR Trends
So Many Laws. So Little Time.
Get the HR Laws Cheat Sheet.
Subscribe to the Fuse Blog. Claim your free resources. Get great HR content in your inbox.