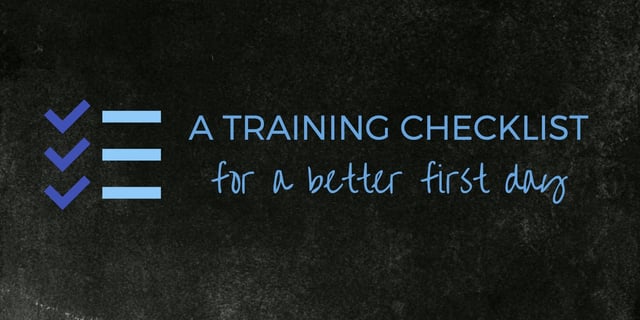 The process of training new employees has so many moving parts that any company can easily let a few important items slip through the cracks from time to time. But making employees feel welcome and integral as quickly as possible can help start their relationship with your organization off on the right note and get them engaged in their work from day one.
Here's a short checklist to help you make sure you've got everything ready and thought out before your new hires walk in the door on their first day.
When preparing:
Tell new hire when and where to arrive, where to park, and who to report to

Have benefits and payroll paperwork assembled

If possible, have as much of an employee's information electronically autofilled into their payroll paperwork ahead of time

Have a comfortable workspace prepared. Ensure any phones and computers are set up properly and connected.
Make sure you have clearly-articulated expectations:
Talk to managers about their specific goals and expectations for the employee's first few weeks.

Use this information to write out a thorough job description that details all responsibilities.
On their first day:
Make them feel at home:
(Optional, but a nice touch): have a little gift or some breakfast items to welcome your new employee.

Give them a tour of their new workplace including:

restrooms

kitchen

breakroom

where they can store their belongings

Take them to meet any coworkers they'll be working with closely.
Show them the big picture:
Schedule a few minutes for each employee to sit down with their direct supervisors so they can ask more job-specific questions.
Talk to your new employees about your company culture:

company history

business goals and strategies

mission statement (if applicable) and values

policies
Share administrative items:
Explain when and how employees will get paid and review benefits

Complete benefits and payroll paperwork with employee. Ensure all documents are signed.

If you're giving a formal presentation: offer regular breaks and check for understanding as you go.
In the first few weeks:
Check in on your new employees in their first few days and weeks to make sure they're settling in.

Schedule some dedicated time for new employees to set short-term and long-term goals for growth within the company.
You may find after several rounds of onboarding and training new employees that your process changes and refines. Taking a little bit of time to tailor the training process to your organization's needs can really help you make the most of the first few weeks with a new employee (or several) in the ranks. The gains you'll see in employee satisfaction and retention will more than likely make this extra effort worth your while.