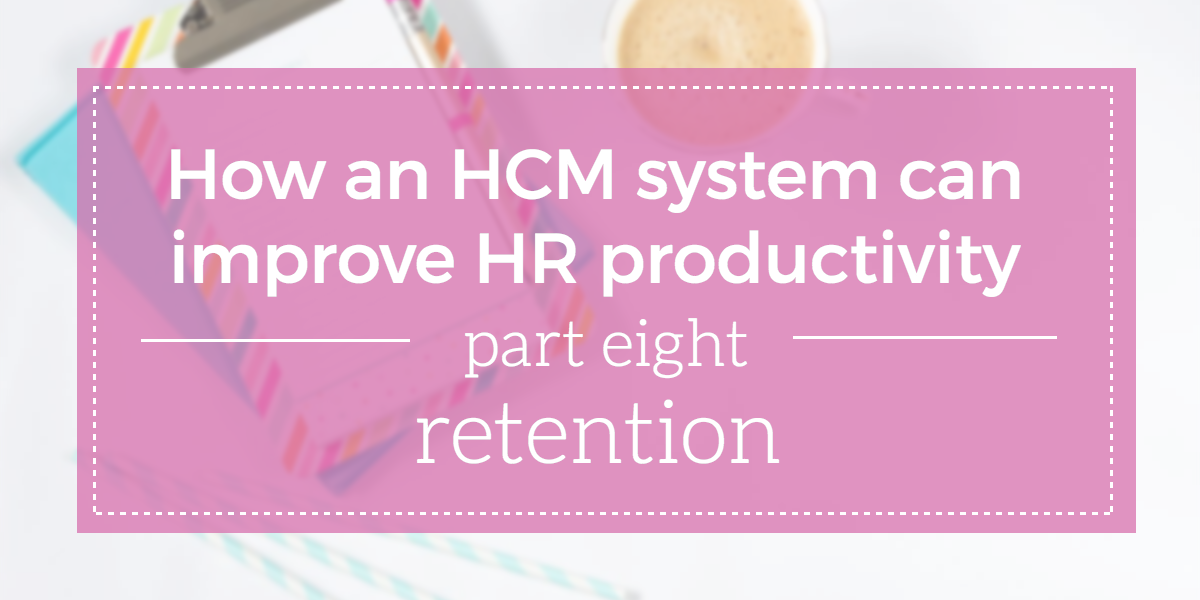 Read part 7: How an HCM system can improve productivity for HR, part seven: Compliance
The grass is greener on the other side. Employees with this mindset could be close to quitting—if they haven't already.
When employees leave their jobs, HR managers have to restart the costly dance of recruitment, hiring, and onboarding all over again. With today's hiring market, evolving labor laws, and overflowing HR tasks, the consequences of employee churn are heavy to bear. Turnover doesn't just increase onboarding and training costs—it also reduces employee productivity and morale.
While you can't completely avoid employee turnover, there are some intuitive solutions to improve your chances of retaining your best talent. In this article, we'll explore how you can use an HCM software to keep your best people in the books.
Get hiring and onboarding right using integrated tools across the organization
Scenarios like ghosting, unconscious bias, and other bad recruiting practices drive candidates away or set the stage for employee turnover down the line. Yet, overcoming these issues in a competitive hiring market can be a lot to ask for from a busy HR manager.
Recruiting and hiring
To start, spruce up your recruiting and hiring processes by optimizing your selection process and streamlining your communication efforts through an HCM software.
HR managers can:
Build structured interview processes with automated workflows.

Evaluate job descriptions by cross-checking with various team members or departments in one centralized platform.

Use personalized email templates to send consistent and timely responses.

Find candidates with specific certifications or expertise through an online applicant repository.
Adopting these practices will help you make fair decisions in your hiring process and kickstart a smooth search for the right hire.
Onboarding
The quality of your onboarding process also determines a new hire's future success and loyalty. Common onboarding mistakes can affect any HR manager going at it alone, but creating a game plan with the right tools can help leaders add value from day one.
HR managers can:
Send required forms to new hires by automating the paper-pushing process before their first day.

Ensure accuracy across all documents with automated verification tools.

Anchor webinars, videos, and manuals into employees' onboarding portal to clarify expectations.

Form a cross-functional onboarding team of mentors, teachers, and leaders to support hires in their onboarding journey.
A good, sustainable onboarding experience creates an ecosystem where new hires can thrive and find purpose in their role. With a great onboarding program, your company will profit from employees who can commit for the long run.
Maintain continuous communication with custom reports and real-time data
According to a Globoforce survey, 32 percent of employees stay in their role if they find their job meaningful. For this reason, it's important to learn about what values and beliefs matter to your employees and outline steps to take moving forward.
While giving performance reviews for a diverse and nuanced workforce is more than a handful, using an intuitive HCM system can help guide the performance management process and keep the conversations rolling.
HR managers can:
Create role-specific appraisal forms and evaluations for different employees.

Access real-time data and create custom reports for accurate assessments.

Reward employees who step up to the plate or identify their pain points by tracking performance metrics.

Define the timeline and automate frequency of performance reviews to maintain continuous communication.

Collaborate on goals and action plans with managers, mentors, and employees on a single, cloud-based database.
By taking a proactive role to generate a continuous dialogue with your employees, you help them see fulfillment in their work rather than pushing them to an exit.
Train and develop your workforce using a configurable dashboard
HR managers who help shape employees' growth are bound to see positive results in engagement and retention. In addition to giving regular constructive feedback, investing in training and development efforts provides direction and excitement for employees. Yet, neglecting employee development is a chronic problem when managers are juggling essential tasks and putting out fires on a daily basis.
Designing training plans doesn't have to be complicated. Use a powerful HCM software to assess the needs of your employees and fill in the skill gaps.
HR managers can:
Provide on-the-job training with automated workflows.

Load training resources into custom tabs or as quick links for easy access.

Anchor FAQs into employees' dashboards to save time and maximize efficiency.

Define training courses, assign employees to tracks, and track completion to ensure accountability.
Spending time and effort on each individual's ongoing professional development will take time, but it's well worth the effort. Your team's productivity, engagement, and retention will rise for years to come.
Foster employee engagement from compliant-ready tools and an ESS portal
Employees lacking knowledge of their basic benefits plans can lead to frustrations and miscommunications—even employee burnout. The same is true for burdened HR managers who use poor practices to manage the entire employee lifecycle.
By using the right tools to keep compliance and balance a better work-life dynamic, both managers and employees can own and control labor costs.
HR managers can:
Losing an employee affects all your other HR operations. It takes a hit to productivity, engagement, cost, and culture that takes time for companies to recover. But when someone leaves, it's not easy to pinpoint a simple solution in your process. Most companies lack the proper systems to measure these costs and track missteps along the employee lifecycle.
Know when it's time to ask for help. Fuse's integrated HCM software takes the guesswork out of employee turnover so you can focus on keeping your workforce happy, productive, and engaged. With an end-to-end solution, you'll be confident managing everything from compliance and payroll to your people.
Ready to learn how Fuse Workforce can make you and your team more productive? Learn more today!