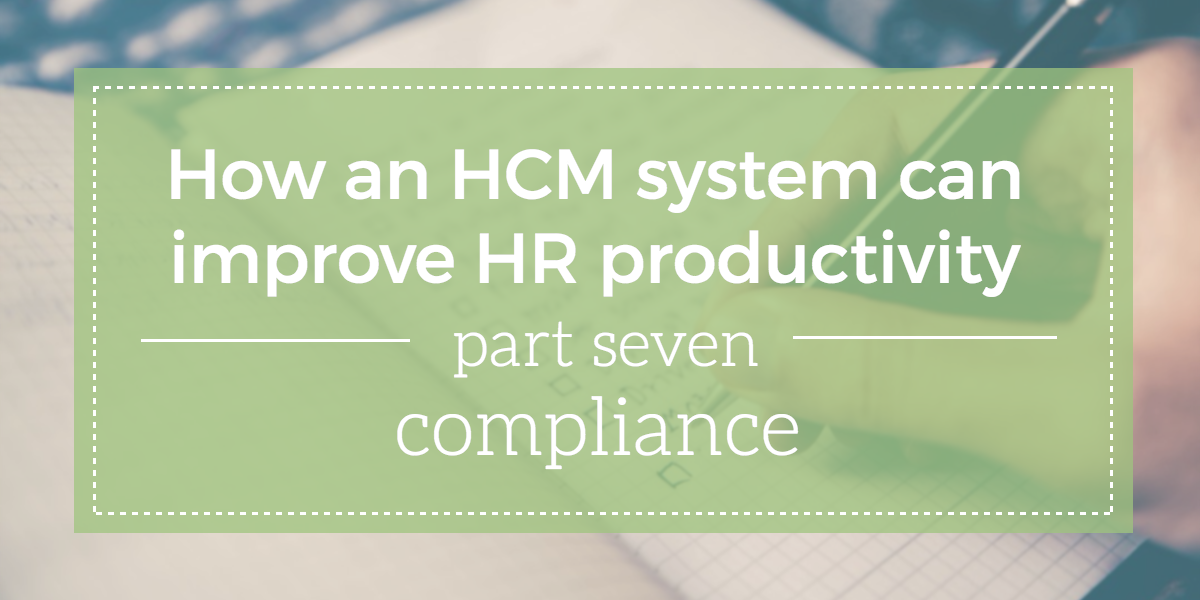 Read part 6: How an HCM system can improve productivity for HR, part six: Benefits Management
Maintaining compliance is a messy and often immense endeavor.
The ever-changing web of regulations and laws have HR professionals balancing benefits management, payroll runs, and leave reporting among other HR policies. At the same time, HR professionals have to stay on their toes with laws like the Affordable Care Act (ACA), the Family and Medical Leave Act (FMLA), Equal Employment Opportunity Commission (EEOC), and more.
If keeping compliance isn't done well—inaccurate or missing paperwork, compensation violations, improper timekeeping—the risks are substantial. And HR managers don't have enough hours in the day to meet the demands of regulations with manual processes.
Cue the stress and the frenzied attempts of short-term fixes.
Your organization shouldn't suffer costly compliance hits from temporary, time-consuming tactics. Luckily, using an HCM system makes compliance manageable and maximizes your organizational efficiencies for years to come. In this article, let's explore how you can manage workforce compliance with the right tools and technology.
Track real-time workforce data
When the nitty-gritty details of every employee count towards compliance for all these HR laws (and more), HR managers require a powerful database—not homegrown paperwork and spreadsheets—to drive accurate results.
Data visibility starts with a comprehensive HCM system that tracks and stores data for you. You can tap into historical and real-time employee information like average hours worked, individual schedules, time records, and benefits enrollment. This lets you spend your time analyzing data instead of looking for it.
Even better, look for all-in-one systems with a dedicated ACA module to help you proactively manage compliance across your entire workforce. A look at your management dashboards gives you a one-stop shop for viewing consolidated data of different labor pools.
Provide comprehensive reporting
Instead of chasing down information across departments to get cohesive reports, HR managers can use reporting capabilities to submit complete and accurate records to government agencies on time.
An integrated platform with built-in compliance reports like EEO, OSHA, and New Hire puts everything in one place. With over 150 standard reports for HR services, timekeeping, and payroll, HR managers can easily edit and combine reports using built-in, ad hoc reporting tools.
Rather than sifting through these reports, use quick links to access your important reports and zero-in on several functional areas from a standard dashboard. With a cloud-based, self-service portal, employees have the autonomy to access their information from the web, a mobile app, or the time clock to make reporting accurate and convenient.
Automate processes and communication
HR professionals face daily grunt work processing paperwork and managing administrative tasks to maintain compliance. Shrinking the amount of time spent on these tasks with powerful automation should help mitigate frustration, reduce paper trails, and cut down errors.
For benefits enrollment
Managing benefits enrollment is simple if you:
Power communication efforts with automated alerts and batch emails to inform employees about important deadlines or eligibility.

Flag potential compliance issues like overtime activity or

status changes

with intuitive alerts.

Accommodate sudden changes to employee coverage on the fly by streamlining the approval process and sending data automatically to carriers.
For payroll
Employers can run into trouble with unlogged overtime hours and miscalculations. Take the exhaustion out of payroll with a robust timekeeping and payroll service. These solutions help you:
Automate and interpret time calculations, and capture hours based on remote work, travel, meal, and breaks.

Track and understand true labor costs by enforcing flexible, user-defined pay rules.

Generate payroll checks across multiple cost centers so you can manage a diversified labor pool across the entire organization.
Tired of payroll consuming your day? Get the guide to saving time on payroll and driving results.
For labor law updates
In addition to juggling evolving ACA regulations and impending FLSA updates, there are more than 40 types of federal leave laws with many organizations having their own leave policies in place. Handle the complexities around labor laws by using a dependable coordinated system to:
Automate legislative updates and help keep your platform current with the latest federal, state, and employer-specific labor policies.

Use a

leave of absence module

that streamlines the policy enforcement for a variety of leave types.

Auto-populate information to FMLA form templates at the push of a button.
What's next?
Keeping pace with changing legislative, union, and industry regulations isn't a walk in the park. That's why we do our best to craft and deliver the best resources to help you manage compliance like tracking HR compliance news, building an essential ACA guide, and offering a complimentary assessment to evaluate your needs.
While building knowledge is the first step, having the right support and tools sets up your company for success in the long run.
Whether your employees are across the hall or across the world, an end-to-end HCM solution scales with the growth of your organization and helps you manage the entire employee lifecycle. By leveraging Fuse's HCM platform, you have the power to drive cost-effective labor decisions, minimize compliance risk, better allocate human resources, and optimize productivity.
Ready to learn how Fuse Workforce can make you and your team more productive? Talk to an HR specialist about smarter solutions for your organization.