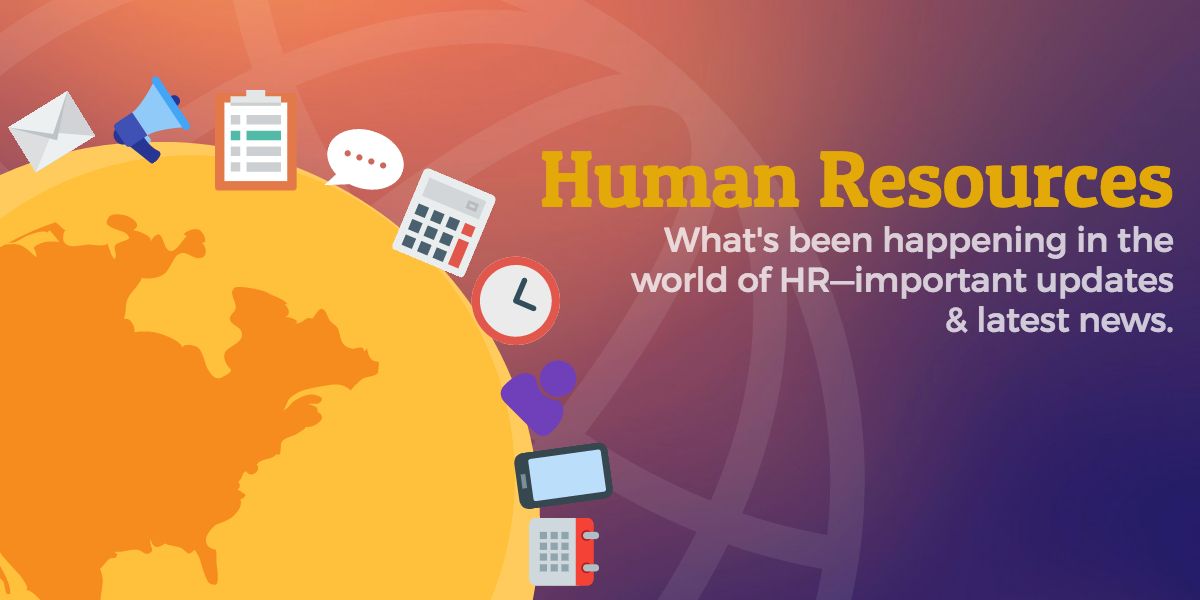 Not long before summer's start, the DOL announced the final rule for overtime and white-collar exemptions. But that isn't the end of the changes for the FLSA. This summer will bring higher penalties for employer violations—along with other big news for the workforce. What's happening in the world of HR lately?
Surveys tell us about company policies on politics and who exactly are the people working from home. We see an increase in civil monetary penalties and in wages, too. Keep reading for the latest in human resources this summer.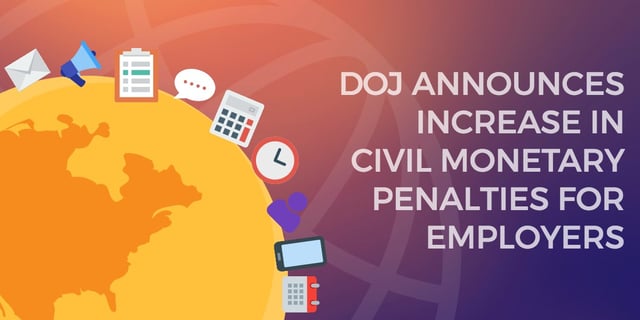 #1 DOJ Announces Civil Monetary Penalties for Employers to Increase August 1
In keeping with the Bipartisan Budget Act of 2015, the Department of Justice has made plans to adjust civil monetary penalties for inflation. The Bipartisan Budget Act of 2015 was signed into law on November 2, 2015 and its penalties will go into effect on August 1, 2016. (Penalties will apply only to violations that occurred after November 2, 2015.) These penalties include wage and hour, safety, benefits compliance, and immigration violations.
The Department of Labor reminded employers that the penalties exist to help encourage compliance among employers. However, when penalties do not keep up with inflation, they lose their effectiveness.
All the more reason for employers to ensure they're complying with FLSA, immigration, OSHA, and other standards and avoid increasing penalties.
Currently, the DOL may fine employers up to $1,100 for each repeated or willful violation of the FLSA minimum wage or overtime rules. Beginning August 1, 2016, the FLSA penalties will increase by nearly 72% with a maximum per-violation penalty of $1,894. Penalties are assessed on a per-person violation basis making the price for noncompliance one you don't want to have to face.
This is an interim rule. The Department of Justice will accept public comments from until August 29, 2016 before publishing a final rule.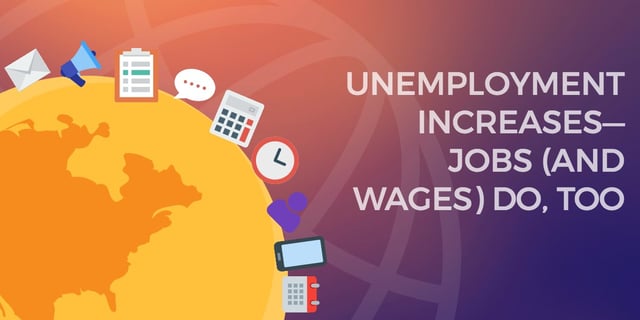 #2 Unemployment increases, jobs (and wages) do too
Despite the sinking oil and gas industry, the month of June saw an increase in jobs—287,000 new jobs, actually. Though the unemployment rate in the US increased slightly (from 4.7% to 4.9%, likely due to the recent graduates entering the job market), other sectors of the job market show promising growth. Increase in the hospitality and tourism sector can be due largely to seasonality. This sector created more than 27,000 jobs with restaurants creating an additional 21,900. In addition to tourism and service industries, the healthcare sector saw a large increase in June, growing by 38,500 jobs.
Careerbuilder's survey of 2,153 employers reveals wages may increase in the second half of 2016. Of those surveyed, more than half will raise wages for current employees and 2 in 5 will offer higher starting salaries. This survey echoes the predictions of the Bureau of Labor Statistics whose data shows a 2.6% expected increase in wages in the latter half of 2016.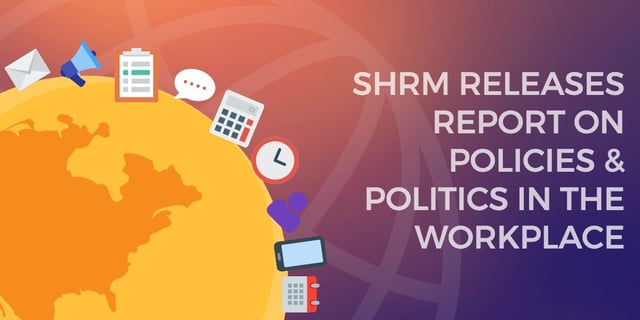 #3 SHRM Releases Report on Policies and Politics in the Workplace
Politics, always a touchy situation in the workplace. And this election year seems to bring the most volatile situations to the water cooler.
But a recent SHRM survey on political activity in the workplace shows that despite the number of organizations that discourage political activities in the workplace, few have actual policies regarding the issues. The main findings of the survey revealed, according to HR professionals, that:
72% of organizations discourage political activities in the workplace.
24% of organizations have a written (formal) policy on political activities, and 8% have an unwritten (informal) policy.
86% of organizations allow employees to take either paid (53%) or unpaid (33%) time off to vote.
SHRM stresses the importance of policies on politics in the workplace because, as the SHRM survey program director stated, "Even a minor increase in political volatility can create major headaches in the workplace if not managed well. With five months until Election Day, HR professionals must be tuned in for changes in the culture of their organizations and recognize that tension may increase in the coming months, making it necessary to stress collaboration despite different political perspectives."
Does your organization have policies, written or unwritten, regarding political activity in the workplace?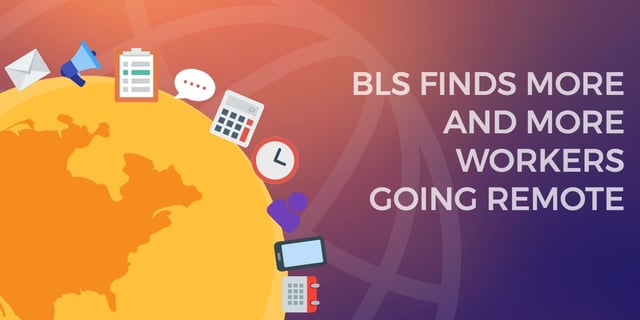 #4 BLS Finds More and More Workers Going Remote
Frustrating commute, changing office environments, and developing technology are some of the reasons we're seeing more and more workers employ flexible work options such as remote work, work from home days, and flex workweeks. Authorities in Human Resources encourage HR to embrace this trend (as millennials will soon be making up 50% of the workforce) and allow more remote or flexible work options when available.
So, who are these people who get to work in their pajamas?
According to a data from the Bureau of Labor Statistics, "38 percent of workers in management, business, and financial operations occupations and 35 percent of those employed in professional and related occupations did some or all of their work from home" in 2015.
In 2003, when the American Time Use Survey was first conducted, 19 percent of the share of workers did some or all of their work at home. This year's survey reveals an increase to 24 percent in 2015. During this same period, the average time these employed persons spent working from home was 2.6 hours. Since then, the average time increased by 40 minutes to 3.2 hours on workdays.
The survey also found that "employed persons age 25 and over with a bachelor's degree or higher were the least likely to work at their workplace and they were the most likely to do some or all of their work from home. By comparison, 94% of workers with less than a high school diploma worked at their workplace and 7% worked from home."
While certain sectors like the service industry or healthcare require workers to be present to do their jobs by the simple nature of the work, business and financial sectors require less in-person attendance as technology like Slack and Webex, among others, allow businesses to collaborate online rather than in person.
From increased wages to increased penalties, a lot is happening in the workplace. To stay up to date with the latest tips, legislation, and HR news, subscribe to the Fuse blog (and we'll even give you a free gift for HR).
Topics: Human Resources, FLSA, HR Trends, Core HR, Reports, Recruiting and Staffing, HR News, HR Roundup
So Many Laws. So Little Time.
Get the HR Laws Cheat Sheet.
Subscribe to the Fuse Blog. Claim your free resources. Get great HR content in your inbox.