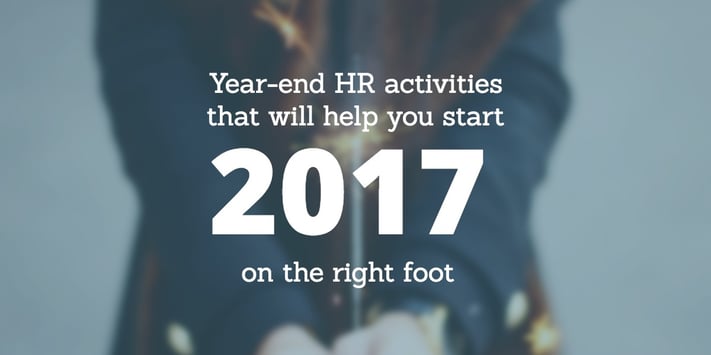 Whether or not you believe in making new year's resolutions, the end of the year can be a meaningful time to evaluate what you want to take forward into the next year and what you want to leave behind. This is just as true in your professional life as well as your personal one.
If you work in HR, there are some activities that you need to perform at the end of the year as a matter of compliance, and others that you should consider doing just to set yourself on the right foot for the next year. While it may not be legally required that you examine your policies and practices to make them work better for you and your organization, it can certainly make your workday run more smoothly in the new year.
Here is a checklist to remind you of some of the tasks you need to do by the end of the year, as well as a few that will likely make your life a little easier as you start 2017:
Compliance
Review and update company policies in the employee handbook, if necessary
Review state and federal records retention guidelines and purge/destroy appropriate sensitive documents
Move files for terminated personnel to storage (if you're using paper documents)
Ensure you have each employee classified properly in accordance with new FLSA guidelines
Here are some articles that might help:
Hiring
Talk with team managers about upcoming job openings or hiring needs for the first few months of 2017
Update job descriptions and postings
Analyze your recruiting, hiring, and onboarding practices for any changes that would make the process smoother.
Here are some articles that may help:
Employee Processes
Perform end-of-year reviews, if applicable
Examine your employee review processes and decide on any changes you want to make in the new year
Look at your company's voluntary employee turnover rate and set goals for reducing it in 2017.
Review your processes for monitoring and increasing employee engagement.
Here are some articles that might help:
Payroll
Prepare your first payroll run of 2017
Review employee withholding information
Order W-2s and 1099s
Issue holiday bonuses (if applicable)
Examine your payroll processes to see if you can make them easier on yourself in the new year.
Here are some articles that might help:
Benefits and compensation
Compare your compensation package to the market average to ensure you're competitive
Perform cost of living raises if necessary
Update your benefits package if necessary
Prepare open enrollment information for employees
If you have an unstructured PTO policy, set up rollover or pay employees for unused days
Some of these activities you have likely planned for the end of the year already, particularly the ones that are required by law. However, it'll be worth your while to spend some time in the next few weeks to look over your hiring, onboarding, employee engagement, performance review, and payroll processes and decide how to improve them in the coming year. Wrapping up 2016 properly will let you enjoy your holidays knowing that you've set yourself up for success and a positive work environment in 2017.
Topics: Human Resources, ACA Compliance
So Many Laws. So Little Time.
Get the HR Laws Cheat Sheet.
Subscribe to the Fuse Blog. Claim your free resources. Get great HR content in your inbox.