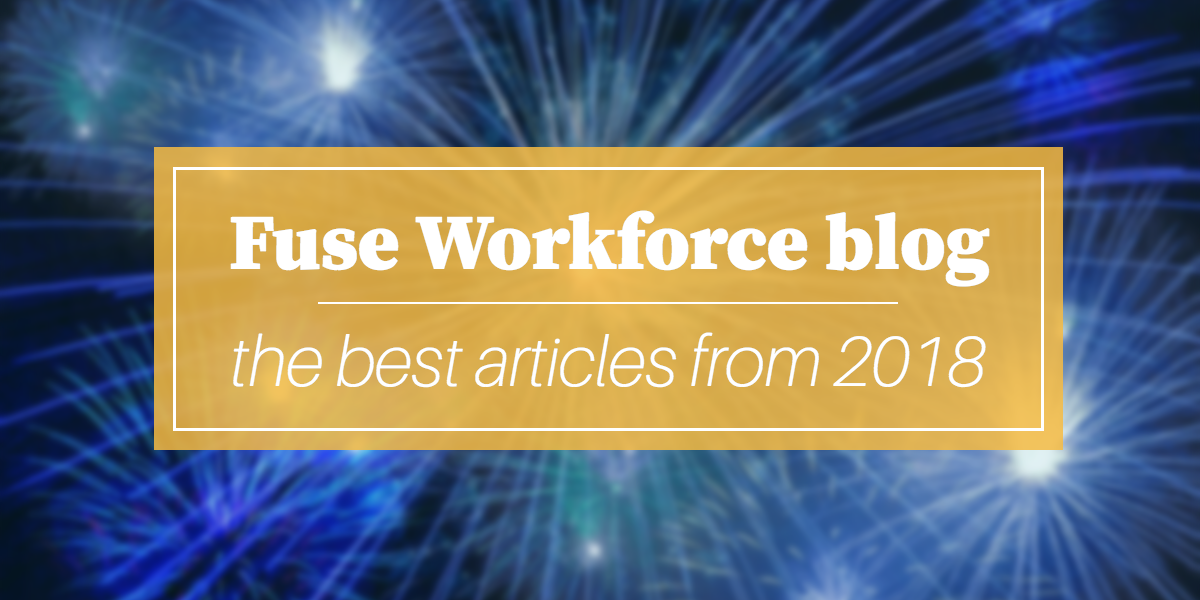 Labor headwinds like demographic shifts and changing employee expectations have kept HR managers on their toes. Between tailoring education and training to the needs of the modern workforce, HR managers also face considerable pressure to keep top talent happy and engaged.
And who could forget the fickle future of the Affordable Care Act and employee overtime rules? Policy changes and employee management are just the tip of the iceberg. New technological developments and agile approaches are changing the way we work.
With so much that happened in 2018, it's easy to miss out on important updates. On the Fuse Workforce blog, we strive to keep HR and payroll managers well-informed on matters that affect your job and equip you with the tools to help you create a productive, positive workplace. This year, we've covered topics from industry trends and HR regulations to best practices and emerging issues.
Let's take a look at the most popular reads from 2018.
Tackling HR challenges in 2018
According to recent studies, employees are more stressed than ever. The number one reason? Bad bosses. Employees are losing sleep and quitting due to poor leadership. This isn't unheard of as many managers lack the necessary training on how to best manage their workloads and oversee teams.
The responsibility has never been greater for those who lead employees. To help HR executives and managers tackle their most pressing challenges, we've gathered popular articles from this year that address top problems facing leaders today and helpful solutions.
Recent HR news tells us the cost of noncompliance isn't cheap, yet employment laws are ever-evolving and hard to pin down. The stakes are high if you're not keeping a close eye at laws like the Affordable Care Act (ACA) or the Fair Labor Standards Act (FLSA). Their rules are changing; what's current now may shift in the future. At Fuse Workforce, we do our best to stay on high alert for these changes. Our bank of resources supplies HR leaders with critical information to stay prepared and manage compliance proactively.
Don't wait until the new year to start planning for compliance. The best HR managers stay on top of their game now with everything they need to know to manage their workforce. If you're still unsure of how to manage compliance, here are some articles you should take a look at:
Staying updated with the HR Monthly Roundup Series
Throughout 2018, we've seen big cases and new trends for leave laws, the #metoo movement, emerging technology, workplace challenges, and more. If you haven't had the chance to catch up on all the chills and thrills of the HR landscape, reading our monthly HR Roundup series is a great place to start. In each roundup, we gather a high-level rundown of the most important issues facing workplaces and provide you with updates on developing stories.
For the time-strapped HR managers, getting a monthly dose of news is fast and easy. Check out the last few roundups like October and November, or subscribe to our blog to get the roundup sent directly to your inbox every month.
If you're itching for a list of compliance-related events, check out our compliance tracker where we log ongoing regulatory news in addition to our roundups.
Improving productivity from employee hire to retire
Making important decisions from recruiting and onboarding to benefits and payroll can stretch an HR manager's time and resources thin. An HR manager's daily tasks only get more frustrating and painful with manual data entry and messy paper trails. Today's workforce needs are changing, and organizations will need to adapt quickly to evolving expectations.
That's why we created a series of productivity articles to show you how to optimize every point of the employee lifecycle, the right way. We address pain points for both HR teams and employees alike, and we pair it up with best practices and solutions to help you manage your toughest problems and bottlenecks.
Check out each topic in the series here:
We hope 2018 has been a time of growth for you. From everyone at Fuse Workforce, we look forward to helping you succeed in your career in 2019.
Topics: HR Trends, HR News, HR Roundup
So Many Laws. So Little Time.
Get the HR Laws Cheat Sheet.
Subscribe to the Fuse Blog. Claim your free resources. Get great HR content in your inbox.