There's nothing dull about Human Resources these days. This fall has boasted a lot of change and proposed legislation—some passed, others stalled or overturned. Rules are changing, deadlines are changing, technology is changing. And HR has to keep up. Good thing you're here to get the updates on all-things-HR.
What's been happening in the HR lately?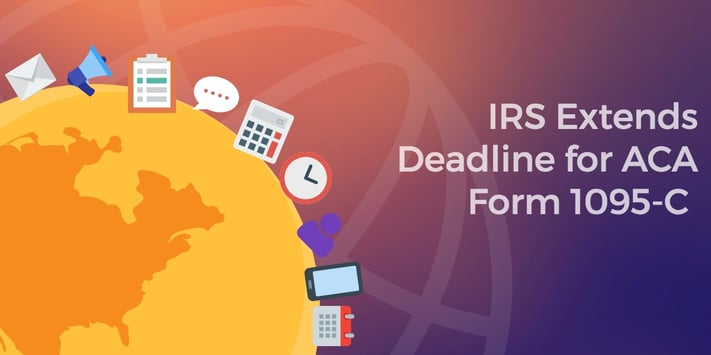 IRS extends deadline for ACA Form 1095
The IRS gave employers an early Christmas gift this year with an unexpected extension for furnishing Form 1095-C to employees in 2017. In a notice from the IRS, Applicable Large Employers now have until March 2, 2017 to furnish statements of coverage through Form 1095-C reporting on 2016.
After a strong push from the IRS that no extensions would be given for 2016 ACA reporting in 2017, there's been some confusion about what exactly is due when and how to apply for an extension now that this notice has been published. Let's cover the big questions employers have about 2017 ACA deadlines:
What's been extended? Form 1095-B (health coverage) and Form 1095-C (Employer-Provided Health Insurance Offer and Coverage) are now due to employees by March 2, 2017 instead of January 31. The "Good faith transition relief" has also been extended for the 2016 reporting year. The IRS will not penalize employers for incomplete or incorrect forms if there's evidence of a good-faith effort to comply.
Do employees need to apply for this extension? No, the Form 1095 extensions are automatic for 2017 reporting on 2016 health coverage and offers of coverage and apply to this reporting year only. Deadlines will return to IRS standards in the following year.
What's staying the same? Even though employers have an additional 30 days to furnish Form 1095-C to employees, they will still be required to file Form 1094-C and copies of Form 1095-C with the IRS no later than February 28, 2017 (if filing by paper) or March 31, 2017 ( if filing electronically). Employers may apply for a 30-day extension using Form 8809.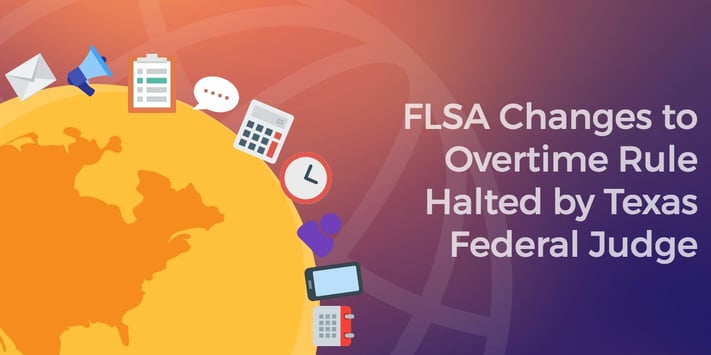 FLSA changes to overtime rule halted by Texas federal judge
In another 11th-hour move, a Texas federal judge halted the FLSA overtime rule that would increase the salary level for non-exempt employees to $47,476 per year or $913 per week beginning December 1, 2016. While the court proceedings continue on the rule, this preliminary injunction will maintain the current FLSA overtime rule where the salary threshold lies at $23,600 per year or $455 per week.
"A preliminary injunction preserves the status quo while the court determines the department's authority to make the final rule as well as the final rule's validity," said Judge Amos Mazzant of the U.S. District Court for the Eastern District of Texas.
As SHRM points out, while a preliminary injunction isn't permanent, it does give us a pretty good idea where this ruling is headed. This judge wouldn't have granted it unless, "he thought the states showed a substantial likelihood of succeeding on their claims." However, regardless of where the salary threshold lands for 2017, employers must have their workers appropriately classified.
The DOL fought back, however, filing a motion for an expedited briefing of its appeal to Judge Mazzant's decision to pause the changes to overtime rules.
What should employers do now? Regardless of changes to overtime rules, employers should take a good look at their employee classifications. Do the right employees have exempt or nonexempt status? Are they contract workers or full-time employees? Do they qualify for exemptions based on the duties test?
If you've already implemented the new rule in your workplace and promised increased salaries or overtime pay, consider keeping these adjustments for now. It's still very possible the new overtime rule could take effect, not to mention what it will do for your employee morale.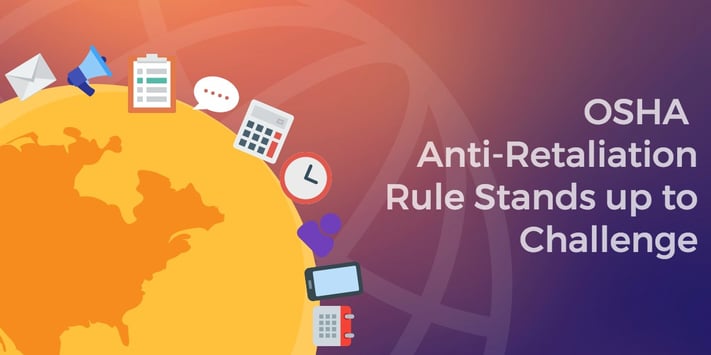 OSHA Anti-retaliation Rule stands up to challenge
Unlike the FLSA overtime rule, the challenges to the OSHA anti-retaliation rule were not halted. Instead, a federal judge allowed the new recordkeeping rule with the anti-retaliation provision to take effect on December 1, 2016 as planned with electronic reporting provisions taking effect on January 1, 2017.
The recordkeeping rule requires employers to electronically submit to OSHA data on work-related injury and illness that they're already recording on their onsite OSHA forms. Some of this data will be available on the agency's website. The anti-retaliation provision of the rule prohibits employers from discouraging workers from reporting injury or illness. The provision also requires employers to inform employees of their right to report injury or illness without retaliation from the employer. According to OSHA, one simple way to satisfy this is to display the required OSHA workplace poster.
OSHA believes the rule important because "behavioral economics tells us that making injury information publicly available will 'nudge' employers to focus on safety. And, as we have seen in many examples, more attention to safety will save the lives and limbs of many workers, and will ultimately help the employer's bottom line as well."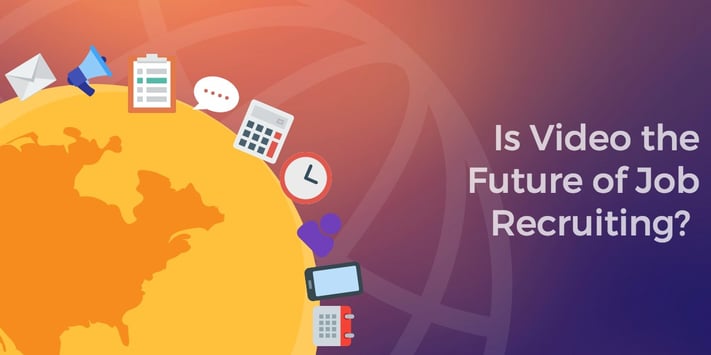 Is video the future of job recruiting?
In the game of recruiting and hiring, you're always looking for ways to catch—and keep—the attention of top talent. It's not enough to blast job postings across job board sites anymore. Monster's acquisition has shown us those days are over. With the millions of things flashing across our screens every day, you've got to have something worth looking at.
Enter video.
According to Maury Hanigan, founder and CEO of Sparc Recruitment Marketing, people will spend at least twice as long looking at a job post that includes a video over one that's text only.
"If it's short and to the point, people will watch it. And you have more of a chance to pique their interest or get them excited about the job. Ideally, if they are the right fit, the more interested they will become. And if they are not the right fit, they will opt out," Hanigan says.
By adding a video with an inside look into your company and its culture, recruiters and hiring managers believe you're increasing engagement and the likelihood of finding the candidate that's the right fit.
You don't have to limit video to job postings either. Video can help in multiple areas of your recruiting efforts, including job fairs and interviews.
And there's your HR news for November. To stay updated on all-things-Human Resources, subscribe for updates to our HR and Payroll Blog.
Topics: ACA, FLSA, Labor Laws, Time and Attendance, HR Trends, Recruiting and Staffing, HR News, HR Roundup
So Many Laws. So Little Time.
Get the HR Laws Cheat Sheet.
Subscribe to the Fuse Blog. Claim your free resources. Get great HR content in your inbox.