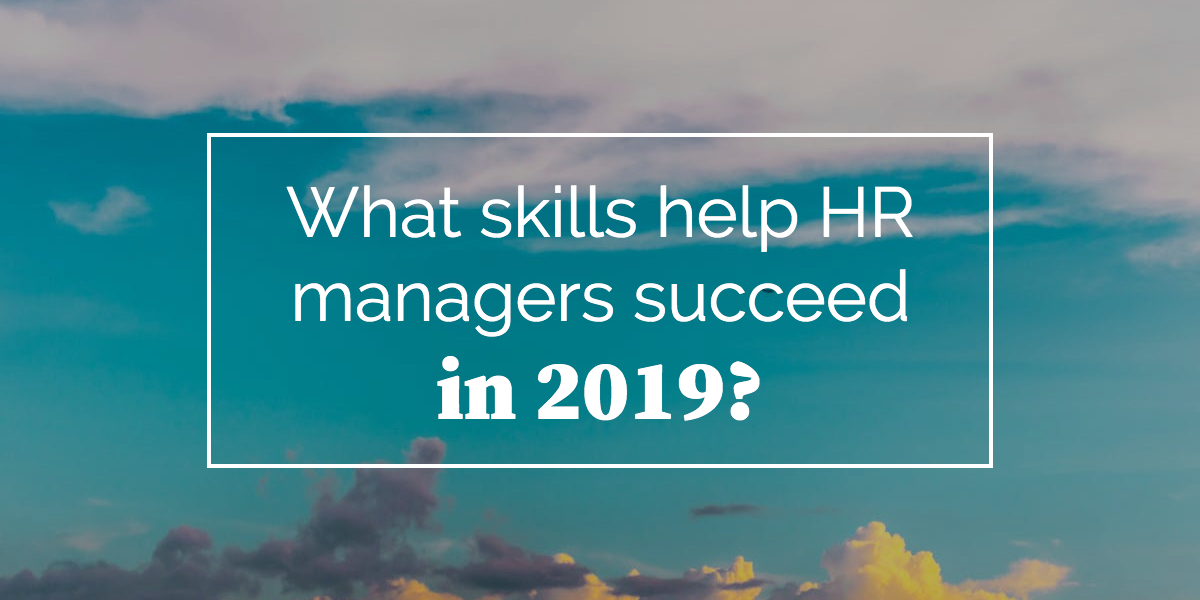 For anyone who loves variety and thrives in a busy job, working in HR may be a great fit. The role encompasses so many responsibilities: recruiting, hiring, managing, maintaining compliance, tackling benefits, and so much more. That's one reason most HR managers say that no two days at work are the same.
Another reason there's so much variety in an HR role: shifting workplace norms. Over the past few decades, the way we work has changed significantly. Instead of showing up in professional attire to put in 8 hours per day from a drab cubicle, many employees now work from home or in casual open-concept workspaces. Employees' expectations for workplace culture have changed drastically, as have the employers' responsibilities for compensation, benefits, and workplace safety.
Whether you're considering a career in HR or you've been on the job for decades, it's good to take a bird's-eye view of what it takes to be a successful HR manager in 2019. Here are a few skills and traits that can help:
Recruiting best practices
The current recruiting market is tight in most industries, particularly for specialized roles. While HR managers may have previously been able to put up a job listing and have numerous qualified candidates apply, that tactic often does not work these days. Instead, HR managers need to be proactive and creative about making job postings stand out, and be able to effectively sell job opportunities to the strongest candidates. Whether you choose to work with external recruiters or not, you'll likely find that recruiting will take more time and strategic planning than it has in years past.
Basic legal knowledge
What you and the other leaders of your company don't know can hurt you. Nobody expects you to take the place of expert legal counsel, but with edge cases of employment law being litigated daily around the country, it's absolutely vital for HR managers to stay up to date on employers' legal responsibilities. Make sure you regularly take time to brush up on updates to the FLSA, FMLA, ACA, and any other relevant laws.
Need a quick overview? Download our cheat sheet on HR laws here.
Management skills
Whether you're working with a team or working alone, being an effective HR manager requires strong management skills. Helping your company's managers lead their employees successfully is one of the most important responsibilities of an HR manager. When a tricky situation arises that requires mediation or coaching, the managers in your company will come to you for advice. Developing the soft skills to handle these scenarios will take time and experience, but resources like blogs and podcasts can help you learn (or just brush up on) some valuable tricks of the trade more quickly.
Time management
In some jobs, people have the ability to focus most of their efforts on one task continuously for a few weeks or months. For HR managers, that's rarely the case. You may be trying to staff a new team, compare options for health coverage, spearhead a new training initiative, and manage annual reviews simultaneously. To be effective in an HR management role, you need to be comfortable with getting a lot done in a short amount of time, with the understanding that you'll never have all of your projects neatly finished at once.
An all-in-one HCM system can help HR managers increase their productivity. Learn more here.
A commitment to learning
These days, change is the only constant in an HR manager's role. Being able to roll with the punches and find new ways to accomplish your company's hiring, training, retention, and other HR goals is crucial. That's why it's a good idea to find resources that help you stay up to date on important trends and changes that impact your job. On the Fuse Workforce blog, we publish new articles on HR best practices, laws, and trends every week. Subscribe below to get these resources delivered straight to your inbox so you can easily sharpen your skills and learn new approaches to modern HR challenges.
So Many Laws. So Little Time.
Get the HR Laws Cheat Sheet.
Subscribe to the Fuse Blog. Claim your free resources. Get great HR content in your inbox.