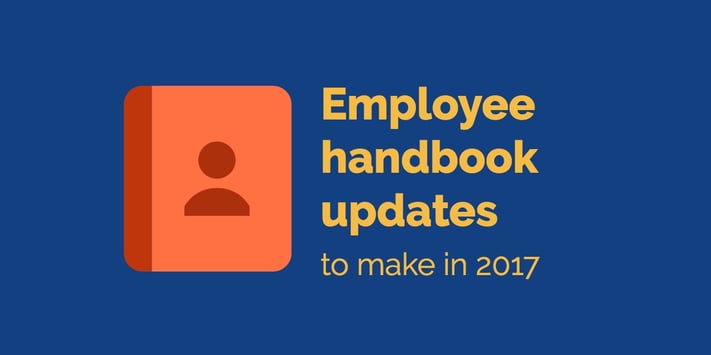 If it's been awhile since you dusted off your employee handbook to update the language or policies in it, you've likely left your company open to serious liability. According to SHRM, HR managers should make updates to employee handbooks, with the help of legal counsel, at least once a year. While the bones of your handbook should likely stay the same (barring major organizational changes that impact the culture of your company), here are a few policies you might consider addressing in your handbook this year, if you haven't already.
Social media policy
NLRA (National Labor Relations Act) prohibits employers from banning employees from sharing information such as hours, wages, etc. on social media. You can, however, prohibit them from sharing any proprietary information or trade secrets on social media. If your employees should not expect privacy when using social media on company devices, make sure they are aware of this information.
E-cigarettes
You almost certainly have language in your handbook to address smoking cigarettes in or around the office, but if your company is older than the advent of e-cigarettes, you may need to update the terminology. To protect other employees who have allergies or asthma, it's wise to include a policy against use of e-cigarettes in the office or within a certain number of feet of the entrance to the building, just as you would with regular cigarettes.
Telecommuting
Determine whether employees may work from home a certain number of days per week or month. Note that this kind of flexibility is considered a major perk by many employees, and can improve engagement. If you don't currently offer the option to work at home occasionally, and your workforce primarily works at computers, consider adding this as a benefit for your employees.
A few guidelines
In case you need to overhaul your employee handbook (or create one from scratch, if you work for a newer company) here are some best practices to keep in mind:
Write in plain, understandable language, not legalese.
Use it to convey your company's values and culture. You may want to use another company's handbook or a template to help you get started, but make sure the end result reflects your company's values and culture.
Make sure you're up to date on all federal and state laws regarding family and sick leave, collective bargaining, overtime pay, etc.
Creating and updating an employee handbook may not be the most thrilling task, but it's a necessary one, and it can protect your company from unnecessary liability or miscommunication with employees. Spend a few hours this month looking over your company's handbook and make any changes to policies or language that make it a more useful document for your staff.
Topics: HR Roundup
So Many Laws. So Little Time.
Get the HR Laws Cheat Sheet.
Subscribe to the Fuse Blog. Claim your free resources. Get great HR content in your inbox.