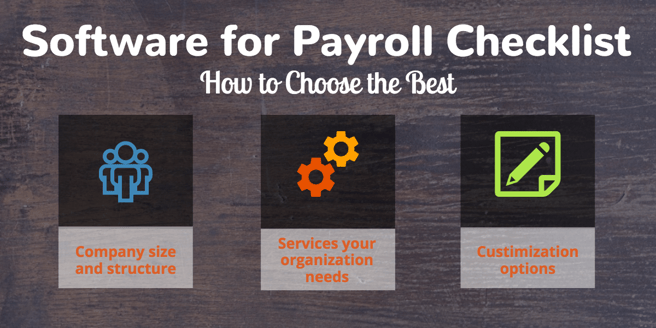 If you're trying to follow payroll best practices, you know manual payroll is a thing of the long gone past. Manual payroll allows for too many opportunities of error and takes up way too much time.
Good news. There are some great ways to streamline your payroll process.
You know payroll software is nothing short of a requirement for your organization, you need to know which payroll software is right for you.
You may be choosing payroll software for the first time. You may be searching for software to better suit your organization's needs. Whatever the reason, there are things to consider before diving into new payroll software.
Determine what kind of payroll software is best for your organization.
Businesses are different. Industry, company size, employee classifications can all make a company's payroll software needs differ. To help you make the right decision, we've created a payroll checklist for choosing the best software.
Review this payroll software checklist to choose what's best for your organization:
Company Size
A small business and a large corporation will not have the same payroll needs. Does the payroll software have the ability to handle your large corporation? Will your small business pay for additional program elements it doesn't need? Try to find a business that specializes in your company size (and fits your budget).
Payment Structure
Your pay structure is how the company pays its employees. Consider the payment structure in your organization. What is the ratio of salaried to hourly employees? How many employees operate on commission? Your payroll software checklist should include options for your specific pay structure needs. Systems that provide a pay rules engine help you determine pay for regular and overtime hours.
Payment Delivery
You've identified your company's pay structure, now consider how your delivery method. Do your employees receive paychecks via direct deposit or from the payroll provider? Or do you print and mail paychecks? Different payroll providers will offer different options, so be sure to find out the specifics for each.
Locations
Do your employees work in a single office? Do you have field workers or multiple office locations? This coincides with your organization's pay structure and payment delivery methods. If you have hourly workers in the field, you need software that can allow for remote check-in to collect data that keeps you in the know. This can help payroll managers track and manage time more efficiently.
Customization
Every organization is different. Maybe your business has unique needs or you simply want the flexibility and freedom of custom options. Look for payroll software that offers customization. Do business how you like with customized dashboards. Deliver customized reports managers and c-levels want to see.
Scalability
If you're a growing business, your payroll needs will grow right alongside you. You need a payroll system that can adapt to your company's changing needs over time.
System
Do you want software to download to your computer or cloud-based software? Many companies are shifting to cloud-based solutions to avoid the hassle of keeping up with the latest version downloads.
Suite or siloed
Do you need a payroll system only or are you looking for the whole package? Suite software may include core HR services, performance management, onboarding, and time and attendance. Some companies offer stand alone payroll software while others integrate all your HR needs into one software. Be sure to check what the system includes.
With a suite system, integrate all your processes without worrying about compatibility between services. If you have special reporting or integration needs, look for a software with open API.
Mobile/Cloud Service
Want to manage payroll on the go? Look for payroll software with cloud service and a mobile platform so you can access payroll anywhere.
Support
If you're dealing with any kind of software, you want support you can rely on. Real support, not robots. Research the company's customer service, support, and satisfaction with software review sites like G2Crowd. Read actual reviews from verified users.
Once you've evaluated your payroll needs, consider these features to add to your payroll checklist:
Employee Self-Service
Imagine a world where you didn't have to spend all your time answering employee questions about PTO and paychecks.
May seem too good to be true.
Employee self-service reduces the time you spend answering questions and increases employee proactivity. Give employees access to their own portals to review pay stubs and PTO, check when the next paycheck is coming, manage benefits, and more. This is a huge timesaver for HR and payroll!
Alerts
Would you like to know of flagged accounts or other issues? Then include notifications and alerts on your software for payroll checklist. This will help ensure accuracy in your payroll process. Combine it with an ACA module to notify you of overtime hours and benefits eligibility.
Taxes
Does the payroll system have tax data built in? Look for a payroll system that supports tax data with regional requirements and tax structures. Want to ensure you always have accurate employee withholdings? Look for software that provides automated tax table updates.
Lifecycle Management
Integrate your HR and payroll services and streamline your entire process. This boosts productivity and reduces hassle for everyone. Look for a payroll system that includes comprehensive HR services for end-to-end employee management. Manage everything from hire to retire in one system.
Additional modules
Your organization may have specific needs outside what standard software may include. Some payroll systems may offer upgrades or more modules from a marketplace. For example, if you're an ALE who needs to report on ACA compliance, you'll want the option to add an ACA compliance module to your system. With these module options, companies pay for what they need, and nothing more.
The right payroll system is important for productivity, compliance, and success.
Use this payroll checklist to find the software that meets your organization's needs and let's you focus on your business.
Sick of manual payroll or siloed services? Ready to work with real people behind the software? Get the guide to saving time on payroll. Learn ways to effectively manage payroll without letting it consume your day. Get time-saving resources, practices, and tools to help you manage payroll better and faster.