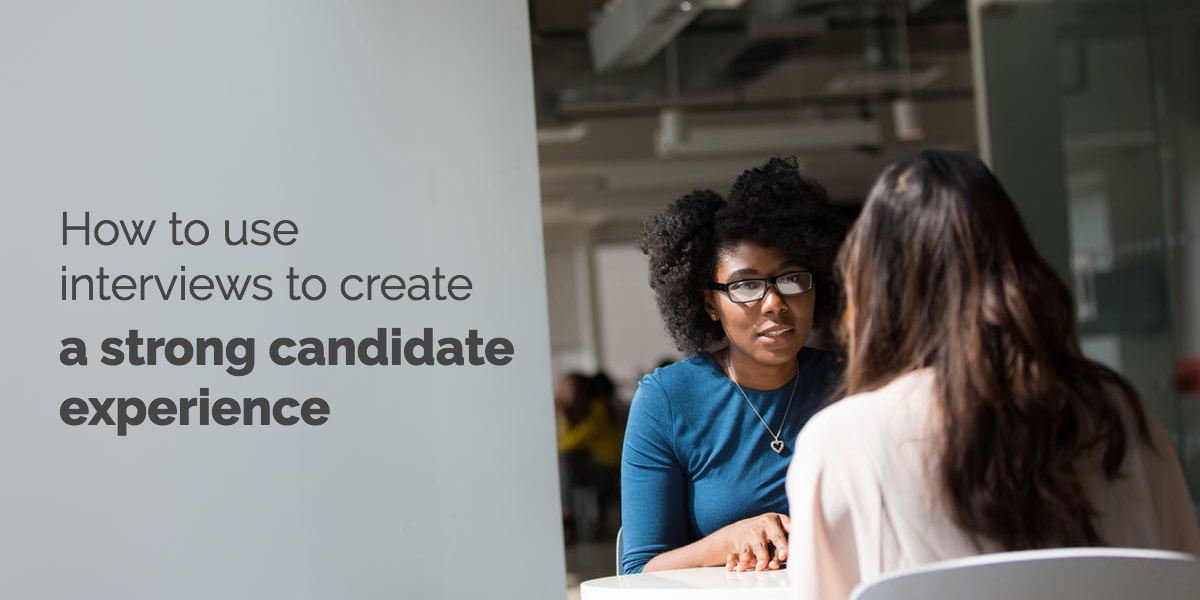 As competition for the best talent heats up in most industries, it's important for recruiters and hiring managers to consider how they come across to job seekers. Starting with a great job posting all the way through to a job offer, smart recruiters and hiring managers try to put the best foot forward and create a positive experience for job candidates.
One of the most high-touch and time-intensive components of the hiring process is the interview phase. Depending on your company and industry, there may be several levels of interviewing involved before a candidate can expect to get a final decision. That's a lot of chances for your company to either make a strong, positive impression— or to turn your best candidates off the idea of working with you. If you want to make sure your interview process provides a strong candidate experience, here are a few things to consider:
Give them your full attention
Even if you have a million other things on your plate (which is likely), try to really focus on the person in front of you. Avoid rushing through the conversation or glossing over any questions they ask about the company. Give them a chance to add anything else that wasn't covered in the conversation before ending your time with them. Generally, treat the person you're interviewing as if they were the world's most interesting person, whether or not you think you'll want to hire them for this job.
If the candidate is not the right fit at this time, that doesn't mean they won't be a good fit for another job at a later date. Showing your interviewees respect and interest, regardless of the outcomes, helps your company maintain a positive reputation as an employer among job seekers.
Don't be redundant
While it's important to be thorough when asking education and experience-related questions, interviewees will quickly get tired of answering the same five questions over and over again. Make sure that, at every step in the process, interviewers are asking questions that will deepen your company's understanding of job candidates. During each interview, consider having someone jot down notes about the candidates' answers so that other stakeholders can get caught up on what's already been discussed before a second or third conversation.
Beyond understanding what your job candidate has done in the past few years and why they left their past job, you'll want an idea of what makes them tick, what type of work environment they thrive in, and what gaps they'll fill in your workplace. To do this, include a mix of pointed questions about their expertise and open-ended questions that let them demonstrate their knowledge and passion.
Give them an idea of your company's culture
It's easy to forget that candidates are interviewing your company just as much as you're interviewing them. Employers should try to give interviewees all the data they'll need to make an informed decision. If you work in an interesting office space, or if your company's culture makes it a good place to work, try to incorporate those features into the interview experience.
This may mean showing interviewees around the office and introducing them to the people you pass, or scheduling the interview to end just as team lunches get started. However you decide to show off what makes your company great, make sure you give job candidates a warm welcome so they'll be excited about the prospect of joining your workforce.
Manage expectations
While it's important to be warm and friendly with candidates who are interviewing, it's not a good idea to mislead them. Job candidates may take good rapport as a sign they have the job in the bag— even if they don't. Make sure you're upfront with interviewees as they move through the hiring process. Let them know how many more steps to expect and whether there are other candidates you're seriously interviewing so that they don't assume they have a job offer coming their way.
Don't burn bridges
If everything goes well, you'll end the interview process with a job offer for the candidate you're most excited about. Generally, though, that leaves at least one or two other people without an offer in the end. There are lots of ways to handle this poorly— and many companies do. But ghosting job candidates or sending them an impersonal email isn't just unkind and disrespectful; it also makes a company look like a terrible place to work.
Since it's tough to find the right candidates to fill open positions in many industries, no company can afford to develop a bad reputation for its recruiting process. Take time to send a kind and personal email to any candidates you're not moving forward with to thank them for their time and consideration. Letting candidates down gently and respectfully increases the likelihood that they'll consider applying for another job with your company in the future, or that they'll speak highly of their experience with others in their professional networks.
Whether an interviewee ends up with a job offer or a rejection email from your company, a candidate experience-focused interview process can help your company maintain or improve its reputation as a great place to work.