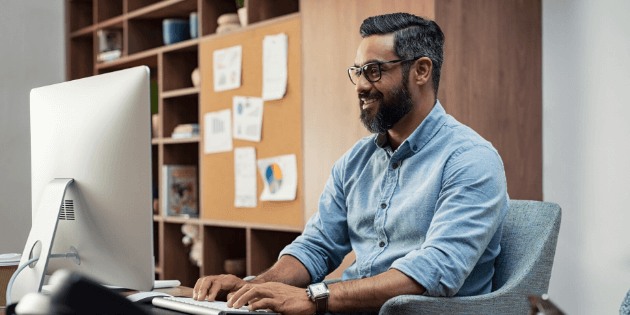 As an HR professional, you're responsible for coordinating everything that comes along with human capital management (HCM), the set of policies and practices related to managing human resources. Successful human capital management relies on software solutions that allow you to streamline HCM and efficiently organize, measure, and report on employee data.
In this post, we'll explain what HCM software is and what you should look for in a solution.
What is HCM Software? A Comprehensive Workforce Management Tool
An all-in-one HCM software solution captures all of your workforce data in one transparent platform, so that you can say goodbye to confusing spreadsheets and an overwhelming number of HR systems. An all-in-one solution includes tools to handle:
Payroll management
Time and attendance records
Applicant tracking
Performance management
Benefits enrollment
Onboarding and termination
Pro Tip: What HCM Software Is Not
Unlike many specialized HR systems, HCM software is not limited to one discipline of people management, such as applicant tracking or new hire onboarding. It is also not a tool meant purely for storing data like historical payroll or applicant records. If an HR software platform doesn't enable total workforce management, it's not HCM software.
What Are the Benefits of Using HCM Software?
Using an HCM software to manage your employees not only saves time, but also empowers you to make data-driven business decisions. Here are the top four benefits of using an all-in-one HR platform.
1. Delivers All-in-One Data Management
You want a highly efficient HR team that effectively leverages HR technology, but using disparate HR systems can get in the way of achieving that goal. Deloitte research from 2019 revealed that 66 percent of organizations lack a fully integrated HR platform and struggle with using and maintaining numerous HR systems.
HCM software helps you save time and increase efficiency by gathering all employee data in one place. An all-in-one HCM platform helps you manage the entire workforce by providing a more transparent view of people as they move through the employee lifecycle.
2. Streamlines Operations with Cloud-Based Access
When you use multiple HR and payroll systems, they often work in silos and don't integrate well. Though some offline and cloud-based HR systems may work in tandem, they are still separate and distinct, each with their own upgrade timetables, security protocols, and login procedures. If any HR systems are sitting on your desktop rather than in the cloud, you can have a harder time expanding self-service and mobile access.
View our ultimate guide to employee management and see how streamlining HR functions provides a competitive advantage. >>
In contrast, cloud-based HCM software delivers synchronized security, upgrades, and support across all of its functional modules. With cloud-based software, you can enable employee self-service from any device at any time, so that employees don't have to come to you for basic employment information. Because employee information sits on one platform, you don't have to worry about losing data as you move it from one module to the other.
3. Supports HR Decision-Making with Actionable Data
Getting data is one thing, but research reveals, having data that enables you to take action is another matter. Seventy-one percent of companies surveyed by Deloitte named people analytics as a high priority, but only 8 percent reported having usable data. HCM software helps you see the workforce in aggregate so you can translate analytics into action.
Powerful dashboards allow you to configure the data in support of:
Budgeting
Staffing planning
Employee compensation
Succession planning
HCM software puts the power of employee data in your hands so that you can manage people programs across the whole organization. You can take a top-line view of the workforce or drill down to view trends in specific areas such as hiring, pay, and benefits. With the added feature of automated compliance updates to guide you, you can confidently manage the workforce in accordance with state and federal laws.
4. Works Smarter with Responsive and Accessible User Support
User support comes in many forms, but at the end of the day, you want timely, clear answers to your questions. Moreover, when you entrust sensitive data about employee pay, performance, and benefits to your HCM software provider, you want that provider to offer more than FAQs and online help links. You want to talk to real people who understand your needs and can help you solve unique problems related to your personnel data.
Responsive support is a key characteristic of an all-inclusive HCM platform. Whether you have a unique payroll request or need to make complex batch corrections to employee records, you want to be able to accomplish those goals without getting the runaround. Find an HCM software partner that delivers a high level of support via accessible resources, mobile user tools, and intuitive design.
Focus on What Matters Most with HCM Software
Human capital management requires software that simplifies HR processes from recruitment to retirement. An all-in-one HCM software solution captures all of your workforce data in one transparent platform, so that you can say goodbye to confusing spreadsheets and poorly integrated systems. When considering your options, select the software that helps you focus on what matters most: your employees.
Want more information on HCM software or need help deciding if it's right for you? Download our guide, 10 Signs It's Time to Switch to an Integrated HR System.