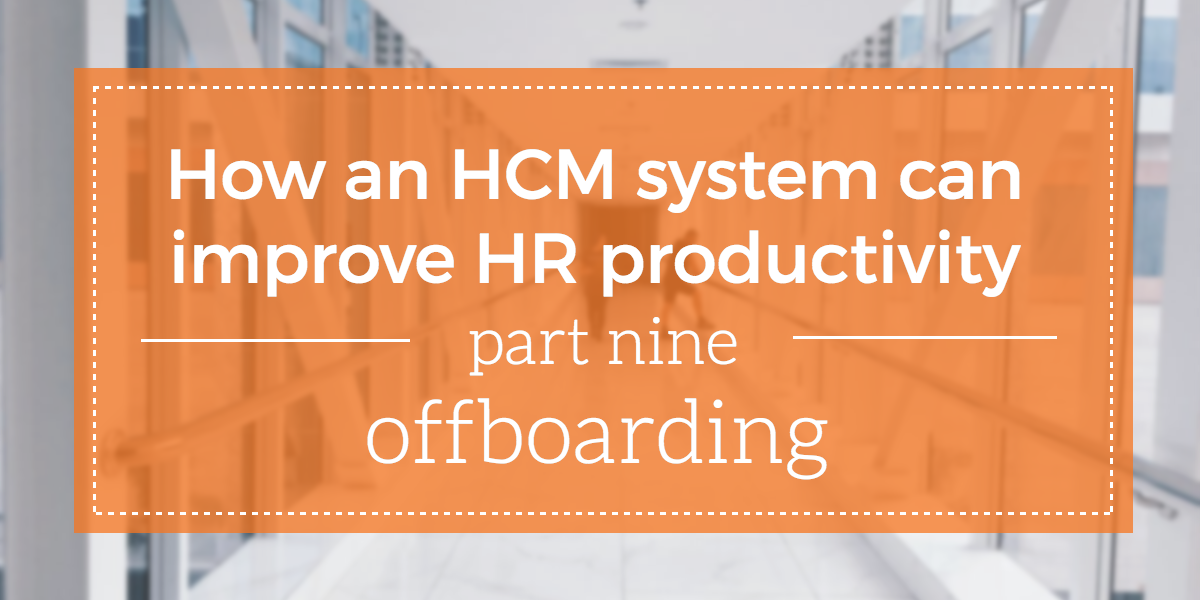 Read part 8: How an HCM system can improve productivity for HR, part eight: Retention
While you do your best to prevent employee turnover, employees will eventually leave an organization—voluntary or not. Whether it's a spouse's relocation, different career moves, family obligations, layoffs, or retirement, there are many reasons why employees exit. While these life events can happen in any organization, HR managers can handle employee departures gracefully and use their experiences to fine-tune retention efforts.
Thoughtfully managing offboarding should be the norm, but employee departures often throw organizations off-track if there isn't a good process in place.
How to make offboarding count
As we reach the final phase of the employee lifecycle, we focus on offboarding, a phase that's equally as important as onboarding. Neglecting offboarding best practices results in potential data breaches, compliance violations, knowledge transfer gaps, and poor company reviews. These circumstances can lead to steep penalties, ugly backlashes, and a hit to workforce productivity.
Given that these circumstances can be sudden, unprepared organizations may resort to careless solutions. On top of managing critical HR management tasks and priorities, HR managers also need to offboard employees with minimal impact on current operations and costs.
How do you make offboarding count without sacrificing time and money? The secret formula is an end-to-end HCM solution.
In this article, we'll explore four ways to offboard employees the right way:
Improve the employee experience by optimizing resources

Refine workplace processes using seamless communication tools

Take a proactive role using complete visibility

Streamline talent acquisition with automation
Improve the employee experience by optimizing resources
More often than not, frustrated employees tend to struggle with inaccuracies, delays, and incompleteness from slow paperwork processing and poor communication. Left unresolved, these frustrations can leave a sour taste on those departing, eventually affecting your brand and ability to keep top performers.
Consider anchoring an offboarding checklist on the employee's dashboard. It may include a review of their non-disclosure agreement, benefit and tax documents, resignation letter, final payroll information, what assets to return, and accounts to disconnect. This checklist may look a lot like an onboarding agenda. If this is the case, save some time by repurposing your onboarding resources from your database and tailor it for departing employees. Make sure to schedule a time to meet with the employee to review any outstanding charges or transfer remaining knowledge.
Refine workplace processes using seamless communication tools
Gathering honest feedback from exit interviews can refine workplace processes and power retention efforts starting with the next hire. However, talking about workplace issues isn't always easy. These meetings can be highly charged, and employees may shy away from having this discussion at the risk of offending someone.
To start, think about what yields an environment of comfort to foster trust and honesty. Consider presenting the option to talk online, in-person, or even by an anonymous survey submission to ease their apprehension and encourage their participation. After capturing valuable feedback, you can use an integrated HCM software to easily share results with stakeholders. HR leaders can course-correct their talent management plan by looking at common complaints and acting on them.
Take a proactive role using complete visibility
To improve your offboarding process (and better retain your employees), HR leaders need to see what's happening and make informed decisions from past experiences. When questions like, "where are there delays in payouts?" or "why does one department complain more than other employees?" come up in conversations, it's wise to look into the root cause quickly before the situation worsens.
Looking at statistics on siloed platforms isn't useful or productive when you need to drill down on issues that stem from multiple sources. Instead, use a comprehensive HCM platform that aggregates data from all areas of HR to find hidden patterns around employee offboarding. HR managers can take a more proactive strategic role when they can explore layers of documented knowledge in the database and take appropriate action.
Streamline talent acquisition with automation
An end-to-end HCM system connects HR, time and attendance, payroll, and other functions into a single platform. Add in the power of automation, and you've got a standardized process that works with you in every step of the way.
As you log the termination date in the employee's record, the event automatically feeds the information to both timekeeping and payroll so you don't have to make changes manually. This helps you eliminate errors, reduce admin costs, and ensure accuracy—saving your company dollars and time in steep compliance and operational costs as well as data entry.
Using an intuitive HCM software also helps streamline the lifecycle process by triggering a new vacancy when exits occur. Managers can then quickly source a new position with HCM recruiting tools or sift through an existing candidate repository.
Part ways the right way with a smart solution
Last impressions can count as much as the first ones do. Whatever the reason for leaving, preserving goodwill between you and the exiting employee builds strong alumni relationships post-employment. In contrast, ignoring offboarding best habits can burn bridges with past employees and damage a company's productivity—and reputation—down the line.
As employees move on to different opportunities, make sure to part ways the right way.
Fuse's powerful, intuitive HCM software can help you better align and automate offboarding tasks, reduce costs, mitigate turnover, and ensure compliance. Our workforce management solution helps cut out tedious, time-consuming processes so you focus on what's important: managing people.
Ready to learn how Fuse Workforce can make you and your team more productive? Learn more today!