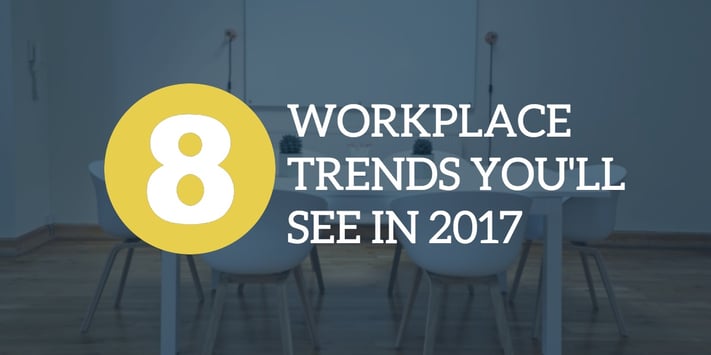 At the beginning of this year, we published an article predicting workplace trends to watch for in 2016. As hard as it is to believe, this year is already coming to a close, meaning it's time to start looking toward what 2017 will hold for HR departments. There are some major changes afoot in workplaces that will continue to shift corporate culture in the next several years. Here's what you should watch for in the coming year:
1. As boomers retire, the workplace continues to become younger. Millennials are now increasingly in management positions, and Gen Z are just settling into their careers. Both groups are marked by an awareness of the bigger picture of their whole career trajectory. Millennials' management style tends to be more collaborative and transparent than past generations, meaning you'll see things like…
2. a continued rethinking of the employee feedback. Expect to see regular, rolling feedback continue to unseat the traditional annual review process in more companies and industries. Some companies have even started to move toward reviews for teams working together on projects instead of reviewing individuals.
Millennial managers are also more focused than past generations on integrating their personal and professional lives, which means an increased push for...
3. more workplace flexibility. This was on our list of predictions for 2016, and it will continue to be important in the coming years. It's frequently named one of the most important non-financial benefits for employees, yet only one third of employers explicitly claim to offer it.
Since younger digital native employees see less need for explicit separation between work time and personal time, they tend to appreciate the ability to blend the two more seamlessly. That may mean employees won't be in the office for a traditional 9-5 schedule, but may instead choose to get work done in the evenings after taking care of personal tasks.
These employees also tend to more comfortable managing themselves and being enterprising than past generations, meaning you'll see...
4. more freelancers and the rise of a "blended workforce." Younger workers, given their focus on developing skills and creating a unique career path for themselves, are often much more open to taking on freelance assignments. Many workplaces in the next few years will start to have freelancers work alongside regular employees on blended teams to accomplish goals.
This trend is part of the general move toward…
5. a more casual workplace. Another feature of a younger workforce, the move toward casual workplaces means dress codes have already begun to loosen up in the past few years. Expect to see the trend continue with offices creating a more relaxed work environment, including more open office design with more flexible workspaces. Many tech companies are already marked by their plentiful couches and lounge chairs, where employees can work when they need to collaborate or get away from their desks. These changes will start to work their way into even more traditional industries in the next few years, along with…
6. an increased focus on creating positive experiences for job candidates and employees. Given the continually increasing competition for top talent, HR departments will start to look more closely at what aspects of their application processes might be turning off potential employees. Companies will start to be more communicative with applicants about the status of their applications, having found that failure to do so has prevented potentially good candidates from applying for more positions after not hearing back.
Corporate leaders will also focus on creating a better experience for employees in an attempt to increase and maintain high levels of engagement and reduce attrition. One way some workplaces have begun to tackle this is to provide…
7. workplace wellness initiatives as an employee benefit. Some companies have found this to be an effective way to attract top talent, save on healthcare costs, and reduce absenteeism. This includes benefits such as company-wide competitions using wearables to track activity, providing fitness classes or trainers onsite, or subsidizing the cost of gym memberships. HR managers will start to realign their focus onto this kind of activity, because of...
8. the rise of HR and payroll automation. Automating payroll processes and other time- and paper-intensive HR activities will allow HR managers to take a bigger role in shaping the culture of the workplace to support company goals. Their job descriptions will likely start to shift to include more face time with employees and a focus on refining company processes for monitoring and improving metrics on employee satisfaction and engagement.
Knowing that these changes will likely be coming down the pipes in the next few years, HR managers can start to prepare for what their workplaces might look like with more flexibility, a greater focus on employee engagement, and refined processes.
If you'd like to learn more about how an integrated HR platform can free up the time you spend on payroll and HR processes so you can focus on creating positive change in your workplace, take a look at our guide:
So Many Laws. So Little Time.
Get the HR Laws Cheat Sheet.
Subscribe to the Fuse Blog. Claim your free resources. Get great HR content in your inbox.