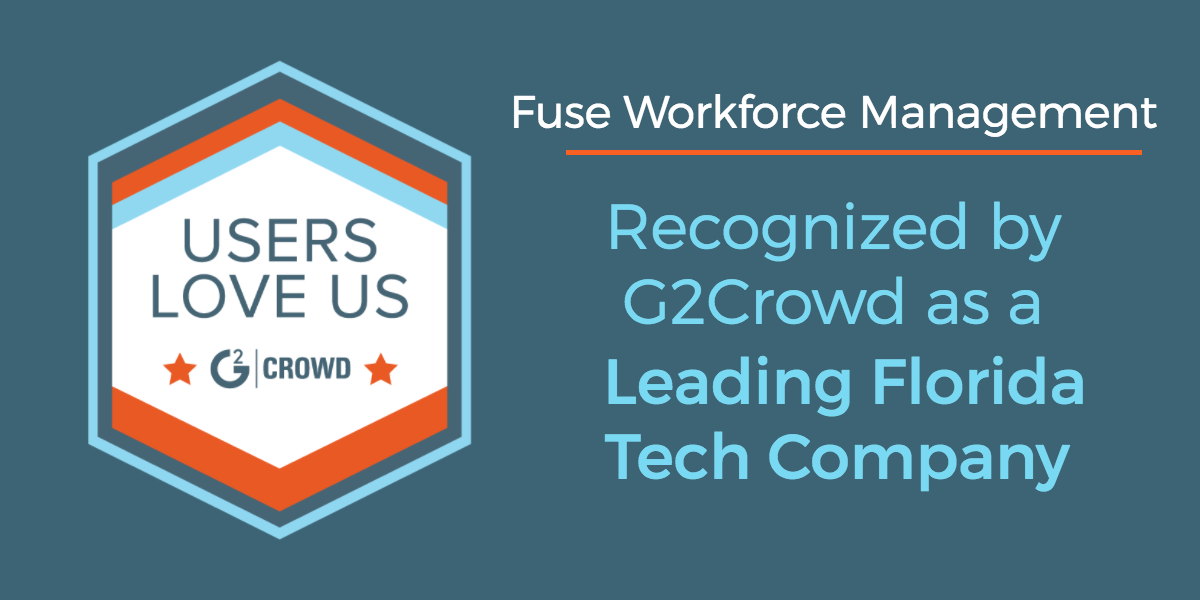 Fuse Workforce Management has been identified as one of the best software and services companies in Florida, based on its high levels of customer satisfaction and likeliness to recommend ratings from real G2 Crowd users.
Fuse Workforce Management has received a 4.8 out of 5 stars based on its 35 verified real-user reviews in the payroll software category on G2 Crowd. Users point to Fuse Workforce Management's tax filing (98%) and reporting (98%) as its two top-rated features. Fuse was also named a High Performer in the Fall 2017 Workforce Management Grid Report from G2 Crowd.
The state of Florida tech report recognized Fuse and 24 other Florida-based SaaS and service companies as the leaders of the city's tech scene. Overall the report covered over 80 companies in the state.
image source: G2Crowd
"Today, business leaders recognize the value of a cloud-based Human Capital Management system. This investment provides an ROI far greater than any other tool in their business. At Fuse, our goal is to make it easier for employers to engage with and gain greater visibility into their entire workforce. When our clients report that this goal is being met and recognize the enormous value a partnership with Fuse brings to their entire team — that's quite an honor." John Duval, CEO of Fuse Workforce Management
Read the entire report to see the trends and how Fuse Workforce Management is contributing to the overall state of the B2B Florida tech scene. We want to say a huge thanks to our customers! We do our jobs everyday for you. We appreciate all of you who have given your time to show your appreciation with a G2Crowd review.
Interested in a smarter solution for HR and payroll? Let's talk.
About G2 Crowd, Inc.
G2 Crowd, the world's leading business solution review platform, leverages more than 330,000 user reviews to drive better purchasing decisions. Business professionals, buyers, investors, and analysts use the site to compare and select the best software and services based on peer reviews and synthesized social data. Every month, nearly one million people visit G2 Crowd's site to gain unique insights. G2 Crowd aims to bring authenticity and transparency to the business marketplace. For more information, go to G2Crowd.com.