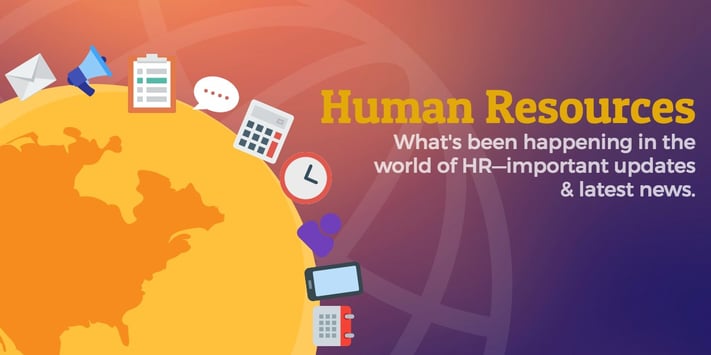 It's time for another HR Roundup of the latest HR news and trends. This month, we review the Trump administration's rule to stabilize the ACA marketplace and New Jersey Senator's reintroduced Fair Chance Act, also known as the "Ban the Box" rule. We also take a look at the controversy surrounding the GOP's Working Families Flexibility Act and the latest Snapchat trend to hit HR and hiring.
New rule aims to stabilize existing ACA insurance marketplace
On Thursday, April 13, the Trump administration issued a final rule on market stabilization for the Affordable Care Act. This rule aims to stabilize the individual and small group markets and affirm the traditional role of state regulators. The final rule shortens the enrollment period to 45 days (about half the current period) and limits special enrollment periods. Insurers may collect past debt for unpaid premiums from the previous year before applying payments to a new policy. The final rule should also give insurers more flexibility for designing low-premium plans. Business owners await to hear more from the administration on cost-sharing subsidies. These subsidies cut down high deductibles and copayments for consumers with modest incomes.
By improving the existing system, administration officials see this as a first step in a new approach to their repeal and replace stance on the ACA. Still, much remains in questions about the future of the Affordable Care Act. Employers should continue to track compliance under the employer mandate of the ACA.
On April 27, the House once again delayed voting on the bill to replace the ACA.
"Ban the Box" makes a comeback
Reintroduced by Senator Cory Booker (D- NJ) at the beginning of April, the Fair Chance Act seeks to "Ban the Box" on job applications. If passed, this act would remove the criminal history check box on job applications. Hiring managers would also have to wait to conduct background checks until the later stages of the hiring process. Though this applies to federal agencies and employers contracting with the federal government, big employers around the country have already adopted the rule for themselves. Employers include Wal-Mart, Target, Home Depot, and Starbucks. We've also seen 26 states and over 150 cities and counties pass policies to ban the box.
This legislation aims to help curb problems in the criminal justice system and give people an opportunity to find employment without discrimination.
"Our bill helps to address this challenge by giving those who have paid their dues a second chance by putting jobs in the federal government or with a federal contractor within reach," says Booker.
Last year, the Office of Personnel Management issued a final rule to ban the box. But, the Fair Chance Act will bring the prohibition into law and include federal contractors. Jobs in law enforcement, national security, and other positions that require access to classified information will be exempt from the rule.
Controversy over Working Families Flexibility Act seeks place as FLSA overtime alternative
The FLSA overtime rule has been in limbo since a Texas judge issued a temporary injunction before the final rule would have gone into effect on last December. Now, the GOP introduces its alternative to overtime pay, an employee protection since the New Deal era. The Working Families Flexibility Act would amend the Fair Labor Standards Act to allow comp time for private sector employees in lieu of overtime pay (time and a half).
Under the Working Families Flexibility Act, employees could receive compensatory time instead of monetary compensation. Employees would earn comp time at the rate of one and a half hours for every hour of overtime worked.
Its advocates praise the bill's flexibility for workers to spend more time with family and achieve better work-life balance. Opposers accuse the bill for overtly favoring employer interests. That favor comes in the form of a caveat allowing employers to deny employees comp time if it "unduly disrupts" business. The legal term "unduly disrupts" is a broad term—which gives power to the employer over the employee to determine if and when comp time is permitted. While the FLSA's time-and-a-half overtime pay aimed to discourage employers from working employees overtime, the comp time alternative could do the opposite.
The Workforce Protections subcommittee's hearing showed division among Republicans and Democrats on the issue. It will be up to the new Labor Secretary, Alexander Acosta, to make decisions regarding the overtime rule.
Snapchat changing the future of hiring?
McDonald's Australia (aka "Maccas") recently announced a plan to accept job applications via Snapchat. Using a McDonald's uniform filter, a job applicant can upload a ten-second "Snaplication" video. Recruiters will then choose applicants to proceed to the next hiring round.
Why this works
Unlike managerial or skilled jobs, entry-level fast food positions don't require a resume loaded with experience. For the majority of people applying for these positions, it's their first job. Most people can do the job—for Maccas, it's the personality that makes a difference. McDonald's reaches their target audience by using a method of application where teens already spend a majority of their time.
"Using Snapchat lets that target audience of entry level people apply in a format that they are used to—not the stuffy old way their parents applied," Suzanne Lucas, of the Evil HR Lady blog said in a recent article.
But it still isn't perfect
Before you campaign to your boss about using Snapchat for your own recruiting efforts, consider the cons. The largest concern comes from an increased chance of discrimination. Seeing a video of an applicant will make it harder to not (even if completely accidental) discriminate against applicants. You'll also want to have alternative methods of application (e.g., online, paper) and promote those. Snapchat's main user base is under 35 years old, the majority being in the 18-24 range. If you rely on this kind of application alone, you could be missing out on a significant talent pool from other age groups. Of course, any job that requires specific skills are experience will need more than a Snaplication.
But could these "Snaplications" be the future of entry-level hiring?
Topics: ACA, FLSA, Recruiting and Staffing, HR News, HR Roundup
So Many Laws. So Little Time.
Get the HR Laws Cheat Sheet.
Subscribe to the Fuse Blog. Claim your free resources. Get great HR content in your inbox.