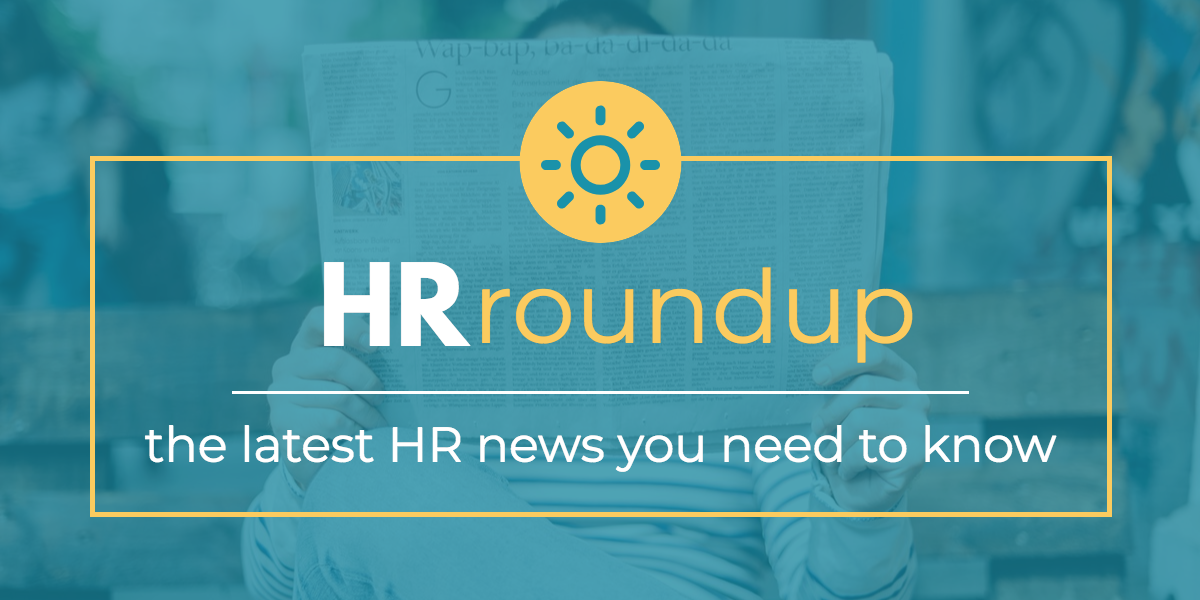 As summer draws closer and temperatures rise, May's roundup proves things are heating up for the HR industry, too.

The Department of Labor reports hiring is surging, and unemployment is dropping, while Robert Half says a significant chunk of job candidates are reneging on their offers (causing extra headaches for recruiting departments). And the U.S. House of Representatives recently passed two bills that could impact HR processes in the months ahead, though it's uncertain how this legislation will fare in the Senate. Plus, CRM giant Salesforce pledges to train American workers on crucial tech skills.
To keep you current, here's a quick breakdown of the biggest stories from May:
The DOL reports the lowest unemployment rate in five decades
The Bureau of Labor Statistics (BLS) reports that the unemployment rate dropped to 3.6 percent in April — the lowest rate we've seen since December 1969 — and US employers added 263,000 jobs, surpassing expectations.

Job growth is primarily concentrated in middle and high-wage industries, specifically in business services, healthcare and leisure, and hospitality. Additionally, the manufacturing sector added 4,000 jobs, helping reverse a 6,000 job decline in March. Government employment has also experienced a surge, though this is likely due to a temporary hiring increase for the 2020 Census.

Economists say there's no sign of a slowdown and, while wages are also on the rise (up 3.2 percent since last year), they're not concerned about inflation.
Learn more about the BLS report in this article from SHRM.
The U.S. House of Representatives strengthens the Affordable Care Act
The House passed omnibus legislation, combining seven total bills, to support the Affordable Care Act (ACA)'s protections for people with pre-existing conditions and lower prescription drug prices. The bill requires increased transparency of all ACA-related activities by the Department of Health and Human Services (HHS).

This includes bi-weekly public reports during open enrollment periods, as well as reports to ensure the HHS takes appropriate steps to maintain the HealthCare.gov website. It also prohibits the HHS from stopping automatic re-enrollment in ACA marketplace plans.
(While keeping up with ACA changes can be challenging, remember it's still required for certain employers to provide information about the Marketplace to employees, regardless of whether or not they provide health insurance.)
Check out this article from HealthAffairs to learn more about this new legislation.
More than a quarter of professionals back out of job offers
If you've noticed an uptick in candidates reneging on job offers after accepting, then you're not alone. New data from Robert Half, based on a survey of more than 2,800 workers across the US, shows a whopping 28 percent of job seekers have backed out of an employer's offer after giving a "yes."

Those who admitted to backing out cited the following reasons:
44 percent said they received a better offer
27 percent said they received a counteroffer from their current employer
19 percent said they discovered something negative about the employer
According to the survey, job seekers from San Diego, San Francisco, Chicago, Houston, Austin, and Miami were most likely to renege on accepted job offers.
Get more details about this Robert Half report here.
House passes bill to expand federal civil rights for LGBTQ workers
The U.S. House of Representatives passed the Equality Act, which would prohibit discrimination based on sex, sexual orientation and/or gender identity by employers, as well as in housing and other areas subject to federal law.
Today, several states, counties, and cities have already banned workplace discrimination based on a person's LGBTQ status. However, not all laws prohibit discrimination based on gender identity, gender expression, and sexual orientation. (Some offer protections for one or two of these, but not all three.) Employers can elect to protect LGBTQ workplace rights with their own internal policies even though federal law doesn't cover these characteristics.
The Senate is unlikely to pass this bill. Later this year, the Supreme Court is expected to hear several cases that ask whether the Civil Rights Act of 1964 applies to gender-identity and sexual-orientation discrimination.

Find more details on this legislation in this article from SHRM.
Salesforce signs pledge to train 500,000 Americans
Leading CRM platform Salesforce announced that it's signing the White House Pledge to America's Workers, in an effort to equip American students and workers with critical skills they'll need for the jobs of the future.

The training will take place via Trailhead, the company's online learning program, which helps users develop tech skills necessary for roles like Salesforce developer, Salesforce marketing manager, Salesforce administrator and more. Anyone can access Trailhead for free.
"Salesforce is committed to empowering people from every background with the skills they need to build careers and thrive in the digital economy," says Salesforce Chairman & co-CEO Marc Benioff.
According to data from IDC, more than 300,000 job postings ask for Salesforce skills while offering an average annual salary of $70,000.

Learn more about Salesforce's initiative here.
And that's it for the May HR roundup. Be sure to subscribe to the Fuse Workforce blog to stay up-to-date on HR news, trends and best practices.
Topics: HR Roundup
So Many Laws. So Little Time.
Get the HR Laws Cheat Sheet.
Subscribe to the Fuse Blog. Claim your free resources. Get great HR content in your inbox.