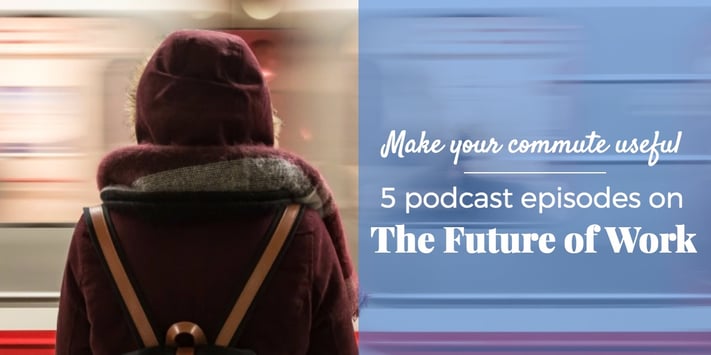 We all know that staying informed about what's going on in our industry is important. But in the middle of a busy workday, how do you find the time to read articles? With so many industry news sites writing in dry and jargonistic language, it can be tough to care enough or to will yourself to read them.
That's one of the many things a podcast is good for: helping you stay up-to-date with a human voice that you can listen to anywhere, any time. Below, we've assembled episodes from five different podcasts for HR professionals, all on the subject of the future of work.
That term has been tossed around a lot in the past few years, often as a catch-all to describe a wide array of changes we're seeing unfold in the modern workplace. That's why we've tried to find a variety of different angles, including automation, innovation, training, and employer-employee relationships. You can listen on your desktop by clicking on the links below, or by downloading them onto your phone for thought-provoking company on your commute:
We know machines are well-suited for many job tasks, but humans like to imagine that some careers are immune to automation. In one of their many episodes about automation and the future of work, the Planet Money team pits man against machine with some surprising results.
In some industries, video or online training has replaced major portions of face-to-face training practices. There are plenty of terrible ways for in-person L&D (learning and development) trainers to get their point across, and several strong use cases for digital learning, but does that mean that face-to-face HR training is a thing of the past?
In this special 100th episode, host Pilar Orti assembles brief clips and quotations from 18 past podcast guests. They share some of their predictions about the future of work, including virtual work, collaboration, flexibility for working parents, technological advances, and the continual blurring of lines between work time and personal time.
Jeff Wong, the Global Chief Innovation Officer at EY (formerly Ernst & Young), talks to host Jacob Morgan about the three kinds of innovation every modern workplace needs to put into practice, as well as how companies should go about adopting new technology. According to Jeff, it's crucial for business leaders to "read a lot, know what is going on in the world, get your hands dirty… know where things are today and where they are going in the future."
Work Life Hub: Denis Pennel
In this episode of Work Life Hub, host Agnes Uhereczky interviews Denis Pennel, author of The Ego Revolution at Work, to get his take on the transformation happening in modern workplaces. He describes the organic and diffuse changes to working relationships between employers and employees, the increasing de-standardization of employment contracts, and a near future where most people are "jobless but not workless."
Are there any other podcasts you listen to that have helped you stay up to speed on industry best practices and changes? What other topics would you like to see addressed in HR podcast roundups?