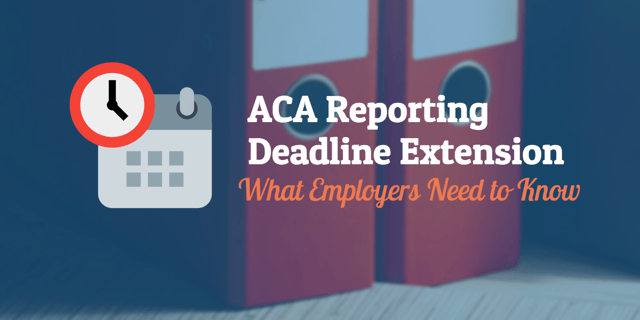 The US Treasury and IRS recently announced extensions for Affordable Care Act reporting. Previous to this extension, ACA deadlines required ALEs to furnish Forms 1095-C to employees February 1, 2016 and file Forms 1094-C and Forms 1095-C by February 29, 2016 (paper filing) or March 31, 2016 (electronic filing).
In Notice 2016-4, the IRS states the deadline extensions for ALEs reporting on ACA compliance. Applicable Large Employers should note the new extended ACA reporting deadlines as follows:
March 31, 2016: Employers must furnish Form 1095-C to employees.
May 31, 2016: Employers must file Form 1094-C and Form 1095-C by paper.
June 30, 2016: Employers must file Form 1094-C and Form 1095-C electronically.
Please note, the deadline extensions apply to 2016 (reporting on 2015) only. In 2017 (reporting on 2016), the reporting deadlines will return to the standard due dates.
These recent changes to ACA reporting deadlines leave employers asking questions. We've answered some of these important questions for you.
Why did the Department of Treasury and IRS extend the ACA reporting deadlines for ALEs?
Many employers sought extensions, saying they received reporting guidelines too late in the year. This delay posed logistical difficulties for organizations. The IRS determined that employers would need more time to put systems in place for ACA reporting.
Beginning January 2016, the IRS will accept forms and encourages employers to furnish and file forms as soon as possible.
Can employers still file for extensions under the new ACA reporting deadlines?
Previous extensions for furnishing statements will not apply under the new ACA reporting deadlines. Rather than grant extensions to the many employers seeking them, the IRS declared extensions for all ALEs, meaning employers will not need to apply for extensions (nor will any additional extensions be available).
Do the penalties for failure to report ACA compliance still apply?
Employers who fail to meet deadlines still face penalties under Section 6721 and Section 6722. The IRS stated it may take into account an organization's efforts when assigning penalties. So, if an employer fails to meet the deadline, they should still try to furnish and file as soon as possible. The IRS will review employer efforts to prepare information and ensure ACA compliance.
What do employers need to do next?
Collecting required information and ensuring accurate reporting can be a huge burden on employers. The SHRM's advisor for government relations, Chatrane Birbal, considers this extension a huge relief.
"This information is not contained in a central repository. Most employers will have to use multiple sources to obtain the data necessary to complete the reporting forms, including their benefits carrier or broker, HR information system, payroll company, time-off tracking software and other sources," notes Birbal.
Fortunately, employers can bring these systems into a central repository. To lighten the load of ACA reporting, employers should use a workforce management system. Transform the siloed systems of HR, payroll, time tracking, etc into one system. The ACA module lets employers effectively manage ACA compliance across the entire workforce. Learn more about how a workforce management system and ACA module can help your business.
For more information on Form 1094-C and Form 1095-C for employers:
Topics: Latest News,, ACA
So Many Laws. So Little Time.
Get the HR Laws Cheat Sheet.
Subscribe to the Fuse Blog. Claim your free resources. Get great HR content in your inbox.