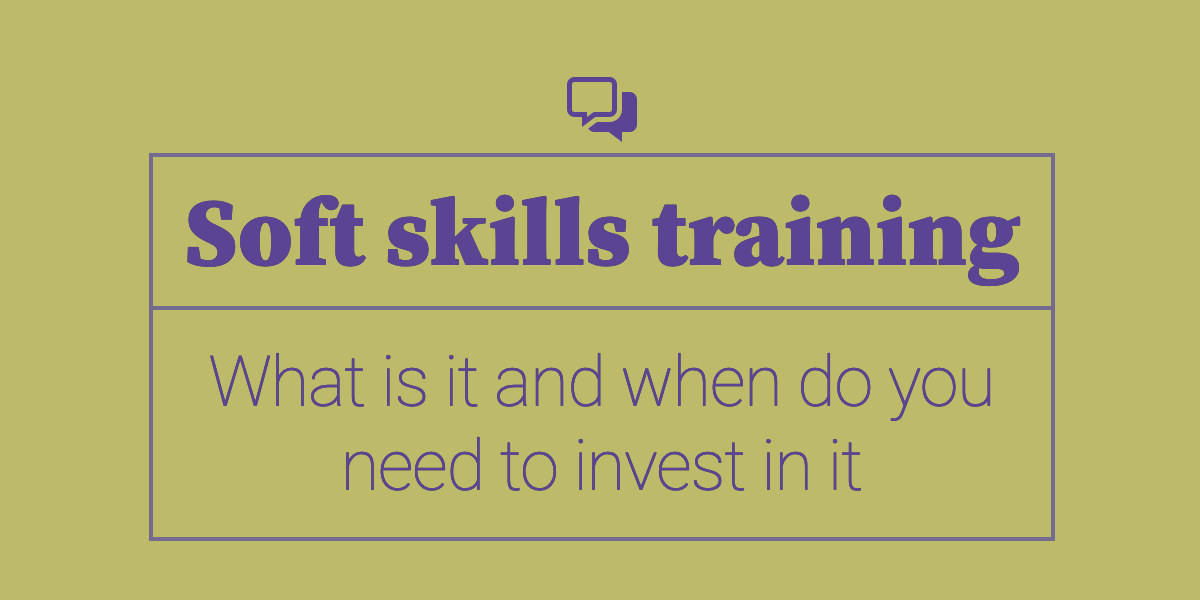 When it comes to making hiring decisions, most employers begin by evaluating hard skills — technical competencies such as the ability to use a particular computer program, operate a machine or speak a foreign language. After narrowing the list down to the best-qualified candidates, HR leaders typically begin assessing professionals' soft skills, such as communication, leadership, teamwork and time management.
Both sets of skills are critical to an employee's success, as both impact business outcomes and both factor into hiring choices. But while most companies offer their employees numerous opportunities to further develop technical skills throughout their career, few organizations focus on nurturing their team members' soft skills.
Here's why you should focus on building your workforce's soft skills, and how to do it effectively.
What is soft skills training?
Soft skills training focuses on building essential personality traits and noncognitive abilities professionals can use to work more harmoniously with others. When cultivated, strengths in these areas can help improve employee performance and support a better workplace experience.
Sometimes referred to as people skills or interpersonal skills, soft skills often include:
Communication
Decision-making
Leadership
Teamwork and collaboration
Problem-solving
Presentation skills
Time management
Professionalism
Work ethic
Soft skills training helps define these crucial skills and teaches employees why they're important in the workplace — as well as how improvements in these areas can help qualify them for career advancement opportunities.

While there are a variety of soft skills training methods, it's helpful to start with a training needs assessment to identify your most significant areas of opportunity. Ask managers where their team members are struggling, and ask employees to evaluate themselves through company-wide surveys. Next, you'll need to begin assembling your curriculum, or choose existing programs available through e-learning platforms. Soft skills training may be self-guided, team-based or a combination of both.
How can soft skills training benefit your company?
If you're having a difficult time finding professionals to fill open roles at your organization, you're not alone. Seventy-three percent of employers are struggling to find qualified candidates, and 34 percent say schools haven't adequately prepared students for the job market, according to data from Cengage.

While high schools and post-secondary institutions are focusing on educating students on computer and technology skills to help close the tech skills gap, soft skills development is falling to the wayside. And it's up to employers to fill that void.
Although soft skills training requires a significant investment of time, money and other valuable resources, there are many advantages to having a workforce with well-developed interpersonal strengths.

Here are a few ways soft skills training can benefit your organization:
Improves productivity: Workers trained in soft skills are 12 percent more productive than those who have not received the training, according to a study led by a professor at the University of Michigan. When employees can communicate effectively and are better equipped to manage challenges, decisions and stressors in the workplace, they're able to complete work faster and produce higher-quality outcomes.


Reduces turnover: Employees who have received soft skills training are also less likely to leave their job, according to the same study mentioned above. Often, employees who can successfully collaborate and cooperate with their team members are also more engaged in their roles. And those trained in leadership and presentation skills generally feel more empowered on the job, which can also lead to increased retention rates.


Bolsters employee satisfaction: Poor communication and low emotional intelligence not only negatively impact business outcomes — poor soft skills can lead to toxic work culture, too. When all team members (including management personnel) are trained in essential soft skills, employees feel supported and fulfilled at work.


Increases ROI: Given soft skills drive higher productivity, retention and employee satisfaction, it's no surprise it also leads to a healthier bottom line. In fact, soft skills training helped generate a 256 percent net ROI at the University of Michigan study. In other words, while helping employees develop their soft skills can be a time-intensive effort, you'll quickly earn that investment back.
There's no denying technical skills are essential to employee success — especially as technology becomes more sophisticated and complex. But soft skills are equally as critical to workplace performance and support happier, healthier company culture. By investing your resources in developing your team members' interpersonal strengths, you can drive better business outcomes and provide a better experience for your workforce.