Master HR productivity with a tool built for you
Ask any HR manager and they'll tell you the responsibility of laying the groundwork for employee success isn't a one-size-fits-all approach. Juggling the demands of everything from recruiting to offboarding requires the right tools for a modern workforce. Homegrown spreadsheets and siloed systems create more frustrations than necessary.
If managing today's workforce is no easy feat, how do you find the right support to meet your needs?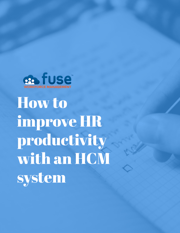 In our How to improve HR productivity with an HCM system ebook, you will learn ways to engage your employees, control labor costs, enhance productivity, and minimize compliance risk with a smarter solution.
In this ebook for HR professionals, we'll walk you through:
how a unified HCM system improves productivity for each stage in the employee lifecycle, from hire to retire
actionable strategies and tactics to optimize management using the right tools
key insights for delivering better business outcomes and employee engagement