From the app store, search for
HCMToGo
. The app is displayed as shown below.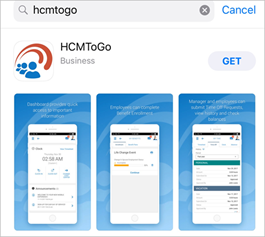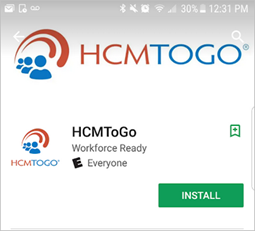 First Time Login
Users will need to enter the region of North America, their company's short name, and the username and password they use for the web system. If they have not logged into the Web system previously then their default username is the first initial of their first name, and their last name (Example Jane Doe = JDoe) and their default password of the last 4 digits of their SSN. They will be prompted to change their password upon their first login if using the defaults.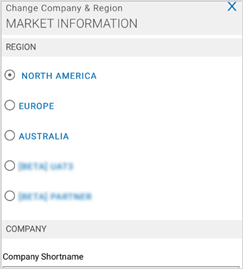 Home View & Widgets
After logging in, the Dashboard or landing page will display. Your company may have information on this page, such as a welcome message or announcements.
My Benefits, My Pay, many of these options contain hyperlinks that will allow you to view and perhaps take certain actions.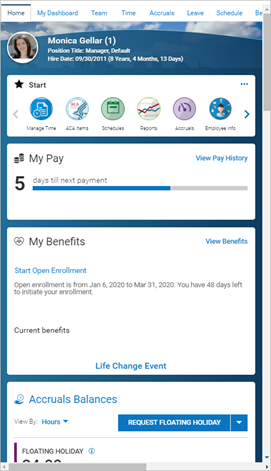 My Pay
In the My Pay widget, you can see a countdown until your next pay. By tapping the View Pay History hyperlink, you can view your pay history, and if authorized, you can view and possibly add direct deposits. An e-signature agreement is located here to allow you to agree to receive your pay statement electronically.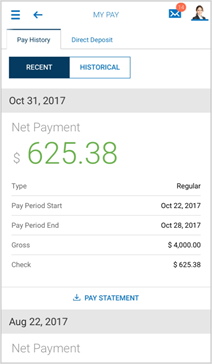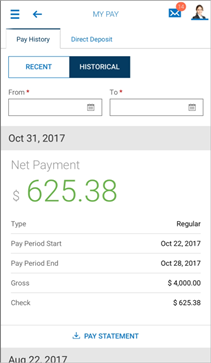 You can tap the download Pay Statement link and the pay statement will display in PDF on a separate page. From there, you can download and save the PDF to your device. To return to your session without having to logout, tap the name of your app at the very top-left of your device.