join us for a free webinar: staying ahead of changes to the flsa
Overtime rules are changing—this much you know. But do you know what's changing and how these changes will impact your organization? Is your organization staying ahead of the changes and practicing FLSA compliance?
We'll be hosting a webinar to teach you about the main changes to FLSA overtime rules, the impact they could have on your organization, and how to prepare your organization for those changes.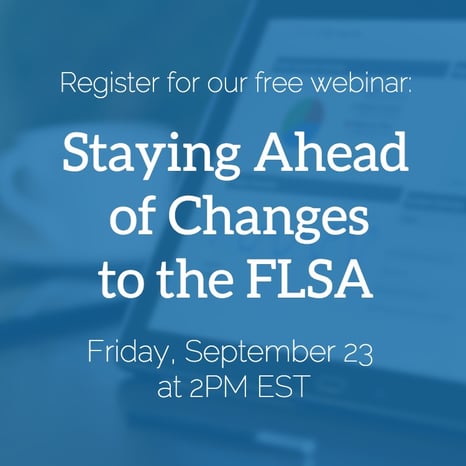 In this webinar, you'll learn:
The breakdown of the FLSA changes.

How the FLSA overtime changes could affect your organization.

Why and how to prepare your organization for the FLSA changes to overtime rules.

The vital role of Time & Attendance systems in FLSA compliance.
WHEN: Friday, September 23, 2016 at
2:00PM EST
Complete the registration form to save your seat for the webinar!
Save Your Seat for the Webinar!