In the New UI, only two Timesheet profile types are now supported: Start/End (All Days) and Bulk Hours. Customers using other profiles will need to convert their current timesheet profile to one of the two supported profiles.
A migration tool is now available to allow you to easily migrate your existing Timesheet profiles to either of the supported profiles.
To access the Company Timesheet Profiles page, navigate to Company Settings > Profiles/Policies > Timesheets. For customers that have employees that are currently assigned to a Timesheet Profile that is not Start/End (All Days) or Bulk Hours, a button will display at the top-right corner of the screen, Migrate Timesheet Profiles.


When you click this button, you will be taken to the Migrate Timesheet Profiles page. All profiles that are not Start/End (All Days) and Bulk Hours profiles will display on this page. To migrate the profiles and all employees assigned to these profiles, check the boxes next to the profile names. You can migrate one profile at a time, or all of them at one time.


You will receive a message that once you agree to migrate the profiles you selected, this cannot be undone.

Once the migration is finished, the report will display how many successful migrations were completed, if there were any profiles that were skipped, and if any profiles failed to migrate. Any applicable messages, such as error messages, will display.


When you navigate back to the Company Timesheet Profiles page, you will see the profiles that were newly migrated. The Type column will display either Bulk Hours or Start/End (All Days), depending on what the old Timesheet profile was migrated to.


Timesheet Settings

All employee's profiles will migrate to the applicable Timesheet Profile.
On the Edit Employee page within the Profiles widget, below is an example of before the Timesheet Profile migration.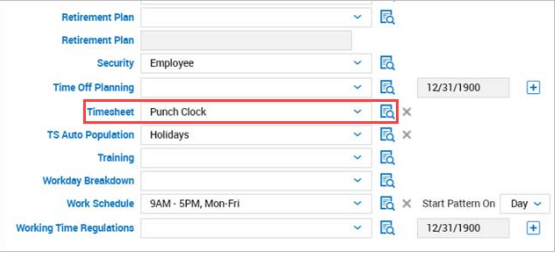 Below is an example of after the Timesheet Profile migration.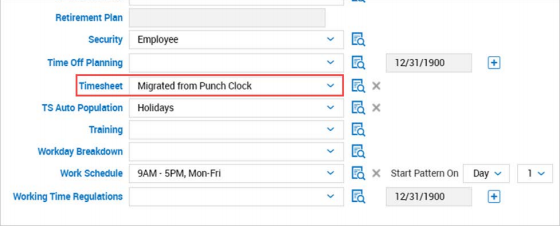 On the Timesheet Profile Edit page for Bulk Hours or Start/End (All Days), you will see that all settings, fields, Timesheet rules and previous configurations from the old Timesheet profiles have been migrated into these profiles.