This article will provide instructions for migrating from "Non- Workflow" TimeOff Request Approvals to TimeOff Request Workflows.
Please Note: Pending timesheet approvals will be rejected and will need to be manually resubmitted.
1. Navigate to Company Settings > Global Setup > Company Setup and click on the Global Policies Tab.
2. Find the Workflow Policies widget and select Use Workflow For Timesheet.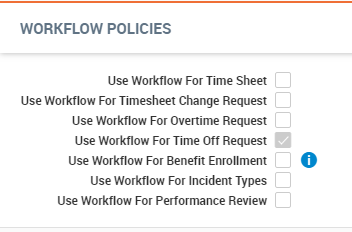 3. The following message will appear.


Prior to Enabling the TimeOff Request Workflow

The following will be in place prior to enabling the TimeOff Request Workflow Migration
TimeOff Request Profile - No TimeOff Request Workflow within the profile




After enabling TimeOff Request Workflows
After enabling TimeOff Request Workflows, the following can be expected.

TimeOff Request Profile– The TimeOff Request Workflow field will be pre-populated with a Migration Generated TimeOff Request Approval workflow.





TimeOff Status -
TimeOff Requests that have been submitted by employees and are in Open or Submitted status at the time the workflows are enabled, will display as Open (Rejected) or Submitted (Rejected) and must be submitted again to be processed through the workflow process.
Once employees re-submit their timesheets for approval, the workflow process will be in effect and managers can then approve submitted timesheets via their To-Do Items, if their security profile is enabled to support To-Do Items
If managers aren't using To-Do Items, they can still approve timesheets from the Pending Approval report under Manage Time > Manage Timesheet > Pending Approval.